David Montgomery is a Bull in a Bear Market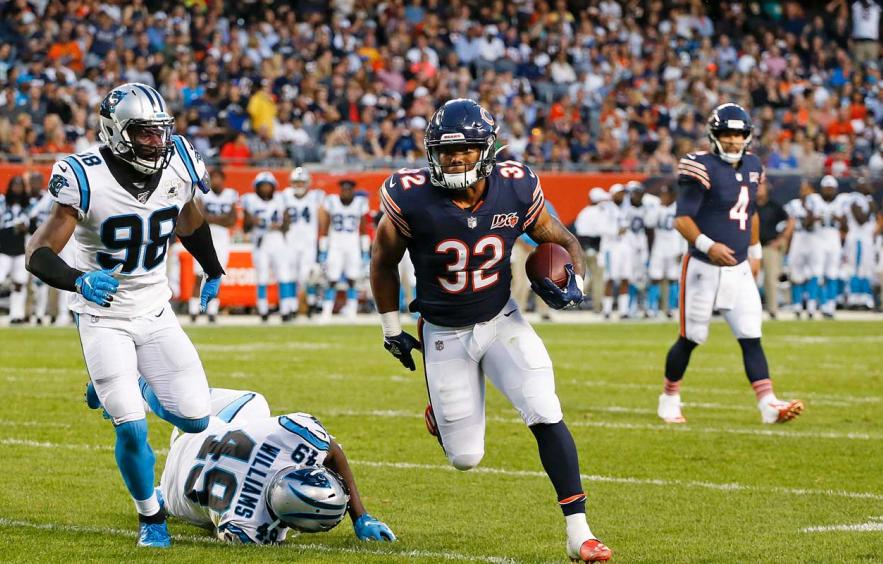 Nuccio DiNuzzo/Getty Images
While rate stats can be extremely useful, they are also volatile and many times fail to provide context for a player. One of the chief culprits is yards per carry, a simple measure to understand and widely used as a way to dissect running back performance. However, it usually provides more questions than answers. It also speaks just as loudly about the offensive line, game situations, and defensive fronts as it does to the talent of the running back himself. It is also extremely unreliable from season to season. TJ Hernandez of 4for4 has done a study on the predictability of various rushing statistics and yards per carry is among the least predictable.
If yards per carry was a predictive and relevant statistic, then David Montgomery would barely be on the fantasy radar. His college career yards per carry was just 4.7, which compared to Josh Jacobs (5.9), Miles Sanders (6.0), Darrell Henderson (8.2), or Damien Harris (6.4) looks quite pedestrian. The statistics that do hold up are the volume numbers including attempts, touches, rush yards, and total yards per game. That's where Montgomery has the advantage over nearly every other rookie running back but is just one of the reasons fantasy drafters should be reaching for the former Cyclone.
The Situation
For running backs, volume is not just more predictable, but it is key for fantasy purposes. The Bears traded up for Montgomery and jettisoned Jordan Howard, opening things up for the youngster. Howard played 60% of the team's snaps last season and tied for ninth in the NFL with 270 total touches. His touch rate in 2018, the number of touches per snap, was higher than Ezekiel Elliott, Saquon Barkley, Christian McCaffrey, Todd Gurley, David Johnson, or Alvin Kamara. All this indicates the possibility of heavy usage on a team that is still finding its offensive identity.
The competition in Chicago for Howard's volume, as well as other opportunities out of the backfield, is limited. Not just limited in terms of how many people are available to assume the work, but also their capabilities to work in different situations. New addition Mike Davis is primarily an inside runner with some ability in the passing game, but is not a standout in any area. He is more likely an insurance policy if Montgomery falters or injury strikes. Tarik Cohen has shown playmaking ability but the coaching staff clearly wants to keep him fresh. He is their primary punt returner, and one of the best in the NFL, in addition to his offensive responsibilities. Cohen did see an uptick in total touches in 2018 compared to his rookie season—170 versus 140—but his snap share was at just 46% last year. That share varies greatly game to game, but it's a result of situation and will balance out to a similar figure in 2019.
The passing game hasn't changed much this offseason. Conflicting reports about Mitch Trubisky has him either struggling mightily or showing improvement from 2018. This seems typical for this time of the year as opinions are thrown around more wildly than a Cade McNown deep ball. The Bears were bottom 10 in pass attempts in 2018 and while that will likely creep up, don't expect the Chiefs 2.0. Allen Robinson is hoping for a full season of health, as is Trey Burton, and Anthony Miller should see some development as well. All that should help the offense sustain a few more drives in 2019 and settle for a fewer field goals, something no Bears fan wants to see.
Montgomery's Profile
For those thinking that David Montgomery is a plodder because of his 4.63 40-yard dash or that pedestrian yard per carry number in college is not looking at the full picture. Iowa State routinely put him in a bad position, seeing defenders behind the line of scrimmage and having to fight for every yard he could. It was evident in his broken tackle numbers, per Pro Football Focus, that had him leading the 2019 NFL Draft class over the last two years. It was impressive to watch him utilize multiple moves, stacking them in an effort to fight for additional yards. He was also incredibly durable and was asked to carry heavy workloads—both will be needed if Montgomery, and the Bears, expect him to take on a lead role. As a runner, he will work within the Bears blocking schemes and be patient, but is capable of creating when needed.
His receiving skills are what sets him apart from Howard and make him a realistic bet to surpass the 60% snap share threshold. Montgomery had 58 receptions over his last two years at Iowa State, but many of them were targeted at or behind the line of scrimmage. Those are the typical passes out of the flat that most running backs need to be considered for passing downs, something that Howard struggled to handle with consistency. Also, given Montgomery's elusiveness and creativity with the ball, he is capable of making a few plays with those opportunities. That said, Montgomery's route tree won't come close to Tarik Cohen so while he will see more than the 26 targets Howard received in 2018, don't expect him to become a 50- or 60-catch running back in year one.
What to Expect in 2019
Asking any rookie not named Saquon Barkley to become a top running back right away is unfair. That is not a reasonable outcome for David Mongomery. He does have the opportunity, talent, and supporting cast all working in his favor so that will assist him early on. Those variables could lead to a top-20 finish at the position, something Jordan Howard accomplished as he finished 18th last season. Expect Montgomery's ADP to rise a little more as the season draws near, but his current position of the 25th running back selected provides some risk aversion while showing a clear opportunity to profit.