3 Super Bowl Future Bets to Avoid in 2019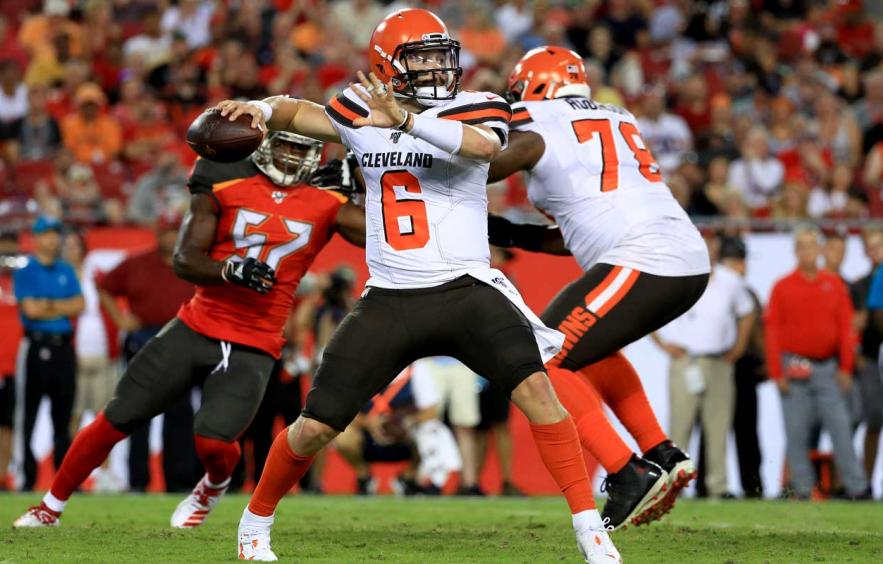 Mike Ehmann/Getty Images
Context.
All three teams listed below are uber-talented. All three teams listed below could absolutely win the Super Bowl this season. In fact, one team listed below should have had an opportunity to compete for a title last season.
That said, keep the context of this article in mind before you move forward. Under no circumstances am I suggesting that these teams aren't Super Bowl contenders. Under no circumstances am I ignoring their obvious talent.
What I am suggesting is that after you eliminate the obvious non-contenders (Dolphins, Redskins, Bengals, Giants, etc), I would give strong consideration to crossing off the teams below while trying to pare down your Super Bowl futures list.
After all, you can't play the board. Only one team wins it all, so we need to get down to a handful of options one way or another. Here are the three teams I'm leaving off my Super Bowl futures list in 2019.
Cleveland
Browns

(15/1)

Everyone is getting high on the Baker Mayfield pixie dust and hey, I understand why. The Browns added Odell Beckham to an offense that already included Mayfield, Jarvis Landry, Nick Chubb and rising tight end David Njoku. That's a lot of firepower. Beckham and fellow vertical threat Antonio Callaway will keep opposing safeties up at night and Landry is a beast underneath. Once Cleveland sent Carlos Hyde to Jacksonville after Week 6 and turned the backfield over to Chubb last season, the rookie showed a lot of speed and elusiveness for a bigger back.

Cleveland also has the makings of a top-10 defense. Myles Garrett is the headliner, but young corner Denzel Ward has the speed to hang with quick receivers and second-rounder Greedy Williams has the size to deal with bigger wideouts. Joe Schobert and Christian Kirksey also give the Browns athleticism at the linebacker position.

Here is where the "but" comes in: This team is incredibly young. One of the more dangerous words in sports is "potential," which might as well mean "maybe."

Maybe all of that young talent will come together this year and the Browns will overcome a youthful roster that has yet to win anything yet in the NFL.

Maybe Baker will be an MVP candidate in his second year.

Maybe Garrett will turn into Von Miller.

And maybe Freddie Kitchens has everything it takes to win a Super Bowl in his first year as a head coach, despite the fact that he was never a coordinator until he took over for the fired Todd Haley a year ago.

Or maybe the young Browns will have plenty of highs and lows in 2019, they'll learn a lot through adversity and despite teasing everyone with their tantalizing talent, they'll fall short of their immense expectations.

Mayfield, Beckham, Kitchens and GM John Dorsey weren't in Cleveland when the Browns finished 1-15 in 2016, nor did they have anything to do with the club that went 0-16 in 2017. Those men are attempting to change the culture in Cleveland and that is something that takes time.

The Browns will provide their fan base and the league with plenty of highlights in this season. Winning the Super Bowl is a different animal. Oddsmakers are trying to lure you with those 15/1 odds. Don't even take a nibble.
---
DraftKings Sportsbook Deposit Bonus: Available to Currrent & New Users! Create an account, deposit and DraftKings will match 50% of the deposit amount up to $500. Additionally, new users will get their first bet matched with up to a $200 risk-free bet.
---
New Orleans
Saints

(21/2)

Drew Brees's play fell off a cliff in December last year and it improved only slightly in the playoffs. His arm strength has long been diminished, but that's negated some by Sean Payton, who built his system around quick, accurate passes that require Brees to do what he does best: Anticipate and react to what the defense is showing him pre and post-snap. Thus, Brees doesn't need to be Patrick Mahomes in order to have success in Payton's offense.

That said, I can't shake Brees's final four games last year during the regular season. He threw three touchdowns and three interceptions during that span, took seven sacks and averaged just 6.4 yards per attempt. Those aren't Brock Osweiler-level stats, but Brees also had 29 touchdowns to just two interceptions with an 8.8 YPA up to that point. Remember midseason when the MVP discussion centered on Brees and Mahomes? By mid-December, there was no discussion. Brees simply looked like a different quarterback by the end of the year.

Could Brees light it up again in September, October and November like he did in 2018? Of course—we're talking about a Hall of Fame quarterback. That said, at 40, is it fair to wonder if Brees can sustain a high level of play through December and January? I do.

There are a couple of aspects in New Orleans' favor. Alvin Kamara is a legitimate MVP candidate. Making new $100 million man Michael Thomas happy was a must. Adding tight end Jared Cook this offseason gives the offense even more dimension than it had a year ago. The defense still boasts the perennially underrated Cam Jordan, a rising stud in linebacker Alex Anzalone and a run defense that was one of the best in the league a year ago.

That said, it all comes back to Brees. If his play drops off again like it did a year ago, I don't see how the Saints win it all in a crowded NFC this season.
Chicago
Bears

(18/1)

Bears fans will want to tar and feather me after I also included their team in my "3 Teams to Bet Under Their Season Win Total" article, but the opinions I expressed in that piece also apply to this one.

Here's the bottom line when it comes to why I'm not as high on the Bears as others: I don't see Mitch Trubisky taking that proverbial next step. There was a report earlier this offseason that Matt Nagy was forced to scale back his offensive install due to Trubisky's inability to pick things up in his third year. Now, there have also been more positive reports on Trubisky, so you choose what you want to believe.

Nevertheless, there's no disputing that Chicago's offense tailed off in the second half of 2018. A lot of that can be attributed to Trubisky, who would often look to run as soon as his first read was taken away. At this point, I see Trubisky being more of a sandlot quarterback than a signal-caller capable of leading his team to the Super Bowl.

Now, is the defense still talented? Yes, although losing Vic Fangio hurts. It's also reasonable to assume the Bears will suffer some regression to the mean when it comes to turnovers in 2019, especially when it comes to interceptions (the Bears finished with 27 last year). Plus, I'm not convinced the defense is great enough to carry the team to Miami next year if Trubisky is largely the same quarterback he was a year ago.