3 Teams To Bet Under Their 2019 Season Win Total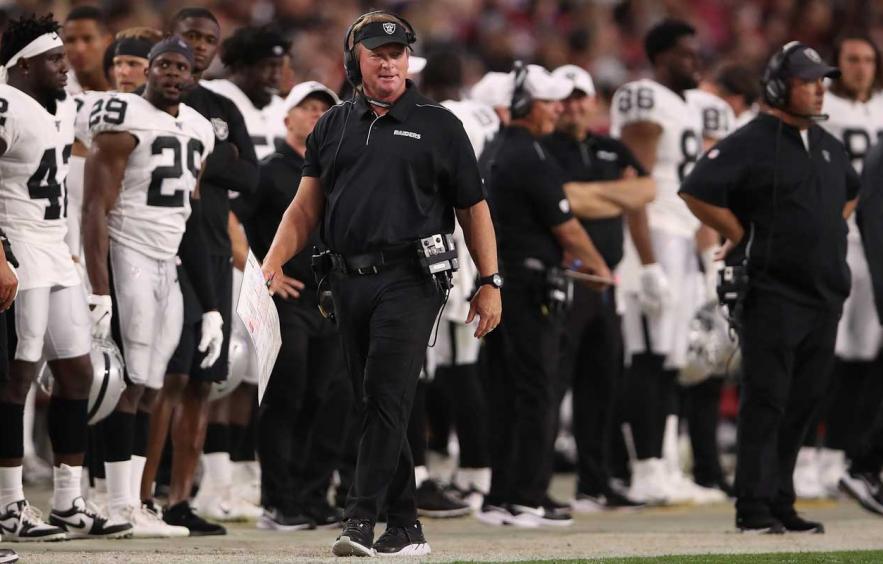 Christian Petersen/Getty Images
These types of columns are fun because they're guaranteed to cause at least a portion of your readership to get angry and release their irrational hate towards you on Twitter. (Is now a good time to mention I can be found @AnthonyStalter?)
If your favorite team is listed below, understand that I'm approaching this from a betting standpoint. It doesn't mean I believe your team is pure hot garbage and they're destined to spend all of 2019 in NFL purgatory. Heck, in some cases the team I have listed could have a winning record but still fall short of their win total.
Understand, I am merely looking at the board and making a win projection based on multiple factors.
It's nothing personal, I swear.
What's that? You don't care? Cool. You know where to find me. (You saw @AnthonyStalter, right?)
Oakland
Raiders

: Under 6 Wins

Roughly a year ago, Jon Gruden traded Khalil Mack to the Bears, reportedly because he didn't want to deal with his star pass-rushers contractual issues. On October 22, Gruden made a similar decision by trading Amari Cooper to the Cowboys, also in fear of future contractual issues.

As it turns out, Gruden thought he was avoiding two potential headaches but wound up developing a migraine instead. After acquiring Antonio Brown from the Steelers this past offseason, Gruden and the Raiders have endured one of the most bizarre offseasons I have ever seen.

But let's put Brown to the side for a moment and start here: Have you seen the Raiders' schedule this season? Good, God. They open with back-to-back home games against divisional foes the Broncos and Chiefs. Then they have back-to-back road games against potential playoff contenders in Minnesota and Indianapolis before having a "home" game against the Bears in London.

Following a bye, the Raiders travel to Green Bay and Houston before returning home in Week 9 to host the Lions. Thus, after hosting the Chiefs on September 15, the Raiders don't have another true home game until November 3. Good luck with that, Chucky.

But let's say that Brown's feet thaw out by the time the season starts and you subscribe to the notion that home field doesn't mean squat in football.

Are you convinced that Derek Carr is a good bet to rebound in 2019? Because the dude looked lost last year.

Theoretically, Carr should be more comfortable in ol' Spider 2Y Banana's system but there's no guarantee he won't turn into the same signal-caller that often threw off his back foot and constantly looked to bail out of the pocket whether there was legitimate pressure in his face or not. That, of course, was when Carr wasn't looking to check the ball down more than any quarterback in NFL history.

None of this is to suggest that the failures the Raiders experienced offensively were all Carr's fault. I don't recall Gruden taking as much heat for trading Cooper to the Cowboys for a first-round pick, largely because the receiver looked like he had quit in Oakland. The Raiders offensive line was also putrid, and Marshawn Lynch looked d.o.n.e.

Without Mack, the defense lacked pass-rushers (who would have thought?!) and while first-rounder Clelin Ferrell could help spark the team in that area, he's still only a rookie. It will take time for Gruden and new GM Mike Mayock to acquire more talent on that side of the ball.

So yeah, the Raiders' offseason has been strange, to say the least. They also have one of the most challenging traveling schedules in the league and they're not overly talented. Seven wins? I don't think so.
---
DraftKings Sportsbook Deposit Bonus: Available to Currrent & New Users! Create an account, deposit and DraftKings will match 50% of the deposit amount up to $500. Additionally, new users will get their first bet matched with up to a $200 risk-free bet.
---
Chicago
Bears

: Under 9.5 Wins

This is one of those teams where I could see the fan base screaming at me to delete my Twitter account shortly after seeing the Bears listed in this article. After all, the Bears did win 12 games last season and the No. 1 defense in the league last year returns largely the same cast of characters.

Let's start with the defense, though. Vic Fangio is now the head coach in Denver. Thus, despite returning most of the same talent on that side of the ball, the arctic of the defense last season is gone. Chuck Pagano is well respected by his peers and players alike, but there's a reason why the Bears held onto Fangio when they jettisoned John Fox in 2017. Fangio is one of the better defensive minds in football.

While it's highly likely that Mack and Akiem Hicks will continue to terrorize quarterbacks this year, it's unlikely the Bears intercept another 27 passes like they did a year ago.

That said, even though Pagano isn't Fangio and the Bears are unlikely to generate as many turnovers as they did a year ago, they still possess one of the best defenses in the league. The main reason I see the Bears taking a step back in 2019 is Mitchell Trubisky.

In Week 4 and 6 last year, Trubisky combined to throw for 670 yards and nine touchdowns. When defenses stopped biting on all of the motion that Matt Nagy was throwing at them, Trubisky struggled to make throws into tight windows. When opponents took away his first read, Trubisky looked to run. (And hey, he did have success as a runner.)

There have already been reports that Nagy has been forced to scale back his offensive install due to Trubisky's inability to pick things up in this third year. Given how much Chicago's offense tailed off in the second half last year, that's a concerning report.

The Bears' defense held opponents to 14 or fewer points on seven different occasions last season. Chicago went 7-0 in those games. When the Bears' defense allowed over 14 points, the team went 5-5.

You can see where I'm going with this. If Trubisky doesn't take a significant step forward in his development and the Bears' defense takes a step back (however small), then we could be looking at a 9-7 team instead of another season of double-digit wins.
Washington Redskins: Under 6.5 Wins
I could see the bottom falling out for the Redskins this season. Their best player is arguably Trent Williams, who says he won't play for the team and wants out of Washington. If Williams winds up holding out, the Redskins don't have the necessary offensive line depth to replace him.
The team also needs to decide on a quarterback. Rookie Dwayne Haskins is the future, but he played just one season at Ohio State (albeit a great one season). Case Keenum could start and while the veteran has shown some grit over his six years in the league, there's also a reason why he's playing on his third different team in three years.
No matter who winds up starting under center in Washington, they won't benefit from the team's wide receiving corps. Former first-round pick Josh Doctson has talent but often disappears. The rest of the group consists of Paul Richarson, Cam Sims, third-rounder Terry McLaurin and former Rams second-round bust Brian Quick. Yikes.
Let's take stock so far, shall we? Either a rookie or a journeyman veteran will start under center. He'll line up behind an offensive line that has major issues and throw to one of the worst perimeter receiving corps in football. Got it.
Granted, the Redskins defense will be pretty good. In fact, I expect the unit to be underrated. That said, it's not good enough to mask the many issues Washington has offensively, nor is it good enough to get this team over the 6.5-win hump.