NFL Wild Card Weekend Betting Picks & Preview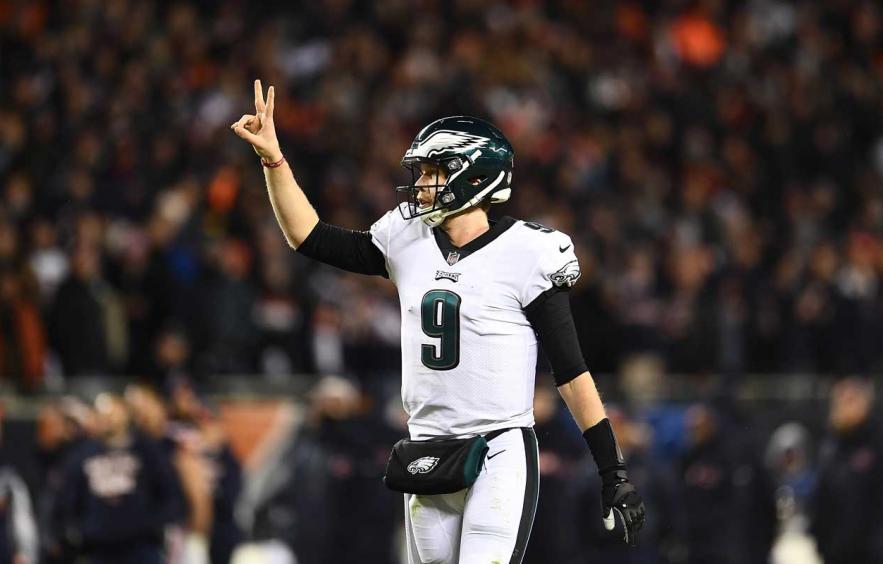 Regular Season Recap: It was a hell of a regular season. After posting a 2-1 record in Week 17, I finished the year 53-29-3 against the spread in the NFL. Whether you hopped on at some point during the season or followed me since Week 1, thank you for reading and for your interaction on Twitter. I hope my regular-season success carries over to the postseason, which begins this weekend with four Wild Card matchups.
Speaking of which, I've decided to make an ATS pick for every playoff game. Since football is winding down, I thought it would be fun to have a pick riding on every game. Understand that this isn't the best strategy when it comes to betting on the NFL, but it was a hell of a regular-season so let's have some fun before another football season is in the books.
101 Indianapolis
Colts

at 102 Houston

Texans
Spread: Texans -1
O/U: 48
Time: 4:35 p.m. ET, Saturday
I saw value in backing the Titans (+4) as a home underdog versus the Colts in Week 17 and even if Tennessee had produced a backdoor cover, I would have admitted it was the wrong play. Given Tennessee's injuries, Indianapolis was the superior team and proved as much throughout the course of that game. Andrew Luck is a shoo-in for Comeback Player of the Year and despite having strong challengers for the honors (Matt Nagy of the Bears being one), Frank Reich is firmly in the Coach of the Year discussion as well.
Poor offensive line play will end Houston's season before the Texans reach the Super Bowl. That unit allowed 62 sacks this season and while some of that had to do with Deshaun Watson holding onto the ball too long, the bottom line is that the Texans can't protect their quarterback. In fact, the Colts sacked Watson five times a few weeks ago when these two teams met at NRG Stadium.
On the other side, the Colts allowed a league-low 18 sacks this season. At the start of the season, Reich called quicker, short passes to allow Luck to get the ball out of his hand quickly. The idea was two-fold: It saved Luck and his surgically repaired shoulder from absorbing too many hits, as well as allowed Indy's rebuilt offensive line to develop cohesion and chemistry. As the season wore on, Reich opened his passing game to include more 7-step drops. Save from being shutout in Jacksonville about a month ago, the Colts' offense has been humming ever since.
I believe the Colts will do a significantly better job protecting Luck than the Texans will do of protecting Watson. T.Y. Hilton has owned the Texans in the past, but he isn't the only option in Luck's arsenal. Former Lions bust Eric Ebron had the best season of his career and Marlon Mack has sparked Indy's rushing attack. While DeAndre Hopkins has proven to be unstoppable at times, Watson will be without Demaryius Thomas, who tore his Achilles in Week 16. That leaves the Texans, who were already out Will Fuller, shorthanded at the receiver position.
The Colts are 5-0-1 against the spread in their last six games in Houston and are 8-3-2 at the betting window in their last 13 games versus the Texans overall. Furthermore, the road team is 7-1-2 ATS in the last 10 meetings between these two teams.
Prediction: Colts +1
103 Seattle
Seahawks

at 104 Dallas

Cowboys
Spread: Cowboys -2
O/U: 43
Time: 8:15 p.m. ET, Saturday
This was one of the tougher decisions of the week because these two teams are so similar. At first, I boiled my pick down to having Russell Wilson in the fourth quarter compared to Dak Prescott, who has certainly had his moments this season, but he was also bailed out plenty by Amari Cooper, Ezekiel Elliott and his defense. At some point this postseason, I expect Dak to make a mistake that costs the Cowboys a game (if Jason Garrett doesn't beat him to it first).
That said, when these two teams met back in Week 3, Elliott rushed 16 times for 127 yards. That's a 7.9 yards per carry average but the Cowboys started to get away from Elliott in the second half. Turnovers also played a big part in the outcome of that game, with the Seahawks generating three takeaways in a 24-13 victory.
That game was in Seattle, however, and now Dallas has homefield advantage. Zack Martin is also set to return to the Cowboys offensive line after he was held out for Weeks 16 and 17. Elliott has already shown he can be effective against that underrated Seattle defense and the Cowboys have a clear mismatch with Amari Cooper against corner Shaquill Griffin, who regressed after starting the season well.
Granted, the Seahawks have the advantage at quarterback and head coach but Dallas has one of the most athletic front sevens in the league. With a pair of sideline-to-sideline linebackers in Leighton Vander Esch and Jaylon Smith, the Cowboys have the defenders to keep Wilson from extending drives with his legs. Again, this was one of the tougher calls of the weekend, but I'm siding with the 'Boys.
Prediction: Cowboys -2
105 L.A.
Chargers

at 106 Baltimore

Ravens
Spread: Ravens -3
O/U: 41.5
Time: 1:05 p.m. ET, Sunday
One could make a case for both of these teams making a Super Bowl run. It's just unfortunate they meet each other in the first round on Sunday.
The Ravens own the No. 1 defense in the league, rank first in fewest yards allowed and are No. 2 in scoring defense. They also have a clear identity on offense, which is to run the ball 600 times a game and allow Lamar Jackson to attempt passes only if he can't also turn those into running plays as well. If an opponent can force the Ravens to abandon the run, it'll be difficult for Baltimore to play from behind. That said, no opponent has been able to accomplish the feat. Instead, the Ravens have played keep-away with their ball-control offense, which has shortened games and limited possessions for the opposition.
The Chargers have the defense to stop the run and a quarterback in Philip Rivers that has proven multiple times this season that he can produce in the fourth quarter when trailing. The Chargers have road wins this season against the Chiefs, Steelers and Seahawks, so traveling shouldn't be a hurdle for L.A. either.
So why fade the Chargers? Honestly, I just don't trust them in the playoffs. This is one of the most snake-bitten teams in the NFL and of course, they draw the Ravens in the first round, a team that is seemingly built for playoff football. Baltimore also just beat the Chargers in L.A. 22-10, a game in which they intercepted Philip Rivers twice and held him to a season-low 181 yards.
The Ravens are a perfect 7-0 against the spread in their last seven playoff games and are 5-0 ATS in their last five Wildcard games. I'm backing the team with the strong defense and dominating running game.
Prediction: Ravens -3
107 Philadelphia
Eagles

at 108 Chicago

Bears
Spread: Bears -6.5
O/U: 41
Time: 4:40 p.m. ET, Sunday
At this point, it has become a fool's errand to bet against Nick Foles at this time of year. He and that devil magic he's been sprinkling over the NFL makes it difficult to fade the Eagles but I'm stupid so here it goes:
I think the Bears blow the Eagles out on Sunday.
Let's keep things in perspective about Foles' Super Bowl run a year ago. He stunk heading into the Eagles' Divisional Round matchup with the Falcons, which is one of the reasons why Atlanta was favored in that game despite playing on the road. Foles got hot for two drives in the second half of that game but the Falcons had one of their epic red zone meltdowns and the Eagles advanced to the NFC Championship Game. That's when Foles played out of his mind for two games and Philly won the Super Bowl.
Now Foles is dealing with a ribs injury suffered in Philly's Week 17 win over the Redskins. He left that game and was replaced by Nate Sudfeld. If he gets hurt again on Sunday or is ineffective against a nasty Chicago defense, the game will get out of hand in a hurry.
Vic Fangio should also have a clear blueprint on how Doug Pederson plans to attack the Bears this weekend. That's because Pederson and Matt Nagy are both disciplines of Andy Reid. They run similar offenses. The Eagles offense is built around beating zone coverage. Fangio is a master in disguising which zone coverage his defense is in, whether it be all zone or a hybrid of zone and man.
Just like Dak Prescott and the Cowboys, I firmly believe the Bears' playoff run will end with Mitchell Trubisky. As of now, he's more athlete than quarterback and his limitations as a signal-caller will cost Chicago at some point over the next few weeks. That said, for Sunday, the Bears can once again rely on their offense.
Having said all that, surely Foles will throw for 350 yards and four touchdowns while once again tossing all logic out the window.
Prediction: Bears -6.5
ATS Season Records
Week 1: 5-0
Week 2: 3-2
Week 3: 4-1
Week 4: 3-1-1
Week 5: 3-2
Week 6: 4-1
Week 7: 2-3
Week 8: 3-2
Week 9: 4-1
Week 10: 3-2
Week 11: 2-2-2
Week 12: 5-3
Week 13: 1-3
Week 14: 4-1
Week 15: 2-3
Week 16: 3-1
Week 17: 2-1
Overall: 53-29-3
Photo by Stacy Revere/Getty Images.