Kadarius Toney: The Ultimate Boom-or-Bust Fantasy Football Player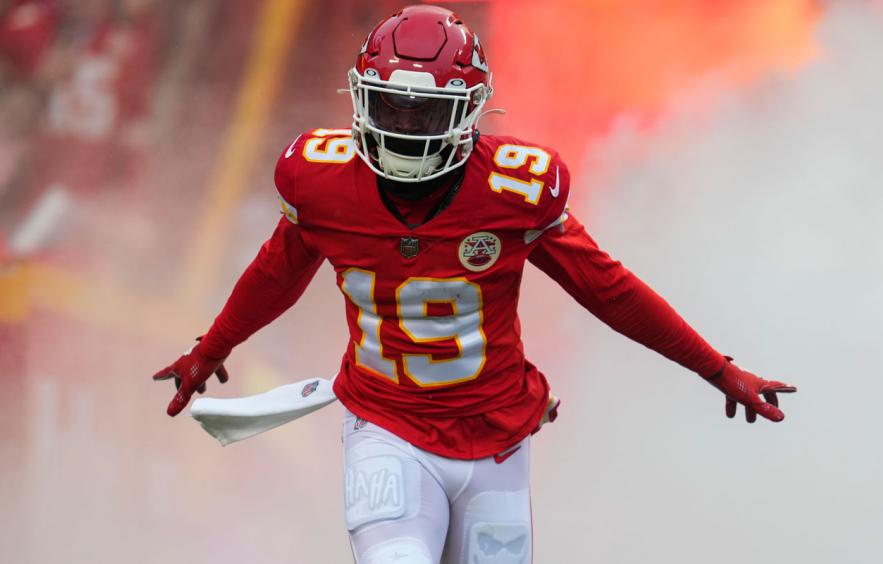 Cooper Neill/Getty Images
Kadarius Toney is undoubtedly one of the most polarizing, unpredictable players in the NFL. Since being drafted by the Giants in the first round of the 2021 NFL Draft, he has been through an injury-riddled two seasons and was traded to the Chiefs in the middle of last year. Here's a look at how fantasy managers should value Toney this season at his current Underdog ADP of WR35.
---
Click here for more 2023 Player Profiles!
---
Career In Review
On paper, Toney's statistics through his first two years are pedestrian at best—he has just 77 receptions and 591 receiving yards in total. However, injuries have plagued Toney for his entire NFL career. He has suited up for just 22 of 39 possible games since entering the league and did not play more than 50% of offensive snaps in a single game all of last year.
While Toney has had a hard time staying on the field, when healthy, he has proven why he was selected in the first round. Look no further than his 10-catch, 189-yard explosion versus the Cowboys in his rookie year, where he showed an incredible combination of burst, speed, and agility that rivaled some of the best receivers in the league.
Where did you draft Kadarius Toney in your rookie drafts this season?



Stats vs Dallas:

13 Targets

10 Rec

189 Yds



1 Car

7 Yds



⬇️All Targets vs the Cowboys⬇️ pic.twitter.com/lVzEDoeDJl

— Dynasty Nerds (@DynastyNerds) October 14, 2021
Toney continued to have flashes after being traded to the Chiefs. The Super Bowl was perhaps a perfect encapsulation of his career to date—Toney played just 11 total snaps against the Eagles, but he caught one touchdown and had a 65-yard punt return to set up the go-ahead score in that limited playing time. This is part of why it is so difficult to evaluate Toney as a fantasy option—there are no prior examples of a player who played so little, yet was so productive when they were on the field, making Toney uncharted territory in fantasy football.
Toney's Role in the
Chiefs

' Offense

If Toney were to finally put together a complete season and assert himself as a star in the NFL, there is no better place for him to do it than with the Chiefs. After JuJu Smith-Schuster left for the Patriots in free agency, Toney is the top wide receiver on the Kansas City depth chart alongside deep threat Marquez Valdes-Scantling. The Chiefs are also one of the pass-heaviest teams in the league and have ranked either first or second in neutral-down pass frequency in each of the last five seasons. So, while Travis Kelce will surely pace the team in targets, there is plenty of opportunity for Toney to receive the volume necessary to be great. In fact, Toney averaged 2.63 yards per route run with the Chiefs last year, which would have ranked second in the entire NFL. Granted, it was on a rather small sample size, but it is promising to see that Toney has already had success in this offense.

Toney is somewhat limited as a prospect—he isn't quite big enough to consistently win on the outside and is still developing as a route runner—but one area where he excels is with the ball in space. With offensive genius Andy Reid calling plays and Patrick Mahomes executing them, look for the Chiefs to design plenty of touch passes, screens, and reverses simply to get the ball in Toney's hands and allow him to work his magic from there. Thankfully, we do have some historical precedent there—the Chiefs drew up plenty of plays to manufacture touches for Tyreek Hill, a similarly shifty and agile player to Toney who could turn any play into a touchdown.
Assessing Toney's Floor and Ceiling
Toney might have the largest disparity between his fantasy football floor and ceiling out of all players. At his best, Toney has legitimate top-12 potential, as he possesses a unique skill set that meshes almost perfectly with the system he is in. On the other hand, there is also a very real chance that Toney pulls his hamstring in Week 2 and has yet another injury-riddled campaign, colossally disappointing the fantasy community once again. In that sense, it feels like Toney's ADP of WR35 is actually the least realistic outcome for him, as he will likely far outperform it or not even come close.
As a result of Toney's impossibly wide range of outcomes, fantasy managers who do draft him should do so with the risk in mind. If you're selecting Toney to be your WR3 or FLEX, filling up the rest of your receiving corps with more steady options—for example taking someone like Amari Cooper over Deebo Samuel—would help soften the blow if Toney doesn't pan out.
The Bottom Line
Toney is one of the hardest fantasy prospects to evaluate. He has shown flashes of his talent, but has severely struggled to stay on the field in his NFL career thus far.
Toney is in a great place to succeed in Kansas City. He has the best quarterback in the world throwing to him, and is in a system that can scheme him up looks with the ball in his hands so he can produce. He also projects to be the top wide receiver in the offense when healthy.
Selecting Toney in drafts will truly come down to each individual fantasy manager. Toney has the talent and opportunity to be a legitimate league-winner in fantasy, but only if you can stomach the fact that your 7th-round pick could also be a complete zero. Know that the chances Toney finishes around where he is being selected are rather low considering he is as boom-or-bust as a fantasy prospect can get.
Personally, I'm willing to bet on the talent and would take Toney at his ADP of WR35, but surrounding Toney with several steadier receivers will be vital in offsetting some of the risks that come with selecting him.