John Daigle's 10 Thoughts About the 2023 NFL Draft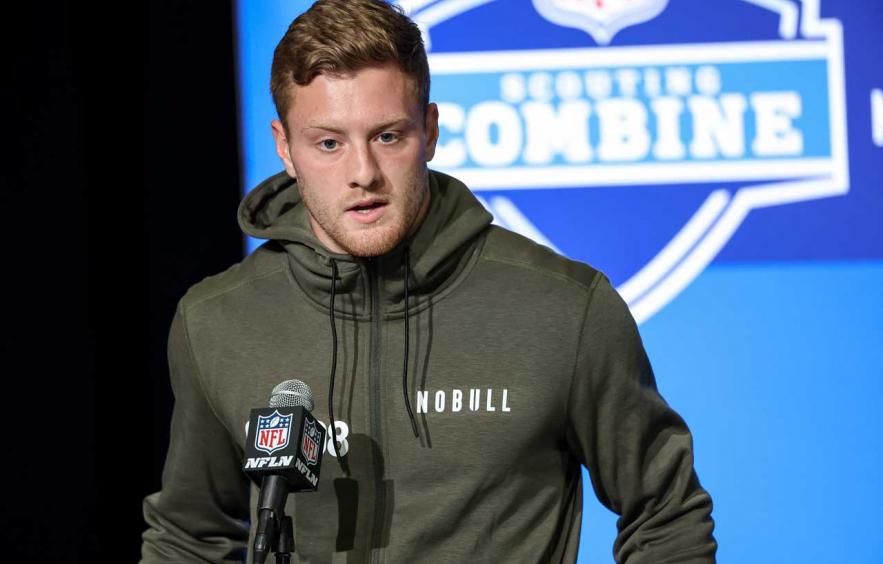 Michael Hickey/Getty Images
The unpredictable chaos of the 2023 NFL draft has arguably made it the most fun event I've covered and been limited on bet on over the last decade, creating a stream of predictive thoughts I wanted to share ahead of Thursday.
My final mock will be published Wednesday at midnight.
---
The easiest way to get access to all of these bets is through our newest partners, which allows you to get a 3-month subscription for just $5! Find out how here!
---
There Will Be Under 3.5 First-Round Trades
Last year, an NFL-record eight teams with multiple first-round picks created an avalanche with nine night-one deals. There is literally half of that (Texans, Seahawks, Lions, Eagles) on Thursday this year, and the organizations forecasted to trade up behind them simply don't have the capital; Titans have three picks inside the first 146 (not to mention the league's highest and most unmoveable cap hit in Ryan Tannehill), Jets are already on the hook for Aaron Rodgers, and the Raiders are not interested in a quarterback.
Perhaps those with multiple picks, most of which were earned for execs' long-term ideology, jostle for a better position in the top 10 since all (outside of Houston) are considered divisional threats with forward-thinking front offices. It's not outlandish to think these teams leverage their current positions on night one to build for 2024: it's currency.
Five Quarterbacks Will Be Drafted on Thursday
Those aforementioned teams with multiple first-round picks will obviously have the option to wait on a position of 'need' if a luxury selection, quarterback included, falls to them with their first choice.
Assuming the big four signal-callers are then off the board by the time the Titans (No. 11) are on the clock, Hendon Hooker (Under 30.5 -140) would suddenly be viewed as a commodity across the next 21 picks by default. He's also Houston's 'out' under center beyond No. 2, assuming Nick Caserio doesn't lean on Demeco Ryans' connections and move one of the team's three day-two picks (Nos. 33, 65, 73) to San Francisco for Trey Lance.

Bijan Robinson

(Texas) Will Be Drafted Between Picks 8-10

His ceiling begins at No. 8 with the Falcons (+200) and GM Terry Fontenot, who has already suggested the team needs "multiple running backs to preserve their careers." That approach additionally allows the offense to continue hiding its quarterback, who (glass half full) averages $1.4 million annually over the next three years, behind last season's 26.7 RB carries per game (second only to Dallas' 27.1).

The Bears (+1000) are a team to "not sleep on," per NFL Network's Daniel Jeremiah, though Jalen Carter (Georgia) and OT Darnell Wright (Tennessee), in that order, are preferred.

Not only can the Eagles (+750) afford to do whatever the hell they want, they will if Robinson is the highest player on their board at No. 10. Peter Skoronski (Northwestern) and Lukas Van Ness (Iowa) are also in play here.
The League Is Hoping Tyree Wilson And Will Anderson Escape The First Three Picks
You know what makes everyone's jobs easier? When one of only three universally coveted players in this draft is overlooked due to the incompetency of those controlling the top of it.
Seattle, Detroit, and Las Vegas (among others) would unanimously high-five in their respective war rooms and run to the podium if Houston and/or Arizona screw this up. And that ambiguity of night one has created two separate (and entirely different) top-four outcomes:

QB
Tyree Wilson
Will Anderson/QB
EDGE
EDGE/OT
Rookie Quarterbacks Will Combine for the Fewest Starts of Any Class in the Last Decade
First-round quarterbacks have averaged 10.8 starts since 2012 — even Kenny Pickett made 12 amongst a class that totaled a decade-low 31 last year — so this thought would admittedly become an (extreme) outlier upon fruition. But every franchise rumored to select a quarterback (outside of the Panthers and Texans) can logically afford developmental reps due to a bridge player in place; Gardner Minshew is familiar with Shane Steichen's playbook, Jared Goff's dead cap number plummets from $15 million in 2023 to $5 million next year, and the Seahawks can save $14.9 million by parting ways with Geno Smith, 33 in October, in 2024.
Winning (read: losing) will ultimately decide how much of this class we see over the second half of the season.
At Least Seven Offensive Linemen Will Go in the First Round
Paris Johnson Jr. (Ohio State), Broderick Jones (Georgia), Anton Harrison (Oklahoma), Wright, and Skoronski are Thursday locks.
O'Cyrus Torrence (Florida), John Michael Schmitz (Minnesota), Matthew Bergeron (Syracuse), and Dawand Jones (Ohio State) are on the cusp.
The NFL's ongoing dilution of the passing game, fresh off league-record usage of three-high safeties naturally forcing the 21st century's most yards per carry (4.5), has pushed any viable starters in the trenches up draft boards for the foreseeable future.
Total Tight Ends Drafted in the First Round (2.5) Will Decide All Other Positional Bets
Darnell Washington (Georgia) was viewed as a night-one lock as recently as April 18, only for his medicals to return and haunt him — Walter Football's Charlie Campbell reports some teams went so far as "flunking" Washington medically. Same goes for Sam LaPorta (Iowa), whose report (per Campbell) "was not clean" and "would be the reason LaPorta slides into…the second round." NFL Network's Lance Zierlein has suggested something similar for Dalton Kincaid (Utah).
In short, the market is so ever-changing that its volatility will decide which positional bets are won (and lost) in the back half of the first round.
I Like The Odds Of These Players To Go In The Top 31...
Jahmyr Gibbs, Alabama (-120)

Adetomiwa Adebawore, Northwestern (+160)

John Michael Schmitz, Minnesota (+170)

Jalin Hyatt, Tennessee (+250)

Jack Campbell, Iowa (+300)

I'm Struggling To Find A Home For These Players In The Top 31...
Calijah Kancey, Pittsburgh (-320)

Will McDonald, Iowa State (-320)

Bryan Bresee, Clemson (-185)

Joe Tippman, Wisconsin (-140)

Drew Sanders, Arkansas (+125)

Questionable Bets I Like Based On Intel But Don't Want The Sickos In The 4for4 Discord To Yell At Me...
Darnell Wright Top 10 (+300)

Bryce Young < Tyree Wilson Exacta (+225)

Steelers First Drafted Player - Offensive Lineman (+130)

Commanders First Drafted Player - Offensive Lineman (+220)

Bengals First Drafted Player - Defensive Lineman/EDGE (+750)

Saints First Drafted Player - Tight End (+750)

Lions First Drafted Player - Quarterback (+1000)