The Fantasy Football Impact of Dalton Schultz to the Houston Texans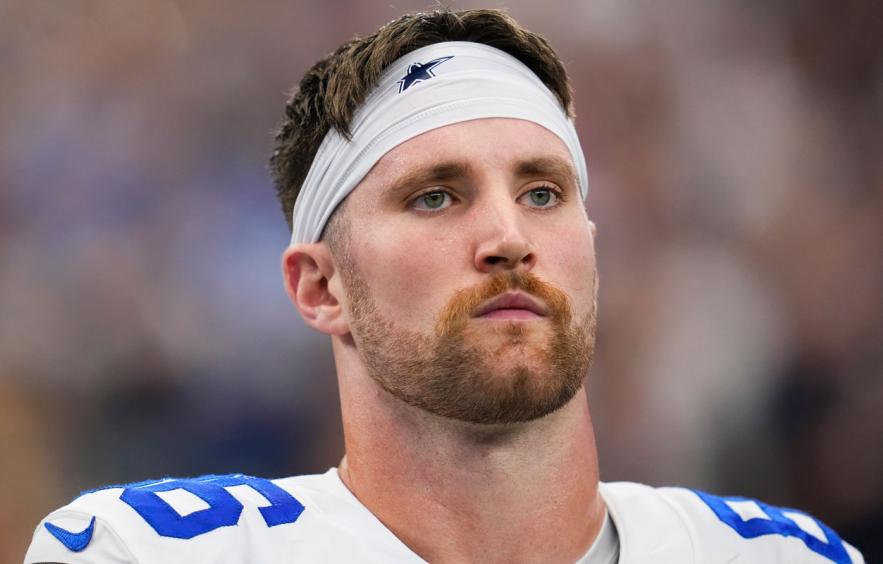 Cooper Neill/Getty Images
On Monday, March 20, the Houston Texans signed former Dallas Cowboys tight end Dalton Schultz to a one-year, $9 million contract. This comes on the heels of adding wide receivers Robert Woods and Noah Brown—another former Cowboy—early in the free agency period. This new crop of pass-catchers will try to thrive in the midst of a transitional period for the Texans franchise.
---
Click Here for more 2023 Player Profiles!
---
Dalton Schultz

's Tight End Profile

Dalton Schultz took a couple of years to get acclimated to the NFL, as most tight ends do, but over the last three seasons, he has established himself as one of the most consistent pass-catching tight ends in the league. While Schultz is a good run blocker—PFF gave Schultz the sixth-highest run-blocking grade among qualified tight ends in 2022—he is best utilized as a route-runner. He ran a route on 72.8% of the Cowboys' dropbacks last season, the ninth-highest rate at his position.

For fantasy purposes, though, Schultz has been more of a low-ceiling, high-floor stat collector than a plug-and-play game breaker. Over the last three seasons, Schultz ranks fourth among tight ends in total targets (282) but has just one elite fantasy season in that span.
Dalton Schultz

's Career Stats

| Year | Age | G | GS | Tgt | Rec | Yds | TD | Half PPR/G | Rank | Average Depth of Target | Rank (min 40) | Yards Per Route Run | Rank (min 40) |
| --- | --- | --- | --- | --- | --- | --- | --- | --- | --- | --- | --- | --- | --- |
| 2018 | 22 | 11 | 7 | 17 | 12 | 116 | 0 | | | | | | |
| 2019 | 23 | 16 | 0 | 2 | 1 | 6 | 0 | | | | | | |
| 2020 | 24 | 16 | 14 | 89 | 63 | 615 | 4 | 7.3 | 19 | 6.7 | 29 | 1.2 | 25 |
| 2021 | 25 | 17 | 15 | 104 | 78 | 808 | 8 | 9.9 | 5 | 6.6 | 19 | 1.7 | 11 |
| 2022 | 26 | 15 | 15 | 89 | 57 | 577 | 5 | 7.7 | 12 | 7.0 | 21 | 1.5 | 14 |
Much of Schultz's fantasy output can be explained by how he is used. As noted in the table above, Schultz runs relatively short routes and he isn't uber-efficient with his targets, ranking inside the top 12 in yards per route run among tight ends just once over the last three years.
At a typically touchdown-dependent position, Schultz does have the fifth-most scores among tight ends over the last three years but he isn't a dominant threat near the goal line. Since 2020, his 19 targets inside the opponent's 10-yard line rank 10th at his position, somewhat underwhelming for a team with the fourth-most touchdowns in that span.
Although Schultz isn't a big-play machine, he is going to a situation where he can potentially thrive off of volume.
How
Dalton Schultz

Fits into the

Texans

' Offense

Projecting the Texans' offense this year, especially before the NFL Draft, is a bit of a blind undertaking.

After excusing Lovie Smith and his regime, Houston hired ex-49ers defensive coordinator DeMeco Ryans to be their head coach. Ryans brought along 49ers passing game coordinator, Bob Slowik, to be the Texans' offensive coordinator and play-caller. Slowik has never called plays at the NFL level but has spent his entire career with Kyle Shanahan.

In addition to new coaches and play-callers, the Texans are likely to draft a quarterback with the second selection in this year's NFL Draft. Whether that player is C.J. Stroud, Bryce Young—as Connor Allen recently mocked—or another player is to be determined. With veteran Case Keenum now on the roster, there's also no guarantee that Houston would force a rookie quarterback to start in Week 1.

What we can infer is how Slowik might try to replicate a Shanahan system. Offenses led by Shanahan have been known for running the ball (you can read about how the Texans' new-look backfield might shake out here). But those passing games have had their own discernable characteristics—Shanahan offenses like to attack the middle of the field with short and intermediate passes.

Dating back to his days as the offensive coordinator in Atlanta, Shanahan's offenses have ranked in the top half of the league in average throw depth just once and have targeted the middle of the field at a top-10 rate every season.

Most likely trotting out a first-year quarterback with little pass-catching talent on the outside, it would make sense for Slowik to implement a similar passing philosophy, at least in his first season calling plays.

Given Schultz's receiving profile, this would benefit the new tight end in an offense that has the most vacated targets in the league. In fact, Schultz could be in a position to lead the Texans in targets if they don't add more talent at wide receiver.

The biggest threat to Schultz's target volume is third-year wide receiver, Nico Collins. After a rookie-like inefficient first year in the league, Collins led all Houston pass-catchers in target rate and yards per route run in 2022.

As for Robert Woods, we already saw a decline in skill in 2021 and in 2022, he posted the lowest target-per-route-run rate (17.1%) since his rookie year. As John Daigle points out, Woods' blocking prowess makes him a better real football player than a fantasy target.

Noah Brown is an insurance signing while 2022 second-round pick John Metchie is taking steps to return to the team after being diagnosed with leukemia last July. Brown did attract 74 targets last season for the Cowboys but being third or lower on the target totem pole for a passing game that is likely to struggle warrants little fantasy attention.
Projecting the
Texans

' Passing Attack in Fantasy Football

As this offense currently stands, Dalton Schultz is the only player in the Texans' passing game that figures to project as a fantasy starter. While he can lead this team in targets, that doesn't necessarily mean he will be an every-week plug-and-play option, even in full PPR leagues. Most likely catching balls from a rookie quarterback on a team that figures to favor the run, Schultz will be lucky to sniff 100 targets and his touchdown expectation on those targets will be low.

When this signing was made, Schultz was ranked as 4for4's TE10 and was being drafted as the TE11 in early best ball drafts. His ranking and ADP could slide outside of the TE1 range. For redraft purposes, Schultz will likely be a streaming option. In best ball leagues, Schultz can be drafted as a TE2 when paired with an elite tight end but he is not a player that you want to anchor the position with. Best ball drafters that find themselves staring at Schultz as their first tight end should almost always be walking away with a 3-TE build.

The dart throw on this team is Nico Collins, who is available as Underdog's WR79. Once the NFL Draft is complete, it will be clear who to pair Collins with but anyone drafting C.J. Stroud or Bryce Young in pre-Draft best ball leagues could take a late flier on Collins.

The Bottom Line