The Fantasy Football Impact of Devin Singletary to the Houston Texans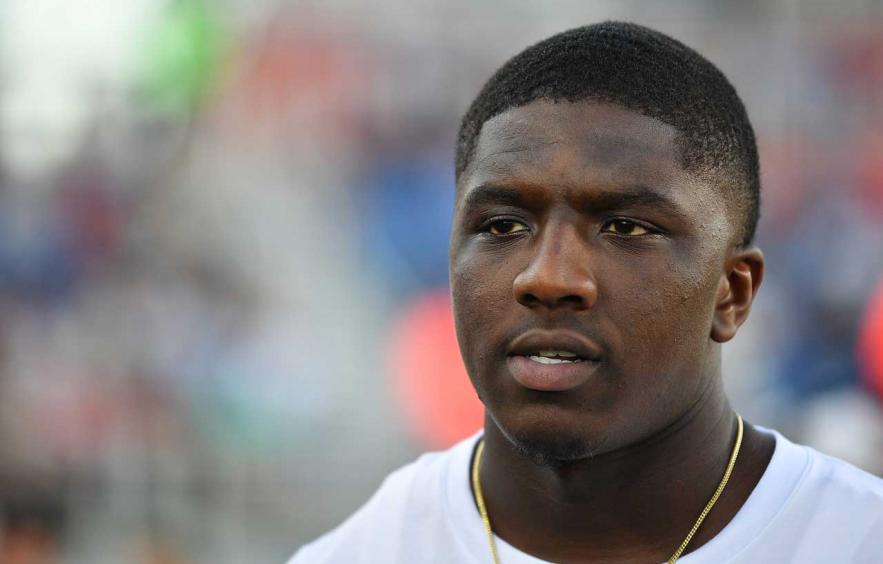 Mark Brown/Getty Images
On Monday, March 20, the Houston Texans signed running back Devin Singletary to a one-year, $3.75M contract. Heading into his fifth NFL season, this will be his first year outside of a Buffalo Bills uniform as he heads to Texas to complement sophomore Dameon Pierce.
Singletary had a consistent role with the Bills, notching a breakout 2021 season when he eclipsed 1,000 scrimmage yards (1,098) and found the end zone a total of eight times. Singletary is accustomed to RB rotations, and Pierce showed at times during his rookie year that he could use some backfield help.
---
Click Here for more 2023 Player Profiles!
---
Devin Singletary

's Running Back Profile

As can often be the case at the running back position, Devin Singletary came onto the scene in 2019 and had his most efficient to-date season. Though he has rarely had breakout games sprinkled through his resume, he is the fantasy equivalent of a compiler. That typically comes with a negative connotation, but there's something to be said about consistency at an inconsistent position once we get past the elite options.

Singletary has a frighteningly low amount of 100-yard games for his career (three), but he has also played in 100% of his team's games over the last three seasons, not missing a contest since Buffalo rested their starters in Week 17 of the 2019 season.
Devin Singletary

Career Stats

| Year | G | GS | Att. | Rush Yards | Rec. | Rec Yards | Scores | Half-PPR FP/G | FP/G Rank |
| --- | --- | --- | --- | --- | --- | --- | --- | --- | --- |
| 2019 | 12 | 8 | 151 | 775 | 29 | 194 | 4 | 11.1 | RB25 |
| 2020 | 16 | 16 | 156 | 687 | 38 | 269 | 2 | 7.8 | RB45 |
| 2021 | 17 | 16 | 188 | 870 | 40 | 228 | 8 | 9.6 | RB36 |
| 2022 | 16 | 16 | 177 | 819 | 38 | 280 | 6 | 10.5 | RB27 |
Singletary has been a serviceable back throughout his career, but he doesn't necessarily have a calling card that elevates him above the league-average watermark. Looking at his success rate over the years (a number representing the player's consistency, measured by successful running plays), he comes across right in line with his league-average perception. He has ranked as high as 13th and as low as 31st (twice) in success rate. For comparison's sake, there are typically ~45 qualifying running backs for this metric in a given season. So, Singletary has finished in the bottom third in two separate years.
Part of the reason behind his dropping success rate is likely due to his ever-decreasing elusiveness. According to Sports Info Solutions' numbers, Singletary's broken-plus-missed tackle% has dropped every year since his rookie season, from 23.8% in 2019 all the way down to a 15.8% mark in 2022. Pro Football Focus' metrics paint a similar picture, as he would accumulate the lowest amount of forced missed tackles (36) and the lowest elusive ratings (54.5) of his four-year career last season.
Singletary may be entering more of a three-yard-and-a-cloud-of-dust segment of his career, but if that's the case, he's heading to a team that already has a much better version of it.
How
Devin Singletary

Fits in Houston

With the continuing overhaul of the Houston Texans, it won't do us a lot of good to look at running back usage from the previous regime. Though Houston has the same running backs coach that they've had since 2018 (Danny Barrett), they have a new head coach (DeMeco Ryans) and a new offensive coordinator (Bobby Slowik), both of whom come from San Francisco. Slowik and Anthony Lynn helped run the offense for the 49ers over the 2022 season, and Slowik had been a part of the offensive coaching staff since 2019.

Prior to the trade for Christian McCaffrey last season (Weeks 1-6), no single running back had 50% of the 49ers' carries (Jeff Wilson, 48.8%). Even after the trade, and ignoring a Week 7 in which the team eased McCaffrey into the offense, he still only recorded 53.6% of the 49ers' carries. It's safe to say that Dameon Pierce isn't CMC, so there's a very strong probability that this new coaching staff is going to cut down on Pierce's 75.3% of team carries from 2022, a mark that ranked third-highest across the league.

Devin Singletary can operate as a great rotational option to keep the sophomore's legs fresh throughout the season and beyond. There's also a distinct possibility that Pierce's middling receiving chops could lose him some third downs to the veteran, if only for pass protection concerns. Singletary has a history of blocking for Josh Allen out of the shotgun, ranking second, second, and fourth in pass-blocking snaps over the last three seasons.

Nobody is going to confuse Devin Singletary for some pass-catching maven. Still, there's a good chance the Texans honed in on him because of the type of blocking insurance he can provide for their upcoming second-overall selection. We don't get fantasy points for backfield blitz pickups, but simply being on the field in passing situations creates somewhat of a fantasy floor on his new team.
Fantasy Outlook for the
Texans

' Backfield

Because of the redundancy of where Dameon Pierce and Devin Singletary succeed in the running game and the decent odds that Houston adds another pair of legs alongside Mike Boone and Dare Ogunbowale, this is not great news for the immediate fantasy output of Pierce. In an offense almost devoid of playmakers, the Texans had no option but to pound Pierce for each of his 13 healthy games last season, and that resulted in 11.6 half-PPR points per game, a mark that made him the RB23.

In the few months since the season ended, the team added Singletary, Dalton Schultz, Noah Brown, Robert Woods, and whoever they select with the second-overall pick (we must assume a quarterback). They also have the 12th-overall pick, a second, two thirds, and seven more picks afterward to bolster the surrounding cast of their future franchise quarterback.

Due to all of this, it is almost inconceivable that the team runs their offense through Pierce again. As of now, there are only two options worth considering in the Houston backfield, and at what is a heavily discounted price, we may have to consider Devin Singletary in fantasy football over Pierce. Barring injury, Pierce is almost guaranteed to score more fantasy points, but if RB23 was his ceiling with the offense running through him, what is his potential weekly output when a new quarterback actually has decent options?

We should be cautious about spending up for one-dimensional options on re-building offenses. As for Singletary, he has an opportunity to take over the passing-down role as soon as Week 1 and earns a fantasy floor because of it. If Houston doesn't add a passing-game specialist between now and the regular season, there is a good chance his fantasy value will be overlooked too often in fantasy drafts.

Bottom Line
Devin Singletary is leaving one of the most explosive offenses in the league, but there's a chance he digs out a larger role than people think he is capable of.
Dameon Pierce's days as the third-biggest bell-cow running back in the league are all but over.
4for4 currently ranks Singletary as the RB46. It's hard to disagree, considering the offensive environment he finds himself in, but passing game involvement may end up making that closer to his floor than his ceiling for 2023.
With Devin Singletary going as the RB54 in very early Underdog ADP, he makes for an interesting piece for teams that may have foregone early-round RBs.