Week 4 O-Line Rankings and Matchups to Exploit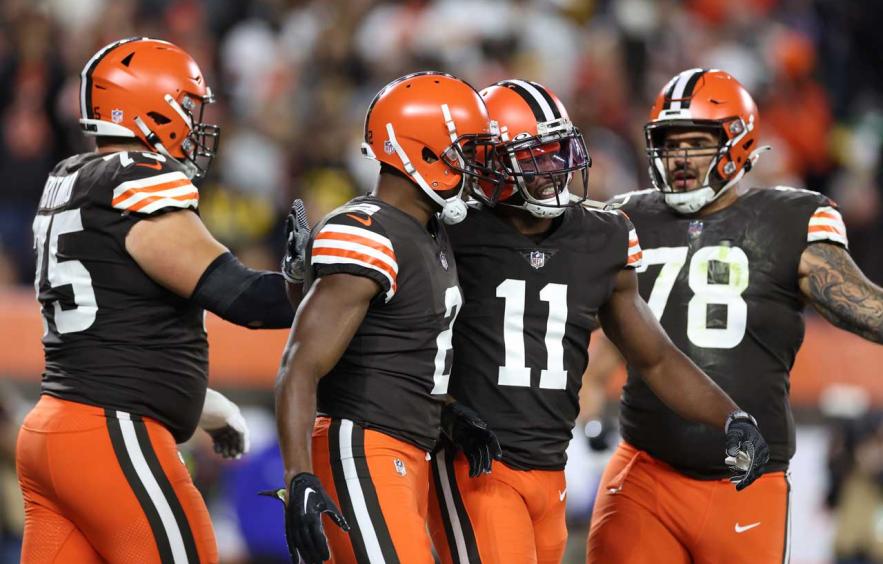 Gregory Shamus/Getty Images
Evaluating offensive line play regarding its effect on fantasy football output has been a stone unturned throughout our game within a game. Here at 4for4, we're dedicated to looking at fantasy pieces from all angles, and that includes the positive and negative impact an offensive line has on that team's fantasy assets.
Below I'm going to be digging into specific weekly matchups between offensive lines and the opposing defense's aFPA —one of the many useful tools available to us here at 4for4. Many sites publish raw fantasy points allowed by position, but 4for4 goes a step further and adjusts those numbers for a defense's relative year-to-date schedule strength. These numbers will continue to strengthen through more data points as the season progresses and when compared to a team's advantages within the trenches will expose fantasy pieces we may not have otherwise considered.
---
Editor's Note: Check out the complete set of Week 4 rankings here.
---
Let's begin by diving into the passing game to see what o-line/defense match-ups we can exploit.
Favorable Quarterback Matchups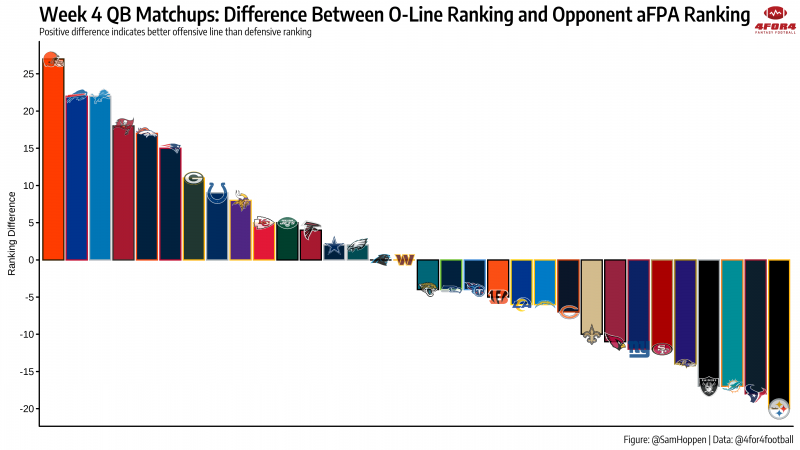 Buccaneers

vs.

Chiefs

For those paying attention, the Week 3 Buccaneers/Packers slog of a game came as no surprise, as both teams had been grinding the clock to a halt for numerous reasons, two of which were probably their geriatric quarterbacks and the lack of receiving options. Sunday night's game has a chance to inject a little more fantasy relevance into the world with the return of Mike Evans off his one-game suspension and the more uptempo speed in which the Chiefs run their plays (16th in situation neutral pace, as opposed to the Packers' 32nd ranking). Tampa Bay's offensive line is on the precipice of utter implosion due to the number of injuries they've sustained, but they still may have the de facto best OT tandem in the league with Tristan Wirfs and the return of Donovan Smith.

Chiefs' interior lineman, Chris Jones, could prove to be a problem, just as Green Bay's Kenny Clark was in Week 3 (two sacks on three pressures), but with the pair of Wirfs/Smith protecting the edges, Tom Brady should find time to pepper Mike Evans with his familiar WR1-level of targets. It's safe to assume that with Julio Jones' consistent health concerns and Scott Miller's impeccable 0.11 yards per route run last week, Russell Gage will be the only other dependable passing game option until Chris Godwin returns.

For those in TE Premium/2TE leagues, Cameron Brate was tied for the team-high by running a route on 82.6% of Brady's dropbacks and figures to remain active in the offense, including a role in the red zone.
Browns

@

Falcons

The Atlanta Falcons have surprisingly been fun to watch through the first three weeks of the season, but it's not necessarily because of their defense. The team has only forced pressure on 24.4% of opponents' dropbacks, the second lowest in the league, and has allowed a completion% of 71.9%, the highest in the NFL. Cleveland will want to move the ball on the ground this week, and for good reason, but when they decide to take to the air, they should do so with ease. Atlanta ranks dead last in aFPA to opposing offenses, including 31st against QBs, 28th against WRs, and 31st against TEs.

Amari Cooper is sneakily the number one wide receiver in the league in air yards share, absorbing 50.3% of Cleveland's air yards. He should be in a great place to string along a third straight 100+ yard performance against this defense that has allowed the third-highest explosive pass (15+ yards) rate. The tight end terrain is thirsting for another consistent producer, so let's hope that David Njoku is also allowed to take advantage of this soft matchup.
Bills

@

Ravens

While the Ravens have had an uncharacteristically tricky time getting to the opposing quarterback this season, their biggest issue has been their secondary. Baltimore has been amongst the most susceptible passing defenses in the league, allowing a league-high 1,104 passing yards through three games on 7.8 yards per attempt (27th) and 8.1 yards per attempt (25th) when unable to get pressure on the quarterback. Back in Week 2, the Ravens could only muster pressure on 20% of Tua Tagovailoa's dropbacks, resulting in what one can only assume may be the biggest offensive explosion of the 2022 season; 469 yards passing and six touchdowns.

In Miami's two non-Baltimore games, they allowed pressure rates of 41% and 46%, so it's unlikely that their ironclad offensive line is to blame for that 20% pressure rate; it's the fledgling Ravens defense. This sets up as a start-em-if-ya-got-em scenario for the Bills' passing game; bounceback Stefon Diggs is a top-five option, Gabe Davis is a WR2, Dawson Knox is a must-start at the grossest position in fantasy, and Isaiah McKenzie can even be considered a Flex option.

Favorable Defensive Matchups
Bears

@

Giants

Yes, I am touting the Bears as an option in fantasy football in the year two thousand and twenty-two, and no, I don't feel comfortable about it. But let me explain. The Giants' offensive line has been a difficult watch through three games, and a lot of that has to do with seventh-overall selection Evan Neal, who is coming fresh off a Monday Night Football matchup against the Cowboys in which he was charged with three sacks. It wasn't only Neal, though, as the utter domination came from all angles, leading the Giants' offensive line to surrender an ungodly 35 pressures on 49 Daniel Jones dropbacks, a 71.4% pressure rate that is nearly unheard of. Well, unheard of since Week 1, when New York allowed the Titans to force pressure on 78.6% of Jones's dropbacks.

While forcing Jones out of the pocket has been good in fantasy terms due to his 120 rushing yards, he has also been sacked 12 times, and things set up well for Bears' edge rushers Dominique Robinson and Trevis Gipson, who have combined for five sacks on the young season. While the defense on the opposite sideline is understandably a good bet for Week 4, Chicago presents a defensive floor for deeper leagues or a good addition to DFS player pools.
Cardinals

@

Panthers

The Arizona Cardinals defense hasn't had any blockbuster performances as of yet. Still, to be fair, their blowout loss came against the explosive Chiefs offense, and holding the Rams to only 20 points is nothing to sneeze at. This Sunday, they'll face off against a Carolina Panthers' offensive line that is trending in the wrong direction, and they weren't at the top of the food chain to begin with. Through three weeks, the Panthers have notched a 3.30% blown block rate (30th), while rookie left tackle Ikem Ekwonu has had difficulty getting his legs under him in the dawn of his career. Ekwonu's nine pressures allowed has him tied for fifth-most amongst offensive tackles despite the team taking only 98 dropbacks, the sixth-lowest mark in the league.

It is way, way too early to write off Ekwonu as a poor lineman, but as of now, he and left guard Brady Christensen make up a susceptible left side of the Panthers' o-line, and we should strike while the iron's hot.
Favorable Running Back Matchups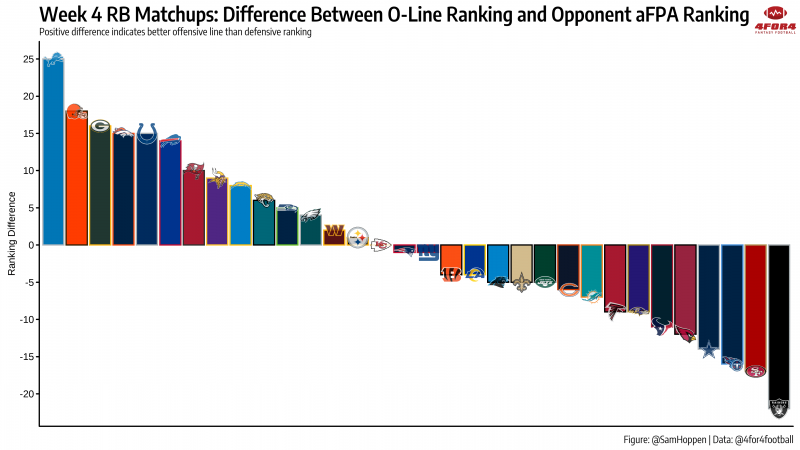 Broncos

@

Raiders

It's been slow sledding for the Denver offense in the beginnings of the Russell Wilson era, but a cushy matchup in Week 4 could be just what they need to turn things around. Through three weeks, the Raiders have been one of the most "giving" defenses in the league as it pertains to opponents' fantasy production, ranking 26th in aFPA as a whole and 27th to running backs in particular. This matches up well with the strengths of the Broncos' offensive line, who currently rank 10th in adjusted line yards and have two running backs in Javonte Williams and Melvin Gordon, who have combined for 227 yards after contact.

Avoiding Maxx Crosby and the rest of the Raiders' pass rush should be the first thing on Nathaniel Hackett's mind while he and his staff create a gameplan for this divisional rivalry, and makes Williams a borderline RB1 option while Gordon should be a strong Flex option for Week 4.
Seahawks

@

Lions

Though the Seahawks' offensive line unit as a whole will need time to dig themselves out of the bottom third of the league, they get the type of movement in the trenches that allow us to trust their run game in great matchups. Though the team ranks 31st in Sports Info Solutions blown block% (3.78%) in the passing game, they have been more consistent on the ground, particularly in the zone-running game where they can get the defense moving horizontally to create paths for their athletic running backs. Seattle currently ranks 18th in adjusted line yards and 12th in explosive rush%, both areas in which the Detroit defense has struggled through three weeks, as they rank 24th and 25th respectively in the defensive version of those stats.

In fact, using our Team Stat Explorer, we can see that the Seattle offense matches up well across the board, outside of Detroit's pass rush.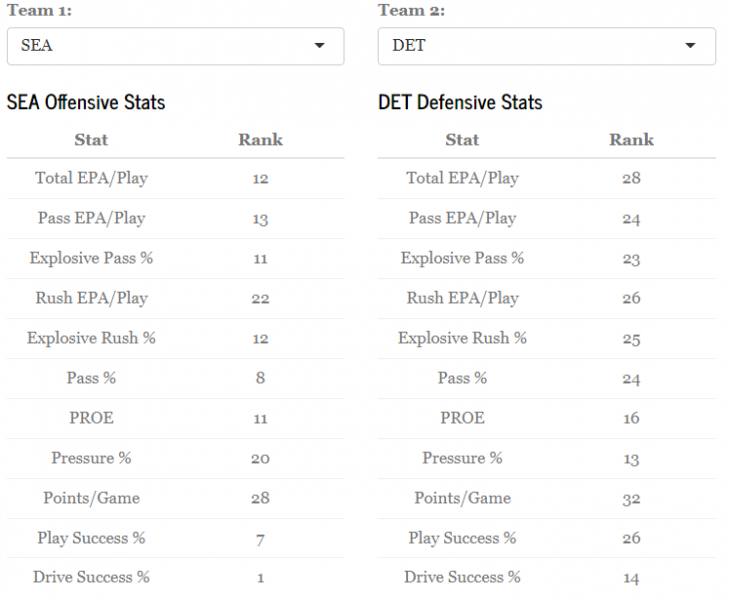 Pete Carroll and company have never needed an excuse to run more. Still, this game is practically begging them to grind it out, making Rashaad Penny and Ken Walker RB2/3 options with the possibility of popping off some significant gains.
Running Backs with Bad Matchups
As opposed to breaking down every bad match-up through the rest of the slate, here are some running backs I'm looking to avoid because of their poor offensive line and the strong defensive fronts they will be facing: