SharpClarke's Best Week 4 NFL Bet: ARI @ CAR Matchup Spotlight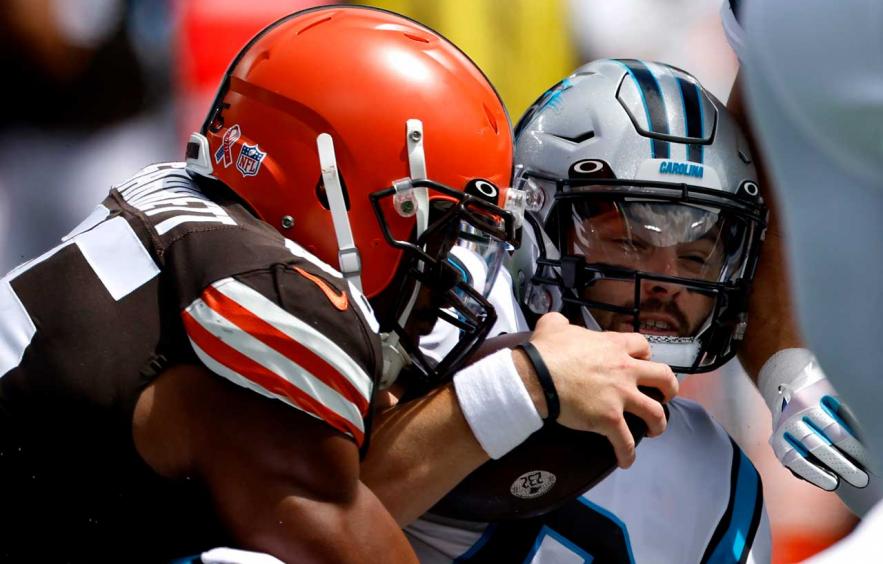 Jared C. Tilton/Getty Image
It's a lot of fun to write about high-profile matchups like Bills-Dolphins last week, but sometimes the angles take me to a less exciting spot. This week, I see a matchup to exploit when the 1-2 Arizona Cardinals visit the 1-2 Carolina Panthers. Neither team has impressed much this season, and the loser of this game will likely have a tough time fighting for relevance come playoff time. We don't care about that here, though. We care about exploiting the matchup in the betting markets. Let's dive in.
My Numbers
Arizona: 19th (Offense: 16th, Defense: 19th)
Carolina: 24th (Offense: 26th, Defense: 23rd)
Baseline: ARI -1.5, -113 Moneyline
Matchup Breakdown
ARI Offense v. CAR Defense
The Cardinals' offense has not looked good this season. Now in his fourth year, Kyler Murray simply has not figured out how to read defensive schemes and capitalize on timing routes with his receivers. He can throw a very pretty ball but hasn't had a lot of opportunities to make plays downfield without DeAndre Hopkins at his disposal. The best version of this offense involves Murray scrambling around, avoiding sacks, and creating time for his receivers to create space. It has been slow going this season because he hasn't been on the same page with his new set of weapons. But last week he finally got Marquise Brown going, and I think that's encouraging.
They also get a ton of penalties and make mistakes (like botched snaps) that set them back. Last year, they were able to overcome these gaffes but this year it's been tougher. That's a difficult thing to predict, but if they can clean this up a little bit, creating 3rd-and-5 instead of 3rd-and-10 scenarios, this offense takes a huge step forward. On the surface, the Panthers' defense has played legitimately well in this young season. But they've faced Jacoby Brissett, Daniel Jones, and Jameis Winston. All three of these quarterbacks struggle to adapt to pressure and play their best football with time in the pocket. They predictably struggled to capitalize against a defense that seeks to put pressure on the quarterback above all else. They lacked the creativity to make plays that punish the Panthers for their aggressiveness.
The Panthers will get to Murray several times this game. They will blitz him and he will get sacked. That will stall some drives. But Murray also brings to the table mobility the Panthers have not seen this season. When he escapes the pocket, the Panthers will be on their heels for the first time. This will put more pressure on the secondary, which has been playing above its weight class due to the matchups they've had. I expect Murray to make several big plays that punish the Panthers and put some points on the board. It would be overly optimistic to expect the Cardinals to win this matchup consistently. It will be uneven, but the Cardinals will have some measure of success.

CAR Offense vs. ARI Defense
This is the exploitable side of the matchup. The Cardinals' defense is predictable. They will blitz you and they will force quick decisions. I exploited that tendency when they went up against Patrick Mahomes and he predictably carved them up. You don't blitz Mahomes. They also blitzed Matthew Stafford, who similarly performs well when he has to make quick decisions. But Baker Mayfield creates an entirely different equation. This is the type of matchup where blitzing actually works. Mayfield struggles under pressure, throws inaccurately, and overestimates his own mobility. This is a perfect storm for an aggressive defense.
With Christian McCaffery banged up, the Panthers may even struggle to run the ball. We have seen Baker Mayfield be successful when the run game is clicking and he can play without too much on his plate. The Cardinals can be beaten on the ground, and that's what Carolina will need to do in order to win here. But unless they build a lead, they'll need Mayfield to step up. That's the problem. Even with talented wide receivers, I expect the Cardinals' defense to win this matchup. If the Cardinals build a lead, it could snowball into sacks and turnovers.
Find out what other bets SharpClarke is placing in Week 4!
Prediction
The Cardinals' uneven offensive performance is enough to build a halftime lead with some big plays from Murray. From there, the defense does its job and the Cardinals don't need to score much in the second half. They cruise to a comfortable win.
Final Score Prediction: ARI 27-17.
Market Evaluation
Somehow, the Panthers are favored here. I think most bettors are down on both teams, but at least the Panthers got a win last week against a competent Saints team. However, that result was misleading. They got outplayed by the Saints but won because they returned an Alvin Kamara fumble for a touchdown, blocked a field goal, and took a wide receiver screen to the house. The Cardinals moved the ball okay against the Rams but settled for too many field goals. The perception of these teams is fairly even, but that's because the Panthers have benefitted from easy matchups while the Cardinals have faced a tough slate. I'm comfortable with my numbers being off-market in this game.
Best Bets
Tease ARI to +7.5 (There are several other Wong teaser legs to combine with; my favorite is DEN +8.5.)
ARI ML (-102) (FanDuel)
ARI Alt Spread -9.5 (+320) (FanDuel)
If you enjoyed this matchup breakdown, you can access all my picks with detailed write-ups for every play with a 4for4.com Betting Subscription. Sign up using the Promo Code SharpClarke for 10% off and get every bet I make in real-time. For the most up-to-date picks check out my Twitter and subscribe to our Discord. This sheet from Dan Rivera tracks all my betting picks (and those from the rest of the betting staff) on the year. Just click on the tab with my name on it for the results.
---
This article is intended for entertainment purposes and adult users only. Call 1-800-GAMBLER if you have a gambling problem.