SharpClarke's Week 2 Betting Recap: Takeaways From a Wild Browns-Jets Matchup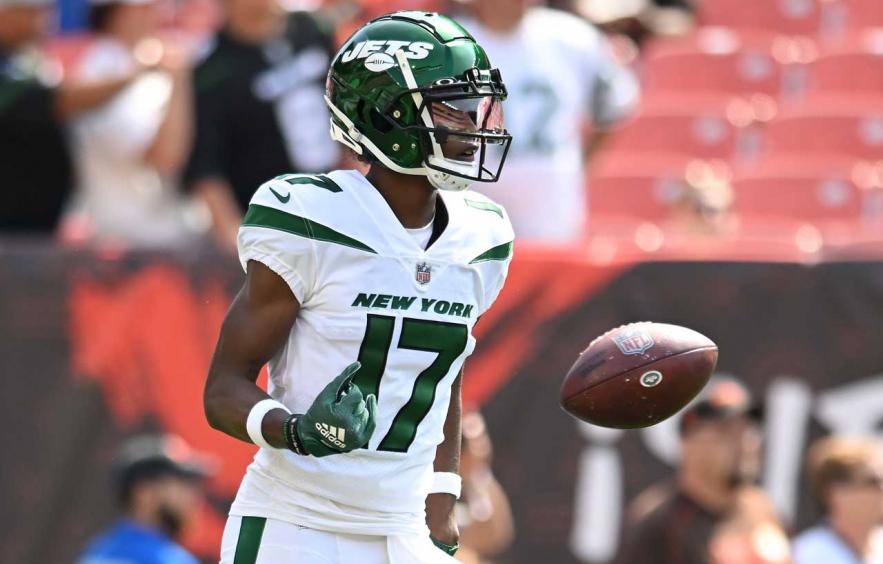 Nick Cammett/Getty Images
Another week and another weekend packed with exciting football. I would be enjoying it a lot more if the bets were falling my way in this young season, but I can't recall an early season this wild. The surface-level takeaways from each game often miss the true substance of what happens on the field. Separating out the signal from the noise is essential, especially early in the season as we are getting to know these teams. As always, I spend some time reflecting on the previous week's games and identifying some takeaways we can use as we progress through the season. First, let's dive into a game not many people watched.
NYJ 31, CLE 30
Effectiveness Ratings
CLE: 6.38
NYJ: 5.75
Effective Result: Browns by 7.56 points
Unless you bet on this game, I doubt you watched it. That's what I'm here for. The Jets won, but they were not the more effective team in this game overall. While that usually carries some signal, I think even casual fans who caught only the highlights would come away with that same conclusion. In fact, most people just saw the Jets' incredible comeback from 30-17 late in the fourth quarter and call it a fluke win by the Jets. But I think this game was more even than most people realize. The Jets legitimately hung with the Browns for most of the game and tied it at 17 in the fourth quarter before a couple of impressive touchdown drives by the Browns. I came away with three key takeaways that should color our perspectives on these teams moving forward:
Takeaway #1: This Jets' offense has some serious talent. Garrett Wilson's route-running chops really pass the eye test. He creates separation consistently, even in the red zone where space is tight. He is the real deal, and as he draws more attention from defenses I think Elijah Moore will step up as well. They have two legitimate running backs who can make people miss—with a good scheme, they should continue to perform at a high level. The primary issues have been 1.) Joe Flacco's (lack of) mobility and 2.) offensive line play. Zach Wilson has mobility. It may be asking a lot for Wilson to get rid of the ball quicker and make fewer mistakes, but this offense has actual upside once Wilson returns to the lineup if he can do those things. Sentiment on Wilson is at an all-time low, so there may be an opportunity to back an underrated squad later on this season.
Takeaway #2: The Browns' offense plays very tight. They rely on a strong ground game and Jacoby Brissett completing passes just past the sticks for key conversions. This puts a lot of pressure on Nick Chubb and Kareem Hunt to play at a high level and on the offensive line to create holes. It also puts a lot of pressure on Amari Cooper to run crisp routes. Everything has to be clicking for this offense to succeed. We can expect a major drop-off if they play a dominant defensive line that can take away their primary method of attack, or if any of those key players get hurt. They are fragile. It also raises questions about how Deshaun Watson will fit in here once he returns. He typically plays the exact opposite style of football, which could create some tension. Combined with his inevitable rust, it's difficult to imagine this offense humming right when Watson returns.
Takeaway #3: I am seriously concerned about the Browns' coaching. They caught a lot of flack for giving away this win when Chubb scored a touchdown instead of going down on the 1-yard line, allowing the Jets an opportunity to come back. But the defense on the next drive was even more inexcusable. They let Corey Davis get behind the defense with nobody even close to him for a quick touchdown from Flacco. This happened just one week after they let Baker Mayfield beat them deep in an improbable comeback by the Panthers. They would be 0-2 right now in two games they should have won if their kicker didn't make an excellent game-winner last week. I had some concerns last year with the way this team crumbled and the way Kevin Stefanski handled Mayfield. When I see reasons for concern compounding, I generally become skeptical. This team has some hidden dysfunctional downside if they can't sharpen up.
For now, these are just pieces of context to consider as opposed to actionable takes. But you may see these pop up in the future as I make bets.

SharpClarke Week 2 Betting Recap
It was another tough week for my bets, despite some really strong closing line value (CLV) on several bets. The Bengals managed to lose outright to the Cowboys with a backup quarterback, ruining my bet on the Bengals Moneyline and ensuring a losing week for me. I finished 5-9 for -4.64 Units. I also went 2-3 in the SuperContest, winning with JAC +3.5 and ARI +5.5, but losing with WAS +1.5, CAR +2, and NO +2.5. Another disappointment. But I have two reasons for optimism. First, my reads on these games have overall been very strong. I have secured lots of CLV, which typically indicates a long-term winning process. I also have typically been winning comfortably and losing close ones. Second, I have twice had consecutive losing weeks in the last two seasons. Each of those times, I bounced back strongly, with a +6.44 unit week and a +4.74 unit week. Hopefully, I can continue that trend in Week 3. Instead of breaking down every bet, I'm going to focus on a few key lessons to take with me:
CAR ML (+115) - NYG 19-16. It's important to focus on the process instead of results. This bet lost, but it was a good bet and I would make it again. In my write-up, I said this game is a toss-up and that the Giants likely won't win if they can't run well. They didn't run well, and the Panthers outgained them on a per-play basis, 5.1 to 3.8. The difference in the game was two fumbles by Carolina—one on a kickoff and one on a catch—and excellent field goal-kicking by the Giants. Those types of things tend to stabilize. I won't overreact and throw the idea of ever betting on Mayfield again out the window (although it is tempting).
Get Ready for Week 3 with SharpClarke's Betting Tracker!
BAL -3.5 (-105), MIA TT U 20.5 (-115) - MIA 42-38. When the Ravens took a 21-point lead into the fourth quarter I thought I was good. But this was not simply a bad beat. The Dolphins' offense must be respected. While Tua Tagovailoa is limited and will make lots of mistakes this season, his profile involves doing well when circumstances are favorable. Mike McDaniel has created a scheme using speed all over the field that creates easy throws for his quarterback time and again. This is sustainable, and prior evaluations on this offense must be adjusted. However, we must pay attention to how defenses start to handle this offense as they get more film. I have my doubts about its ultimate upside, but this game taught me not to overplay my angles.
SEA @ SF Over 42.5 (-110) - SF 27-7. The Trey Lance injury impacted this game but I think it was heading under regardless. As I move to 0-3 on game totals on the season, expect less frequency on my totals bets (unless they are team totals, that partner with my sides analysis to create a bet). I have to focus on what I do well.
JAC +4 (-110) - JAC 24-0. After Michael Pittman was ruled out, I really liked the Jaguars' Moneyline. But I didn't play it because I was already so exposed to Jaguars' futures. It's important not to let futures positions impact week-to-week bets too much, and I probably should have leaned more into what was my favorite game of the week by kickoff.
Heading into Week 3, I maintain confidence that I can turn this around and I hope you'll join me.
For all my bets and analysis, you can join the 4for4 Discord via a 4for4 betting subscription (10% off with code SharpClarke) and follow @SharpClarkeNFL on Twitter for alerts. This sheet from Dan Rivera tracks all my betting picks (and those from the rest of the betting staff) on the year. Just click on the tab with my name on it for the results.
---
This article is intended for entertainment purposes and adult users only. Call 1-800-GAMBLER if you have a gambling problem.