Will 2022 Be A.J. Dillon's Fantasy Football Breakout Season?
Dylan Buell/Getty Images
A.J. Dillon didn't see much playing time as a rookie but that all changed in his second year. When Jamaal Williams signed with the Lions, it opened the door for Dillon to assume the No. 2 role behind Aaron Jones and he performed magnificently. He finished the 2021 campaign with over 1,100 total and 7 touchdowns.
With the loss of Davante Adams and Marquez Valdes-Scantling, the Packers' offense is entering unknown territory. With a group of receivers and tight ends that are filled with a bunch of rookies, cast-offs, and middling talent, the expectation is the running game will become a bigger priority than it has been in previous seasons under Matt LaFleur. Looking at their personnel, this makes a lot of sense. With a likely heavier emphasis on the running game, what does that mean for Dillon's 2022 fantasy prospects?
---
Click here for more 2022 Player Profiles!
---
A.J. Dillon

's Second Season Was Just an Appetizer

When Dillon entered the league in 2020, he was a well-known physical specimen. There were comparisons to Derrick Henry and from a body and athleticism standpoint, the comparisons weren't that far-fetched. Dillon is, without a doubt, one of the most unique running backs in the NFL. He has a blend of speed and power that is incredibly rare and it's that combo that facilitated the Henry comparisons.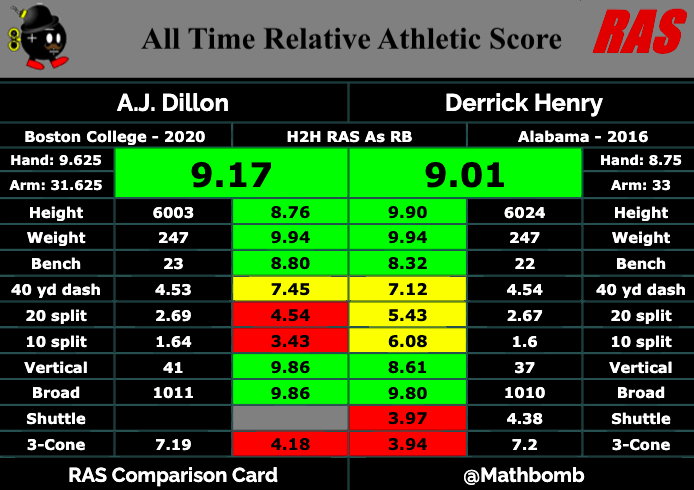 At 247 pounds, the former Boston College standout still managed to blaze a 4.53 40 time at the combine. Just how insane is that? Alvin Kamara recorded a 4.56 forty and Henry ran a 4.54. The combine performances of Henry and Dillon are almost identical. He put those physical attributes on full display last season.
Dillon finished with 2.8 yards after contact per attempt, which ranked seventh among running backs with at least 150 carries according to Sports Info Solutions. That part should come as no surprise—Dillon was known for his bruising running style. He averaged a healthy 4.3 yards per carry and displayed his efficiency on the ground, turning 26.7% of his carries into first downs, which was the fifth-highest rate in the league.
The surprise came in the form of Dillon's role in the passing game. While he only received 36 targets—41st among running backs—he was extremely productive with those touches. He caught 34 of his targets and racked up 313 receiving yards, the 20th-highest among running backs. Among running backs with at least 35 targets, his 9.2 yard per reception average was 10th-highest, tied with Austin Ekeler and ahead of fellow teammate, Aaron Jones. While the sample size is small, he displayed a skillset in 2021 that many analysts and fantasy managers didn't think he possessed. While there's no reason to think Dillon is going to morph into someone like D'Andre Swift or Ekeler in terms of their pass-catching ability, he showed enough in 2021 that fantasy managers can expect 35–45 targets in 2022. That's a major boon to his fantasy prospects.
It's no mystery that for the past two seasons the Packers have wielded one of the best offenses in the NFL. While it remains to be seen how they will handle the loss of Davante Adams, it's fair to expect this unit to once again be a top-10 scoring offense. With LaFleur at the helm, Rodgers behind center, and a top-five offensive line, this unit will find ways to score points. That's important to remember because last year Dillon finished with 46 red zone touches, which was the 12th-most among running backs. His bigger frame could lead to Dillon becoming the hammer that ends the Packers' scoring drives, where in years past that duty has been left to Jones.
A.J. Dillon

's Encore Performance Could Be Special

The Packers, despite many cries from fans to add a receiver, have largely ignored those pleas. Instead, they re-signed Rasul Douglas, and De'Vondre Campbell, and drafted two defensive players in the first round, Quay Walker and Devonte Wyatt. This is looking like a team who is going to lean on their defense, play smart and efficient offense, and when needed, trust Rodgers to close out games. The strength of their defense and the offensive line will allow Green Bay to bully the vast majority of teams in the NFL. This formula will likely lead to a bigger emphasis on the ground game, which would pay dividends for Dillon and his fantasy potential.
It's possible AJ Dillon & Aaron Jones both have 250 touches in 2022.



They had 444 touches in 2021 & Jones missed 2 games. Now Adams is gone.



Imagine Jones getting 175 carries with 90-100 targets. Dillon is likely to get 225 carries & 30 targets.



Both will outplay their ADP.

— Rob (@RobFFSlayer) June 6, 2022
By now, you've most likely seen all sorts of information about Jones's utilization in the passing game in the eight games Davante Adams has missed, but if you haven't, below is what I'm talking about.
Aaron Jones has played ~8 games without Davante Adams the last 3 seasons



In those 8 games, Jones averaged nearly 7 targets per game, compare that to his 3.8 targets per game when Adams played



And it wasn't as if his snap share increased, that was at ~60% for most of these games

— Adam Koffler (@AdamKoffler) May 23, 2022
While fantasy managers shouldn't expect Jones to have 120 targets—his seven-target per-game pace—we should be expecting him to take on a much larger role in the passing game than we have typically seen in the past. That increased utilization in the passing game will have an effect on the number of carries Jones is allotted. LaFleur has never given Jones a heavy workload. With Jones playing a much more active role in the passing game, this will result in Dillon having a much bigger role on the ground than he did last season.
As mentioned above, Jones and Dillon combining for 500 touches shouldn't be completely ruled out. Jones and Dillon are the two best offensive weapons the Packers have and they're going to be the engine of the Packers' offense. Fantasy managers should be expecting Jones to get around 175 carries with 70+ reception upside.
This kind of workload for Jones could leave Dillon as the primary ball-carrier for the Packers, a role that could leave him with 225+ carries by season's end. Based on his improvement in the passing game last season and his impending increase in snap share, Dillon will still likely receive 30–40 targets. This type of workload could just as easily see him finish with close to 250 touches.
Fantasy managers should expect Dillon to record his first 1,000-yard season on the ground in 2022. If he finishes with 20 receptions, he'd add another 150 yards or so to that total. The third-year pro has the potential to finish with 1,150+ total yards and with a Packers team that is once again expected to field a top-10 scoring offense, he's got a chance at a double-digit touchdown campaign.
With the receivers and tight ends lacking talent, LaFleur and Rodgers may utilize their running backs more the closer they get to the red zone. Dillon already had 46 red zone touches, but that resulted in just seven touchdowns. With his size and power, Dillon may get the call more than Jones in 2022 once the Packers get inside the 10-yard line.
Another appealing aspect of Dillon's fantasy value is the what-if scenario behind an Aaron Jones injury. Jones will turn 28 years old during the 2022 campaign and running backs are always at a higher risk for injury, especially those with a little bit more wear and tear on their treads. If Jones were to miss anytime in 2022, Dillon would immediately find himself as a locked and loaded top-10 fantasy running back.
Dillon is currently being drafted as the RB25 on Underdog, but here at 4for4, he's ranked as the RB23 in half-PPR scoring. If there is a concern to Dillon at that price, it's the fact that he may not see enough targets to be a dependable weekly scorer. However, his touchdown potential and elite handcuff status to Jones provide ample upside for fantasy managers.

The Bottom Line
A.J. Dillon and Aaron Jones are the best offensive weapons the Packers have and they'll be used as such. Both players could approach and possibly surpass 250 total touches.
Due to Dillon's size and power, he could become the primary goal line ball-carrier for the Packers this season, a role that would provide him with double-digit touchdown potential.
He displayed the ability to catch the ball out of the backfield last season and with so many questions at receiver and tight end, it wouldn't be a surprise if Dillon and Jones see increased usage in the passing game.
Dillon is one of those rare handcuffs who not only provide stand-alone value but has league-winning upside, should anything happen to Jones.