Russell Gage Deserves More Respect in Fantasy Football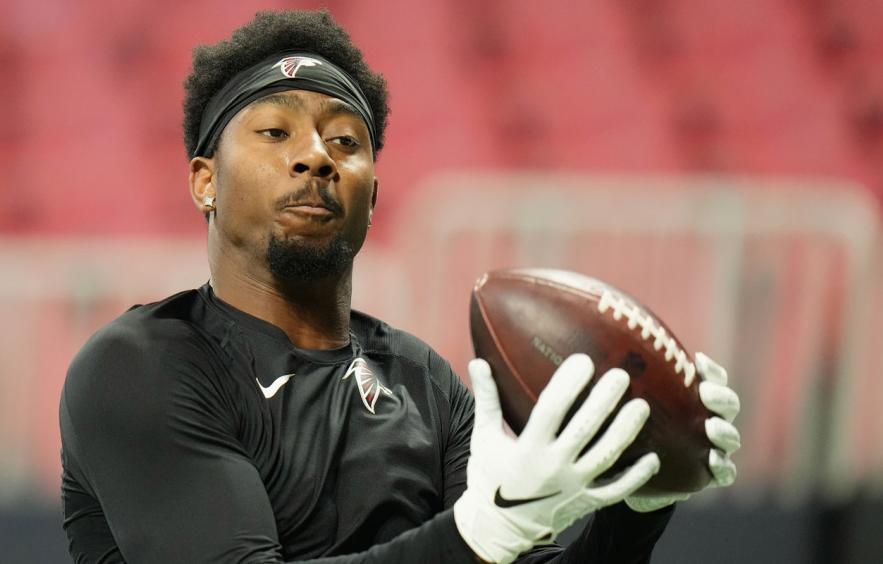 Mark Brown/Getty Images
One of the oddest early fantasy football trends of summer has been the lack of respect fantasy managers are paying to Russell Gage. He's not a household name by any means, but with an ADP of just WR41 on Underdog, he presents a lot of opportunity to smash that ranking, especially early.
It looks probable Gage is Tom Brady's No. 2 target for at least the first month of the season. That type of role comes with weekly WR2 upside and while his value will certainly decline once Godwin assumes his typical role, there are still plenty of targets to go around in one of the most up-tempo, pass-heavy offenses in the NFL.
---
Click here for more 2022 Player Profiles!
---
Russell Gage

's Career Profile

If you were to just look at Gage's career statistics, you're likely to be unimpressed with the kind of player you'd be drafting. In four seasons, he's never eclipsed 800 yards or 5 touchdowns. Despite the absence of an elite season, there are still plenty of reasons to be optimistic about Gage's fantasy prospects in Tampa Bay.

Early in the 2021 campaign, the four-year pro struggled with an ankle injury and missed three games from Weeks 3-5. An early bye week in Week 6 allowed Gage to return to the lineup the following week. He would not miss another game down the stretch, and Gage was impressive.

From Weeks 7-18, Gage racked up 85 targets, 61 receptions, 744 yards, and 4 touchdowns. During this time, Gage tied for the 27th-most targets per game with CeeDee Lamb. He was also 18th in receptions per game and proved to be a valuable PPR asset. For the last 12 weeks of the 2021 season, Gage finished as the WR18 and averaged 11.3 half-PPR points per game.

His counting stats during that final stretch were impressive and the advanced metrics only back that up even further. His 2.3ards per route run ranked 12th among receivers with at least 50 targets from Weeks 7-18 according to Sports Info Solutions.
There were only 6 WRs who met the following criteria in 2021:



▫️25%+ Targets per Route Run

▫️2.0+ Yards per Route Run

🔸️min. 70 targets



Cooper Kupp

Deebo Samuel

A.J. Brown

Justin Jefferson

Davante Adams

Russell Gage 😱



🔹️Source: RotoWire

— Frank Ammirante (@FAmmiranteTFJ) June 14, 2022
He also finished the year with a 26.4% target rate, a number that ranked 21st among qualifying receivers, according to PlayerProfiler. While some will argue this number was inflated with the trade of Julio Jones and the loss of Calvin Ridley mid-season, there's no denying Gage was presented with the most opportunity of his career after having been the third and sometimes fourth wheel for the entirety of his early career. There's also no denying that he made the most of his opportunity.
While sheer volume can sometimes hide a player's inefficiencies, that wasn't the case with Gage. We've already talked about his stellar yard per route run average, but the positives transferred from the spreadsheet to the gridiron. Below is Russell Gage's Reception Perception profile from 2021 detailing his success rates on different routes.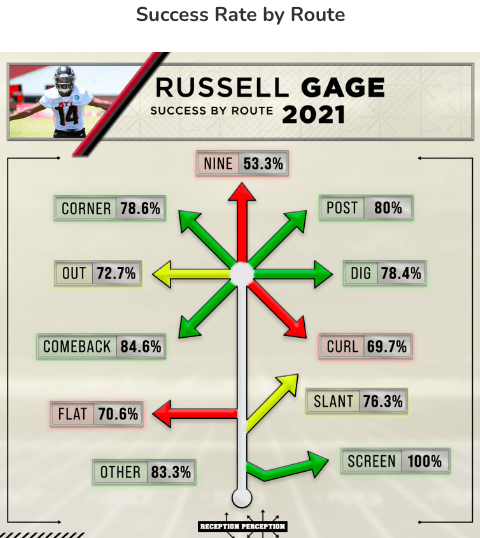 As you can see, Gage's production last year wasn't just because of a lack of target competition. He routinely was able to separate from his coverage and get open. Matt Harmon of Reception Perception had this to say about the former Falcon,
"His ability to separate is the first thing that jumps off his film and is certainly the reason he ended up having big games to end 2021. Gage showed really strong technique and surprising explosiveness as a route-runner last season… With solid success rates across the route tree, Gage showed he could win at all levels of the field. His pristine success rates on digs and comebacks show a player who can really thrive in the intermediate game as a complementary receiver."
Gage isn't going to turn into a top-24 receiver overnight, but he was playing the best football of his career at the end of the 2021 season and now enters the most fantasy-friendly environment of his career in 2022.
Russell Gage

to Set Sail in 2022

Part of the appeal for Gage is the assumption he'll get a few weeks as the clear No. 2 on one of the most pass-heavy offenses in the league. There's certainly no denying the upside that kind of role brings, but fantasy managers shouldn't discredit even being the No. 3 target in a Tom Brady-led offense. While in New England that may not have been as appealing, the offense in Tampa Bay was incredibly pass-heavy. They led the league in 2021 with 43 pass attempts per game.
In Weeks 1–6, Mike Evans, Chris Godwin & Antonio Brown averaged 24 targets per game. That was w/Gronk.



Russell Gage is a screaming good value at WR47 right now. Especially w/Godwin's injury questions. Even if Godwin is healthy, Gage is STILL a value at that price.

— Rob (@RobFFSlayer) May 14, 2022
In 2020, the Buccaneers averaged 39 pass attempts. Fantasy managers can count on Tampa throwing the ball all over the field again in 2022. Assuming Brady has 40 attempts per game, Tampa would finish with 680 attempts at the season's end. Even if we predict Gage's target share to drop from the 22% it was at in 2021 down to the 18.6% it was at in 2020 when he was playing the third wheel to Julio Jones and Calvin Ridley, he'd still finish with 126 targets. Does that seem crazy? It really shouldn't.
The graph above shows last year's targets for the top-four pass-catchers for Tampa before Antonio Brown went crazy. There's plenty of upside here even if Godwin returns and that's assuming he returns at his pre-injury self, which isn't a given. With Atlanta last season, Gage finished with a 22% target share working as a duo with Kyle Pitts, not so different than the situation he'll find himself in early in the year if Godwin misses time.

Mike Evans hasn't had a target share north of 20% in the past two seasons. Gronkowski is retired and Godwin will be playing following a torn ACL that occurred in Week 15. With an Underdog ADP of WR41, fantasy managers are not yet properly valuing Gage appropriately.
Russell Gage Thread 🧵



- Tampa averaged 43 pass attempts per game in 2021. Let's give them 40 this year. Let's assume Godwin misses 5 games.

- Last year, Gage had a 22% target share w/just Pitts & kinda Ridley. In Tampa, w/no Gronk & Godwin out, a 22% target share seems fair.

— Rob (@RobFFSlayer) June 20, 2022
For as long as Godwin is out, Gage presents fantasy managers with a WR3 with WR2 upside on any given week. Even with Godwin on the field, the Buccaneers pass the ball at a high enough rate where Gage can still outpace his WR41 ADP. We don't usually think of handcuffs associated with receivers, but Gage is really just that. Except in his case, one of the injuries has already occurred. Fantasy managers should be all over Gage's current ADP price of WR41.
If Chris Godwin misses the first 4-6 games of the 2022 season due to a late season torn-ACL & with no Gronk on the roster as of now, how would you rank Russell Gage those first 4-6 weeks of the season?@MyFantasyLeague

— Rob (@RobFFSlayer) May 8, 2022
The Bottom Line
Russell Gage played the best football of his career from Weeks 7–18 after he returned from his early-season ankle injury.
His 2021 Reception Perception profile showed a player who was able to get open and create separation at all levels.
He set career highs in target share, target rate, and yards per route run in 2021.
With Godwin's injury and status unknown, Gage could enter the season as the No. 2 target for Tom Brady. With Tampa having Super Bowl or bust aspirations, they're likely to be cautious with Godwin.
Gage has WR2/3 upside without Godwin and should still be valued as a WR4 with WR3 once Godwin returns to the field, assuming he's 100%, something that is not a guarantee.