Injury Profile: What Can We Expect from J.K. Dobbins in 2022?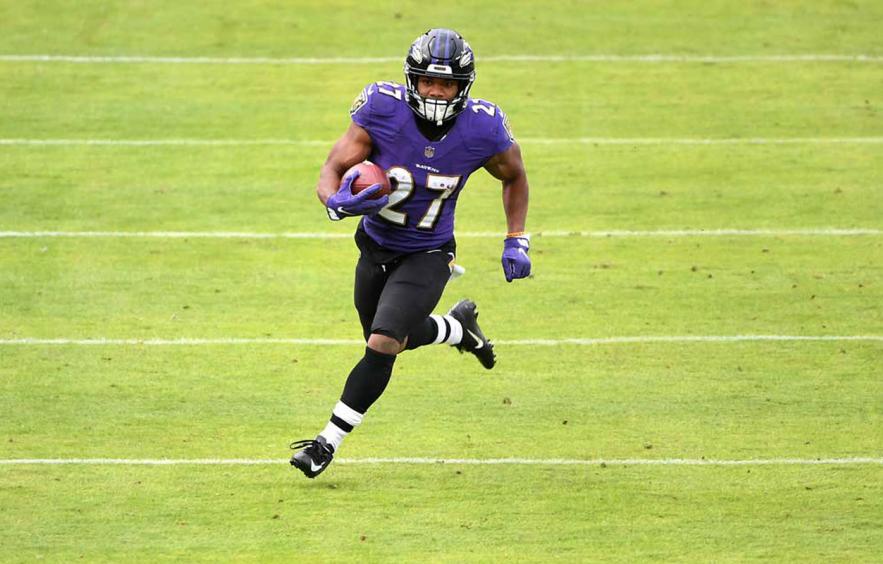 Will Newton/Getty Images
After missing all of the 2021 season with a torn ACL, Baltimore Ravens' running back J.K. Dobbins is a player that some fantasy managers may be targeting in the middle round of their fantasy drafts. Dobbins is a year removed from his injury and is being viewed as someone who should be able to return to his pre-injury form since his ACL tear occurred in the preseason.
---
More Injury Profiles: Christian McCaffrey
---
Initially, I was on board with drafting Dobbins at his average draft position (ADP), but the more I examined his situation the more my opinion changed.
There are still question marks regarding Dobbins' left knee. Baltimore has signaled that they are unsure about Dobbins heading into this season. Earlier this offseason, the Ravens were in talks with Melvin Gordon before eventually signing Mike Davis. Not to mention how ACL tears historically take RBs long to return to form. Running backs' rushing efficiency typically regresses the first year after an ACL tear. However, these poor rushing numbers can be offset by receiving work. Receiving production has never been a strong suit of Dobbins or any Ravens' RB for that matter. Below I explain each of these points in more depth.
J.K. Dobbins

' ACL Injury

During the last preseason game of the 2021 season, J.K. Dobbins tore his left ACL on a routine running play. Injuries are never ideal but for the fantasy leagues that drafted earlier, this was a particularly brutal blow. Adding insult to injury, Dobbins' backup Gus Edwards also tore his ACL shortly afterward, leaving Baltimore's running back depth chart in shambles.

In sports medicine, the return to play timeline post-ACL Reconstruction (ACLR) is nine months. Research has shown that athletes who return to football prior to nine months after surgery are seven times more likely to re-injure their knee. Additionally, for every month beyond six months that an athlete waits to return their re-injury risk decreases by 50%. J.K. Dobbins underwent ACLR on 9/7/2021. This means that when the season kicks off in 2022, he will be a full year removed from his surgery and well beyond the nine-month benchmark. Perfect! Well…not so fast. Not all injuries and athletes are created equal. ACL recovery is not only time-based but also criteria-based. Meaning athletes have to check specific boxes before coming back. I am hesitant to believe that Dobbins has done this yet.
Based on conversations with our injury expert, @TheRealAdam_H, I moved J.K. Dobbins down and Gus Edwards up. Sounds like Dobbins might be a bit behind with the knee injury. Haven't heard anything bad about Gus. (1/2)

— John Paulsen (@4for4_John) June 11, 2022
Coach Speak
We are all familiar with coach speak. Coaches and NFL teams are always going to go out of their way to hype their players. During the NFL offseason coach speak is usually at an all-time high but it is recommended that you take it with a grain of salt. Right after Dobbins' left knee injury, Ravens' head coach John Harbaugh told reporters: "J.K. will be ready to go next year, there's no question about it…". Eight months later, Harbaugh's tone changed when he said that there was a good chance that Dobbins would start camp on the Physical Unable to Perform (PUP) list, despite being "on track." Around the eight-month mark when Dobbins should be ramping up, the Ravens are telling us to pump the brakes and their tone has changed from "he will be ready without a doubt" to "well maybe is going to need some more time."
Let's also not forget that the Ravens hosted then free agent RB Melvin Gordon around the same time that they suggested Dobbins might not start training camp on the PUP. Although past his prime, Gordon was still very productive posting a respectable true yards per carry for 4.5 yards (top 30 among RBs). Advanced metrics indicate that Gordon last year remained elusive and difficult to tackle. Teams looking to sign him were certainly going to use him, and not stash him as purely a depth piece. Although the aforementioned Gus Edwards is also recovering from ACLR, attempting to add a high-caliber RB like Gordon suggests pessimism about Dobbins. Despite missing out on Gordon the Ravens added Mike Davis and drafted Missouri RB Tyler Badie in the sixth round.
Production After an ACL Tear
When examining NFL running backs that have sustained an ACL tear since 2001, on average, rushing attempts and rushing efficiency are much lower compared to the player's career average. If you remember last year I wrote about Saquon Barkley's 2021 outlook. One of the main reasons I was bullish on Barkley was because historically rushing production is unaffected the year after an ACL tear. This provides RBs involved in the passing game a safe floor in fantasy football. Granted it was only his rookie season, but Dobbins was unable to crest 20 receptions in 2020. Combine this with the fact that Lamar Jackson has never highly targeted RBs, and that safe receiving floor is non-exist for Dobbins.
Running Back Production One Year Removed ACL Tear vs. Career (Averages in %)

| | Rush Attempts | Rushing Yards | Rush Yards per Attempt | Targets | Receiving Efficiency |
| --- | --- | --- | --- | --- | --- |
| Averages | -6.4 | -9.7 | -2.6 | 3.2 | 0.04 |


It's worth noting that although the same applies for Dobbins' back-up Gus Edwards, Edwards' Underdog ADP is all the way down at RB53. He too could suffer a decrease in efficiency but the investment is minimal as he is currently slated as one of the last players picked on your team. If Edwards splits time with Dobbins or beats him outright, or should Dobbins not be cleared to start the season/suffer a setback, he would easily return value. The average number of games played for RBs post-ACLR is 13 games. If we use the statistics from the table above then we can roughly project that Dobbins should finish in the RB25-28 range with ~145 PPR fantasy points. Based on 4for4's Underdog ADP Tracker, this is slightly ahead of where Dobbins is being drafted (Underdog ADP of RB21) but without receiving work he offers little upside compared to others in that range.

Bottom Line
Despite J.K. Dobbins being more than nine months removed from his ACL Reconstruction at the start of the 2022 season, there are some troubling signs.
Baltimore was originally optimistic about Dobbins' availability to start the 2022 season, before changing their tone and indicating that he was a candidate to start training camp/start of the season on the PUP.
The Ravens flirted with adding Melvin Gordon before eventually signing free agent Mike Davis, possibly indicating the team is worried about Dobbins' progress.
Rushing production is typically negatively affected the season after an ACL tear, while receiving efficiency is not. History would suggest that Dobbins will not be heavily targeted out of the backfield.
Gus Edwards could be a much better value than Dobbins given their current ADPs.