Fantasy Football Injury Profile: Wide Receivers Post-ACL Tears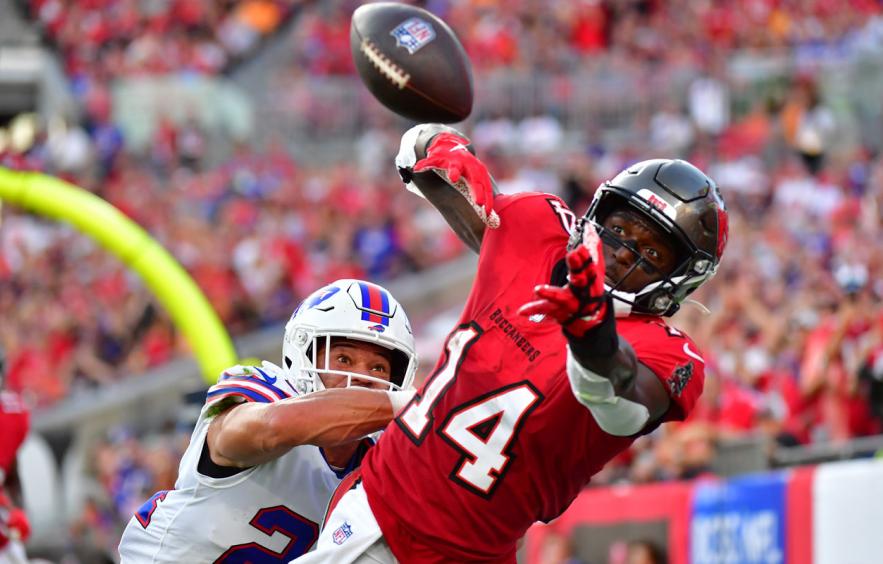 Julio Aguilar/Getty Images
In sports medicine, no injury has been more heavily researched than ACL reconstruction and the rehabilitation that comes with it. As a result, an injury that used to be considered a career-ender has a timeline that (depending on the severity) can result in a return to play in <12 months with minimal/no time missed the following season.
The wide receiver position exemplifies this progress in ACL recovery - especially when looking at it through the lenses of fantasy football. Over the last decade, there are several examples of WRs finishing in the top-10 amongst their position the year immediately after an ACL tear.
2021 was a tough year for WRs and ACL tears. Many top fantasy producers fell victim to the injury. Instead of breaking out each into their own injury profile, I elected to group all of them together here to give you an idea of who I believe fantasy managers should be targeting or fading in the fantasy drafts that are less than a month away.
---
Dominate Your Drafts: 4for4 Rankings | Multi-Site ADP | Player Profiles | Hot Spot Tool | Expert Half-PPR Mock Draft |
---
What You Need to Know
I have written about this before, but if you are new to my article or even this topic, this is what you need to know about ACL recoveries.
The typical return to play timeline is 9-10 months following ACL reconstruction (ACLR). Research has shown that athletes who return to football prior to nine months after surgery are 7x more likely to re-injure their surgically repaired knee. For every month beyond the six months post-op, re-injury risk drops by 50%. Not every ACL injury is created equal. There is a timeline associated with the recovery but there are also specific criteria the athlete needs to meet before being cleared to play. With training camps around the corner, a great indication of meeting the return to play criteria is a player avoiding the PUP.
Chris Godwin
ADP (12-Team): 6.04 WR26
Draft or Fade: Draft? (for now)
Final Word:
I have done a complete 180 from where I was on Chris Godwin two weeks ago. Based on when Godwin sustained his ACL tear, he was projected to return in October and, in my opinion, was an obvious candidate for the PUP to start 2022. However, recent reports from Buccaneer's camp indicate that Godwin will not start the season on the active PUP. So what does all of these mean? Well, it does not necessarily mean the Godwin will be 100% by Week 1 or even start Week 1. In order for a player to end up on the reserve PUP (required to miss four games to start the season), they need to start training camp on the active PUP. The only time a player can get on the active PUP is at the start of training camp. The second a player practices, they are no longer eligible for active-PUP and therefore ineligible for reserve-PUP. What this boils down to is that Tampa Bay is incredibly confident that Godwin will be available either by Week 1,2,3, or 4 of the NFL season. Any doubts of Godwin being ready before Week 5 would have meant that he started camp on the active PUP. To be clear, this is a very aggressive timeline but it's obvious the medical/training staff in Tampa Bay is comfortable with Godwin's progress.
If I am understanding this correctly the only way a player can end up on the reserve PUP (in 4 missed games) is if they start on the active PUP



Players only get on active at the start of training camp - meaning if you practice you aren't eligible for active PUP @4for4football

— Adam Hutchison PT, DPT (@TheRealAdam_H) July 26, 2022
After discussing with 4for4's Director of Forecasting John Paulsen (@4for4_John), the man responsible for the player's projections for the website, Godwin is currently projected at WR25. I think this is an appropriate spot for him since regression is already baked in. However with this news and as we approach the start of the season, Godwin's ADP is sure to skyrocket. If he reached the WR12/15 mark I am going to cool on him. If you drafted early and were able to snag Godwin at this incredible value then congratulations to you! You rolled the dice and won big time.
Robert Woods
Draft or Fade: Draft!
Final Word:
Robert Woods tore his ACL during a Friday practice just before Week 10 in 2021. Of any WR discussed in this write-up, Woods' has the longest recovery time and therefore is the most likely to be available for Week 1. Woods being active for the start of 2022 would put him at 10 months post-op; the sweet spot for recovery following ACLR.
We saw Woods practicing during Titan's mini-camp and Mike Vrabel recently told the media that Woods would be doing "90% of the work early in training camp [this week]." Woods does not have any limitations and him suiting up for Week 1 appears to be nearly a guarantee. Woods' ADP might be more of a reflection of him changing teams to a run-heavy Tennessee offense, but he should operate at his team's WR1 if not WR1B. Coming off draft boards at WR42 Woods is being drafted as a low-end flex option where he certainly could be a solid WR2.
Michael Gallup
Draft or Fade: Fade!
Final Word:
Unlike Chris Godwin, Michael Gallup is starting training camp on the NFI list (essentially the same as the active PUP). All along Dallas has reported that the 26-year-old would not be ready for Week 1. Gallup's injury was even a month later than Godwin's so his timeline for the 2022 season is projected to be late. Based on when the Dallas WR had ACLR surgery (2/10/22), I would expect him to be transferred to the reserve PUP at some point (requiring him to miss a minimum of 4 games) and possibly not return until late October/early November. That is a long time to stash Gallup. Additionally, WRs who have come back and been highly successful fantasy football contributors are ones that PPR darlings supported with high target shares such as Cooper Kupp, Julian Edleman, and Keenan Allen. This has never been Gallup's forte. I am avoiding him in 2022.
Odell Beckham
Draft or Fade: Fade!
Final Word:
Last offseason I wrote about how I was avoiding Odell Beckham in fantasy drafts as he recovered from a 2020 ACLR. Beckham missed the first two weeks of the 2021 season because of this injury and when he did return he struggled. Cleveland eventually released Beckham and later signed with the Los Angeles Rams. While on the Rams, the 29-year-old did see a boost in his production likely because of the team/offense but also because he was farther along in his recovery. Unfortunately, Beckham re-tore his surgically constructed ACL in the Superbowl. There is some research to suggest that a player can come back quicker if they re-injure their ACL but in Beckham's case there will likely be a very methodical and slow recovery as he is later in his career and has struggled with a variety of injuries.
As I write this on July 27th, Beckham is still unsigned but there is an indication he will be returning to the Rams. Based on all of this information: not returning till late in the season, history of him struggling once he returns to play following ACLR, and team uncertainty, there is no reason to actively target OBJ in drafts. If you want to throw a dart with your last pick I think that is fine if league settings permit multiple players on IR, however, do not hesitate to cut bait should other injuries arise on your team. Odell Beckham being relevant in fantasy football is a long shot.

Jameson Williams
Draft or Fade: Fade!
Final Word:
Jameson Williams is a tricky player to evaluate because no one doubts that he has immense upside. However, Williams tore his ACL in the college football National Championship game on January 10th. In redraft leagues in recent years, rookie WRs have been early fantasy contributors. For a while, this was not the norm, however, rookie wide receivers that start the year dealing with a major injury are typically behind the eightball and take a while to get going. Not to mention, I expect Detroit to handle their prized WR with kid gloves early. It's been a while since we have really seen a rookie wideout miss time to start the season with an injury and immediately contribute. The aforementioned OBJ is the only one that comes to mind. Even at his 12th-round ADP, the shrew fantasy strategy might be to let your league mates draft Williams, likely drop him later on in the season and you can decide if picking him up works during your playoff push.