Injury Profile: Can Christian McCaffrey Return to Form in 2022?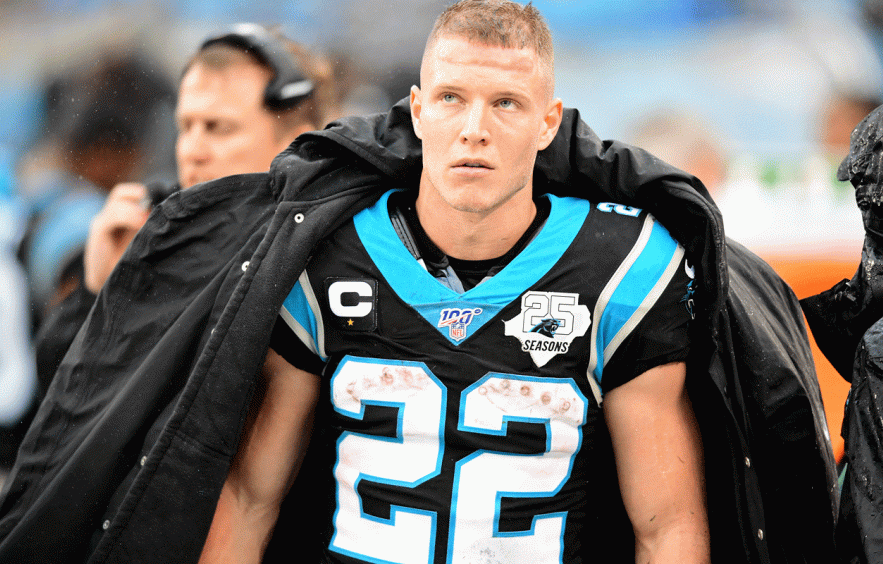 Jacob Kupferman/Getty Images
After two injury-riddled seasons, Christian McCaffrey has left fantasy managers who drafted the talented running back with PTSD. And trust me, I get it. I have experienced the frustration myself. As the 2022 approaches, many are wondering: "Can we trust the former Fantasy Football Wonder Boy despite his recent disappointments?" I can confidently tell you: yes you can.
Although there has been what feels like an endless list of injuries for McCaffrey lately, I don't think there is any correlation between them. Sometimes injuries happen and are commonplace for an NFL running back. Additionally, it appears that the Carolina Panthers have realized the toll these injuries have taken on McCaffrey and made efforts this offseason to lighten his workload. Finally, there is evidence to suggest that McCaffrey's playing style and skill set historically age well in the NFL. This means that there is still time for him to produce RB1 numbers. I go more depth below:
Injury History
Since 2020 these are Christian McCaffrey's injuries with games missed in parentheses.
Right High Ankle Sprain (6)
AC Joint Sprain (Shoulder) (4)
Quadriceps Strain (4)
Hamstring Strain (5)
Left Inversion Ankle Sprain (5)
It's important to first highlight McCaffrey's ankle sprains since they occurred on opposite sides. There is data that indicates multiple sprains to one ankle can linger and lead to recurring injuries. High ankle sprains tend to be more complex and as a result more serious, so the fact that McCaffrey did not hurt his right ankle again in 2021 is a positive sign.
While we are on the subject of high ankle sprain, this injury is usually devastating for RBs. On average, running backs' fantasy production drops by 20% following a high ankle sprain. In McCaffrey's case, his production jumped, scoring 14 points above his season average his first game back. Unfortunately, this was short-lived since he sprained his shoulder the next game. As a result, we will never know if McCaffrey was a true outlier.
Looking at the other injuries, AC joint sprains are commonplace for running backs. Being tackled from behind or side and driven into the ground by a defender is typically how these injuries occur and that was exactly the case for McCaffrey. It's unfortunate but not worth reading into.
Common mechanism of injury for AC Joint Sprain:
Christian McCaffrey AC Joint Sprain: 2020 from Adam Hutchison on Vimeo.
The soft tissue injuries (quadriceps + hamstring) are the only two that are slightly concerning. Especially later in a player's career, you don't want to see soft tissue injuries pile up as it can be indicative of a decline. I am speculating here but it is possible that these injuries are the result of McCaffrey's off-season workout regimes. In his historical 2019 season, McCaffrey was asked to carry the ball 287 times with 116 receptions. McCaffrey accounted for nearly 44% of the Panther's offensive production that season. During the 2020 and 2021 offseason, there were reports of McCaffrey "bulking up" in preparation for the heavy workload. It's possible that McCaffrey sacrificed mobility for stability, which ultimately led to these soft tissue injuries. This is a theory of mine but within the realm of possibility.
The Carolina
Panthers

' Backfield

My last point about the soft tissue injuries being related to an unsustainable workload was further reinforced by Carolina's offseason moves the past two years. Behind McCaffrey, Carolina added two RBs whose playing style could not be more different than his: Chuba Hubbard and D'Onta Foreman.

Among running backs in 2021, both Hubbard and Foreman ranked outside the top-40 in yards created per touch and outside the top-45 in juke rate (metrics per Playerprofiler.com). Hubbard's targets per game sat 42nd amongst RBs, while Foreman was even farther behind at 83rd. These are grinder backs, with little elusiveness and virtually no involvement in the passing game. They figure to eat into McCaffrey's workload but won't take away the touches that are valuable in fantasy football. The Panthers added these players to keep McCaffrey fresh and minimize his risk of injury
Peak Production for Running Backs
Chances are if you have been playing fantasy football for a while you have heard the terms "Age Apex" or "Age-Related Production." This terminology has been used in fantasy football to determine the age when specific position players' fantasy production peaks. For RBs their peak production age is ~24.5 years old. A lot of different variables cause a player's eventual decline, but a major component is injuries.
If you are following along then you know that Christian McCaffrey recently turned 26, meaning that his best seasons are behind him. However, taking a closer look at position types for running backs shows that players with similar playing styles as McCaffrey age more gracefully and can achieve higher levels of production over a larger time frame.
The graphic below shows that fantasy production differs if you separate RBs into three position types: 1. All-Purpose, 2. Grinder and 3. Satellite. Fantasy point production peaks much later for All-Purpose and Satellite RBs compared to Grinders.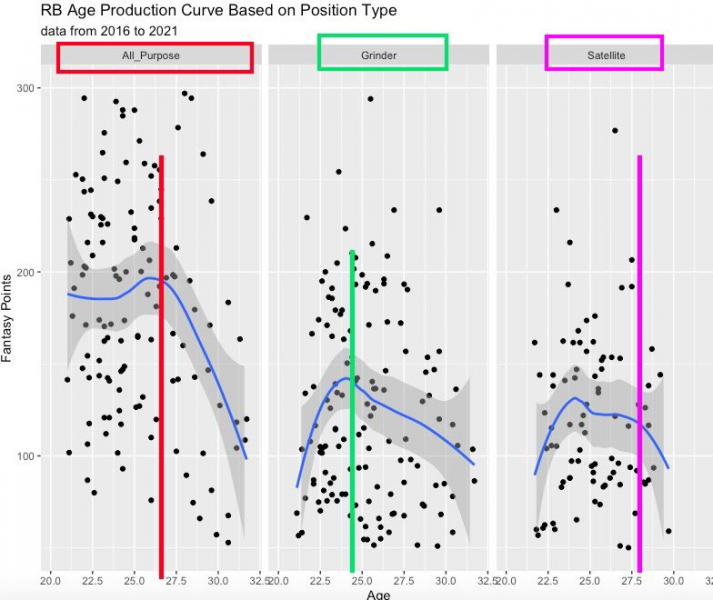 All-Purpose running backs score way more fantasy points than Grinders and Satellite backs. This makes sense because they are utilized in both the rushing and passing games. Additionally, All-Purpose running backs start their decline around the age of 26.5 - two years after the typical RB fantasy decline.
McCaffrey just isn't your normal All-Purpose RB. He has multiple years of high-end production as a receiver. When I further subsetted the data of All-Purpose backs into All-Purpose and All-Purpose+ (RBs with at least two years of 50+ receptions prior to 2020 or 54+ in 2021 due to lengthened season), these results suggest that the All-Purpose+ RBs have an additional year of premium production and decline after age 27.5. As a result, there is reason to be optimistic that based on this playing style and being a high-level receiver, McCaffrey has an additional 1-2 seasons of elite fantasy production.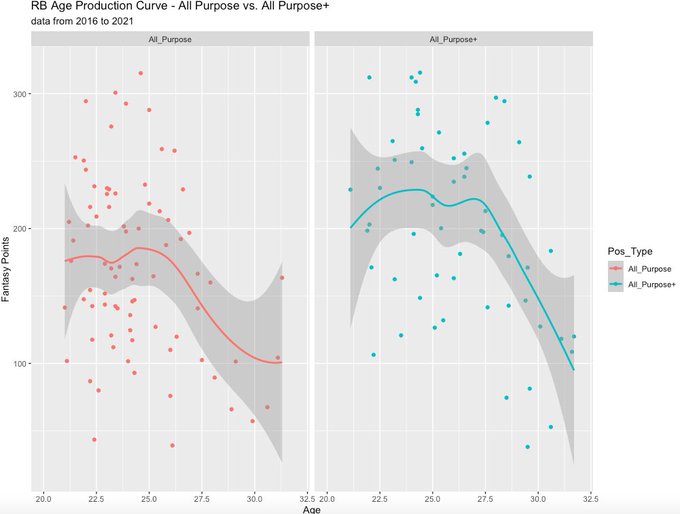 Take-Home Points:
Despite multiple injuries over the past two seasons, there does not appear to be any correlation between any of them.
Christian McCaffrey's workload could explain some of his injuries, and the Panthers have added multiple running backs to handle between the tackle carries. This should help to keep McCaffrey fresh while also having minimal effect on this fantasy output.
There is data to suggest that despite being 26 years old, McCaffrey could have an additional 1-2 years of elite production at the RB position.
Christian McCaffrey's skillset and involvement in the passing game make him a valuable fantasy asset.