Fantasy Football Debate: Gabriel Davis vs. JuJu Smith-Schuster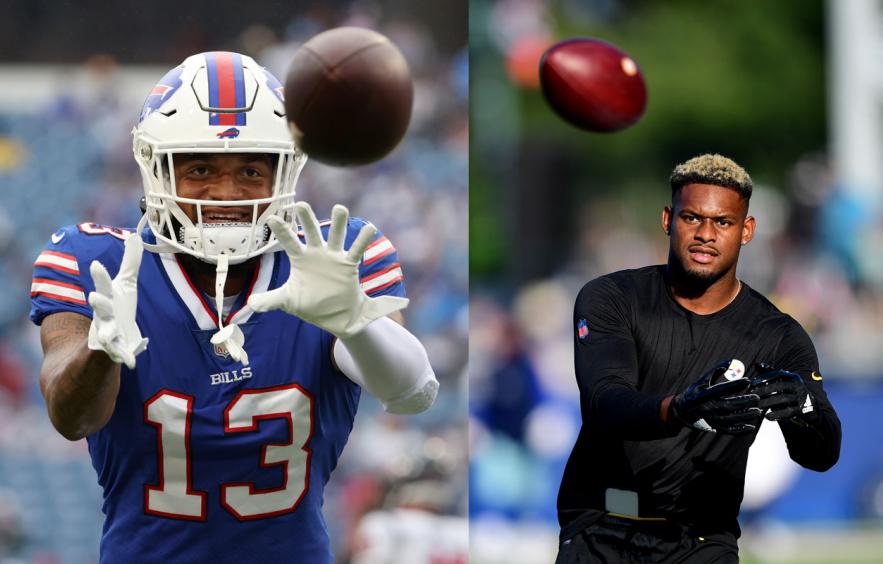 Timothy T Ludwig & Emilee Chinn/Getty Images
Two wide receivers with polarizing stories heading into the 2022 season are leaving draft boards less than a round apart. Chris Allen defends Gabriel Davis as WR20 in Underdog drafts, while Pranav Rajaram takes the side of JuJu Smith-Schuster as WR27.
---
Click here for more 2022 Player Profiles!
---
The Case for Gabriel Davis
Chris: Gabriel Davis had a sixth-round ADP in May, and no one batted an eye. However, his rise into the Top 50 ignited the debate about his value. Davis doesn't fit the mold of an early-round wide receiver. At least, not yet. His 11.0% target share and 15.3 aDOT weren't close to the hallmarks of a top-24 fantasy asset. Meanwhile, JuJu Smith-Schuster's been a top-12 player, and he's now in a comparable situation.
Regardless, Davis offers untapped potential. His in-season development points to a floor in 2022 he didn't have last year. And we already have an idea about his ceiling. But let's first look at what Buffalo has asked him to do.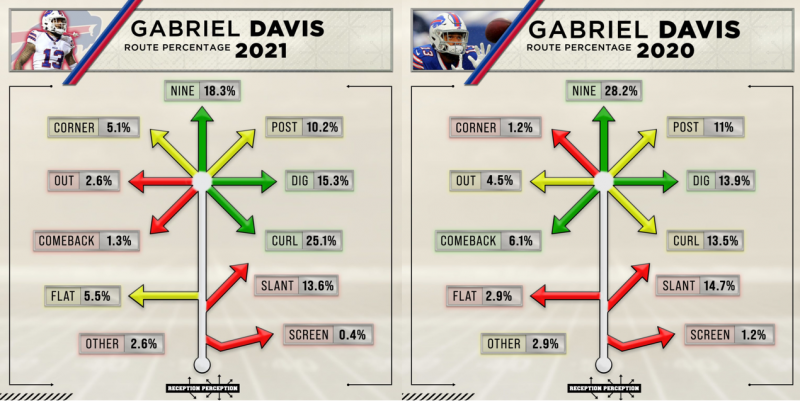 His aDOT gives it away, but Reception Perception emphasizes his role. Davis primarily played outside, ran intermediate to deep routes, and had the highest rate of facing man coverage. However, despite the usage, he was 20th in EPA per target amongst all wide receivers on the exterior.
Your first reaction may be to chalk it up to sample size. Davis had 31 targets in this area. For reference, Stefon Diggs racked up 107. But Deebo Samuel accrued 33 looks and ranked 36th. Tyreek Hill (48) was down at 46th. Last year's efficiency is just one bread crumb leading us to the idea Davis could be a must-have on your roster. Some more data from Reception Perception gives us another.
Davis Success Rates vs. Outside Coverage, 2021
Success Rate
Coverage Type
2020
2021
Man
57.8%
64.2%
Press
58.9%
63.1%
Davis's success rates against outside coverage are still in the bottom-third percentile, but they're a marked improvement from his rookie season. He demonstrated he could not only win but also be efficient. Neither metric directly impacted his fantasy production, but it explains how his role expanded as the season progressed.

His Targets per Route Run (TPRR) and air yard share steadily rose over the back half of the year. Through Buffalo's final six games, Davis earned more targets, generated more yards, and was more efficient than Diggs. His growing rapport with Josh Allen didn't always translate into the box score. However, we can see it elsewhere.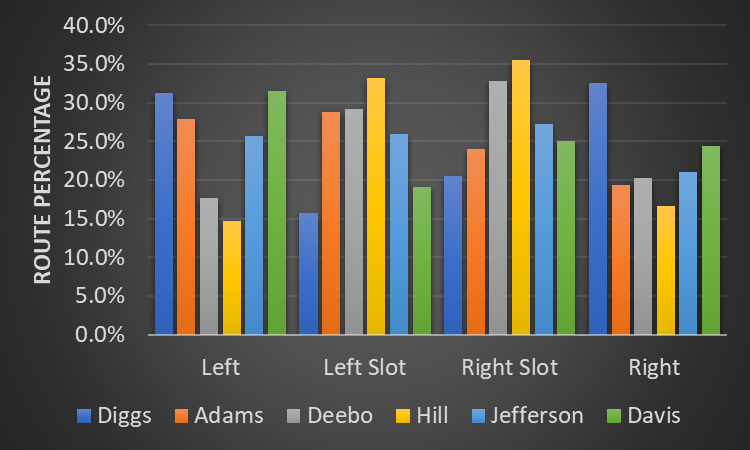 Good (read: rational) coaches find ways to involve their best players. Great coaches accomplish the same task without tipping off the defense. The best receivers in the game, from Davante Adams to Tyreek Hill, have balanced positional alignments. Davis is no different. His gap in route percentage from side to side aligns with Davante Adams's. The Bills are treating him like a top receiving option. It's time we did the same.
Smith-Schuster is the safe option. He'll see high-percentage targets against weaker coverage while attached to a quarterback who was fourth in red-zone dropbacks last season. But Allen was first in the same category. And Buffalo didn't add many pieces to challenge Davis for touches once they get into scoring position. He's still growing into the position with the offense to propel him into the Top 20. So, when looking to raise the ceiling of my team, I'll take Davis.

The Case for
JuJu Smith-Schuster
Pranav: Everybody knows JuJu. Since he came into the league as a 20-year-old rookie in 2017, it has been hard not to notice the former USC pass catcher. From his wholesome bike story to his recent TikTok shenanigans, he has managed to stay in the headlines one way or another. For fantasy, this has led to some confusion about where he should be drafted—JuJu is currently priced as the WR27 according to Underdog ADP. Here's a look at why I think JuJu is poised for a return to fantasy stardom and is a better pick in drafts than fellow wideout Gabriel Davis.
This offseason, JuJu was signed by the Kansas City Chiefs. However, this was not the only big change in the KC WR room—they also traded away superstar receiver Tyreek Hill. As a result, JuJu finds himself all alone at the top of the wide receiver depth chart. His main target competition consists of Marquez Valdez-Scantling, Mecole Hardman, and rookie Skyy Moore. In short, not much to worry about.
Additionally, fantasy managers might have forgotten that JuJu has been elite for fantasy in his past. In his second year in the league, he racked up over 1,400 receiving yards and finished as the overall WR9. One of the main reasons JuJu played so well that year was that he was able to operate as the #2 option (next to Antonio Brown, who was the WR4 that same year). In recent seasons, he has struggled to manage the responsibility of being the WR1 in an offense, but that won't be a problem in Kansas City—future hall of famer Travis Kelce will be the main point of attention for defenses, allowing JuJu to go back to the second banana role that he was so good at.
Here's something you might not know: JuJu is only 25 years old! He is younger than players like Deebo Samuel and Diontae Johnson, but with two more years of NFL experience. His youth makes the possibility that he has a resurgence much more likely.
It is true that JuJu has been quite disappointing for fantasy of late. However, he is not to blame for all of his struggles. His quarterback play since 2019 has been, to put it nicely, horrendous. JuJu has had either Ben Roethlisberger's corpse, Mason Rudolph, or Duck Hodges throwing him passes for the better part of three seasons. To go from this assorted collection of trash to Patrick Mahomes, arguably the best QB in the league will be an incredible upgrade for Smith-Schuster. The Chiefs have been one of the NFL's best offenses since Mahomes became the starter (they rank 1st in Offensive EPA/Play and have scored the most touchdowns in this span), and JuJu is set to reap the benefits from that.
Taking a look at the other side, Gabe Davis certainly has potential and could explode onto the fantasy scene. After all, the last time we saw him, he had over 200 yards and four touchdowns in the AFC Divisional Round. Like Smith-Schuster, he is the clear #2 option in a great offense with a superstar quarterback.
With this being said, the reason I prefer JuJu is that he has done it before. Given that we have two players in similar situations (and comparable ages), why wouldn't you take the player who has already been an excellent fantasy asset? In other words, JuJu's prior success makes him a safer bet to be an impact player for your team than Davis, who hasn't had more than 35 receptions in a season so far. There's a real chance that JuJu's WR27 ADP is much closer to his floor than his ceiling, and he has the talent and opportunity to re-establish himself as a fantasy football superstar.