Dynasty Rookie Profile: Ken Walker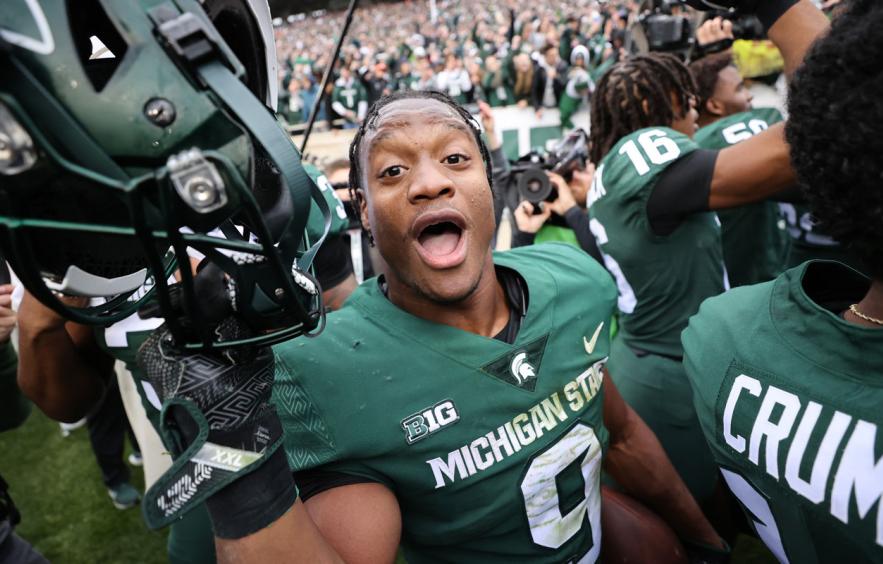 Gregory Shamus/Getty Images
This article is written by Bruce Matson and can also be found on Dynasty League Football, along with a plethora of other actionable dynasty content.
Name: Kenneth Walker
Position: Running Back
Pro Team: Seattle Seahawks
College Team: Michigan State Spartans
Draft Status: Round 2, 41 overall
---
More Dynasty Content: Dynasty League Football | Dynasty Rookie Mock: Superflex PPR | 8 Dynasty Sleepers Who Will Supercharge Your Team | Dynasty Rookie Mock: TE Premium | Dynasty Start-Up Mock: Superflex PPR TE Premium
---
Video Highlights
Combine Review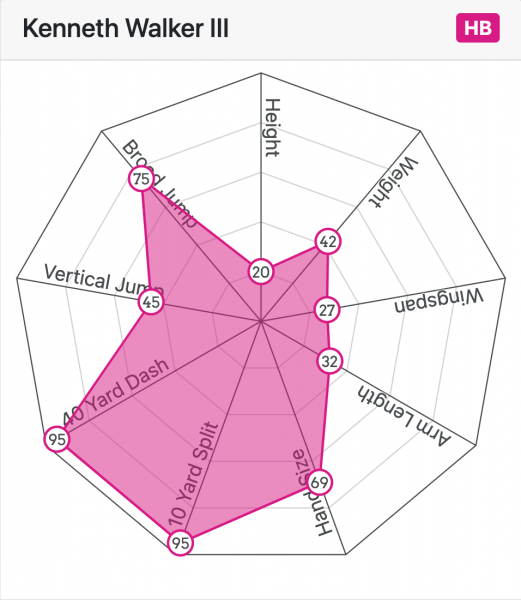 Strengths
Excellent vision
Doesn't hesitate
Strong at the point of contact
Very patient
Can read the momentum of the players around him
Movies laterally very well
Protects the football
Creative in the open field
Excellent contact balance
Weaknesses
Can get beaten in pass production
Average burst
Only caught 19 passes in three seasons
Opportunities
Both Rashaad Penny and Chris Carson's contracts expire at the end of the season. There's still a chance that the Seahawks decide to part ways with Carson later this off-season. Walker is projected to see a sizable workload during his rookie season. If the team does decide to move on from both Penny and Carson, Walker could be the lone lead back in 2023.
Seattle has ranked in the top 15 in rushing in each of the last four seasons. Walker might end up with one of the heaviest workloads in the league. Considering the team used second-round draft capital to acquire him, it's a safe bet that the Seahawks want him to be their feature back for a long time.
Threats
The Seahawks are in the middle of a rough rebuild. Russell Wilson is gone and Drew Lock is the team's starting quarterback. It's hard to tell what the team is going to look like over the next couple of years. Pete Carrol is on the hot seat. We could see a new coaching staff sooner than later.
There's a lot of ambiguity in Seattle right now. This could impact Walker's long-term output. He might be getting a large share of the workload, but if the offense isn't equipped to continuously move the chains, then his opportunities could be limited. Since the team is rebuilding, drafting Walker in the second round might not have been the most optimal selection.
If the team struggles to retool the team and the offense is a dumpster fire for multiple seasons, then Walker's career could be wasted behind a low-volume attack with bad quarterback play. In this situation, it's highly unlikely that he hits his upside.
Short-Term Expectations
We should expect him to start his career as part of a committee with Penny and possibly Carson. He should earn a larger share of the touches the deeper we get into his rookie season. Since he only caught 19 passes during his collegiate career, there's a good chance we don't see him get used heavily in the passing game.
Overall, he should hold his dynasty value during the first couple of years of his career. If he's on the field getting touches, dynasty gamers will remain optimistic. He will blow the doors off the dynasty market if he delivers a long streak of production during his rookie season.
Long-Term Expectations
Become the Seahawks' workhorse running back or bust. There are no other options for Walker. The team spent heavy draft capital to get him. He was very productive last year at Michigan. The young running back looks the part and is on a depth chart that appears to have a pathway to a large workload. All he has to do is play well and the backfield is his. He has the keys to the car, all he has to do is jump in it and drive.
At a minimum, with a full workload, he should be an RB2 in fantasy. Even with him not being used heavily in the passing game, he should flirt with RB1 numbers. The only way he is not relevant in fantasy is if he just doesn't pan out and becomes a colossal bust.
NFL Player Comparison
Walker is very comparable to Melvin Gordon. Both running backs were very productive in college and are from the Big Ten. Gordon had a lackluster receiving profile and was considered a very efficient runner during the draft process. He was more productive than Walker, rushing for 2,587 yards and 29 touchdowns during his senior season. The year prior, he rushed for 1,609 yards and 12 touchdowns.
These are two running backs who have excellent vision and can run between the tackles. Both running backs were built to handle a heavy workload when entering the NFL. Walker tested a bit faster at the Scouting Combine while Gordon measured in four pounds heavier. Just like Gordon, it's not outside the realm of possibilities that Walker posts better receiving stats than expected.
Projected Rookie Draft Range
We are seeing Walker get drafted anywhere between the 1.02 to the 1.05 in rookie drafts. There are rare cases where he gets selected at that 1.01 and on the opposite end of the spectrum, there are times where he gets drafted at the 1.06 or later.
According to DLF's Rookie ADP, he is being drafted on average at 4.40 in rookie drafts as the RB2. Breece Hall is this year's consensus RB1. Walker is being drafted in the mix of the big three wide receivers, Drake London, Treylon Burks, and Garrett Wilson. In superflex, he holds almost an identical ADP as he's getting drafted fourth overall on average and is still the RB2.
I think this is fair value for Walker. Running backs holds value in dynasty. He has decent draft capital, was productive in college, and is projected to see a large workload. Dynasty gamers who are drafting at the 1.02 have a big choice to make. Do they draft Walker or their favorite receiver? As of right now, there are no bad choices at the 1.02 spot in rookie drafts.
If you had the 1.02 in your draft, who are you drafting?