Adam Thielen Remains a Fantasy Football Value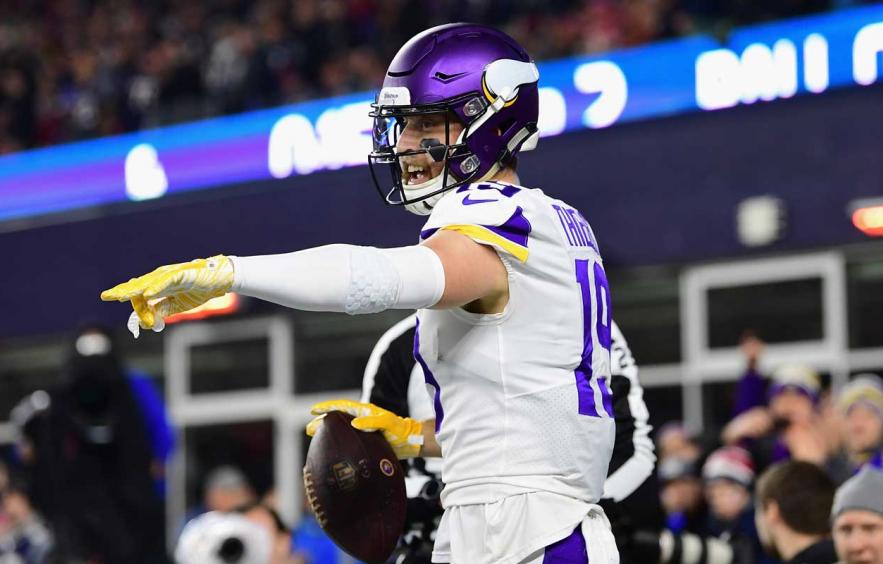 Billie Weiss/Getty Images
At some point during this lull between now and the start of the NFL season, Adam Thielen will get his praise for being a trustworthy wide receiver that is being discounted because of factors beyond his control. That time is now. Despite missing a fistful of games the past two seasons, Thielen has been one of the most reliable wideouts in the NFL and has been a touchdown monster, regression be damned.
---
Click here for more 2022 Player Profiles!
---
It is easy to say TD regression is enough to look past Thielen, but the ascension of teammate WR Justin Jefferson and production from RB Dalvin Cook continue to suppress his ADP. Throw in a new head coach and fantasy football players are now adjusting to what could be a new offense.
Good. That means you can get the veteran receiver for a discount.
About
Justin Jefferson
The top reason fantasy players are down on Thielen is the growth of Jefferson, and for good reason. Entering year three in the league, Jefferson has already accumulated 3,000 receiving yards and 17 touchdowns without playing in what is considered peak athletic prime age. He is a special talent that is a threat anywhere on the field and has excelled with a mediocre quarterback in Kirk Cousins.
What is interesting about Jefferson's star turn is that both he and Thielen benefitted in 2020 before Jefferson started impacting Thielen's market share and fantasy production.
Adam Thielen

Stats, 2020-2021

| Thielen Stat (Market Share) | 2020 | 2021 |
| --- | --- | --- |
| Snaps | 61 (91.2%) | 58 (83.8 %) |
| Targets | 7.2 (25.4) | 7.3 (21.0) |
| Receptions | 5.0 (24.7) | 5.2 (20.9) |
| Receiving Yards | 63.0 (24.7) | 55.8 (20.2) |
| Rec. Air Yards | 83.8 (36.1) | 69.5 (26.0) |
| Rec. TDs | 0.86 (41.4) | 0.77 (38.5) |
| Rec. xTDs | 0.43 (36.1) | 0.36 (26.8) |
| Fantasy PPG (PPR) | 16.7 | 15.4 |
Not great, but not necessarily a sign that Thielen is going to lose more work. There's a new head coach in town.
Kevin O'Connell's Arrival
The Sean McVay tree produced another head coach with O'Connell. The former QB and offensive coordinator helped the Los Angeles Rams win Super Bowl LVI led by a pass-heavy attack with a strong quarterback. In 2021, only eight teams threw for a higher rate than the Rams and it benefitted multiple pass catchers. It is easy to see Jefferson fill the Cooper Kupp role based on talent and versatility, but Thielen filling a Robert Woods-esque role is nothing to sneeze at. Woods saw a two-yard per catch increase with Matthew Stafford compared to Jared Goff in O'Connell's offense. Woods also gained yards on the ground, which is more a Jefferson role, but with Thielen's route tree more than just his perceived short/in routes, he has a high floor and unknown ceiling.
O'Connell and the Rams ran 83% of plays in 11-personnel (3 WR, 1 RB, 1 TE), which means Thielen is locked in as a player who will rarely leave the field considering he is the WR2 in Minnesota. Playing three wideouts does add competition for Jefferson and Thielen (K.J. Osborn to start) but the biggest competition for targets may come from Dalvin Cook. He can do it all in the backfield and deserves 20 touches per game.
Thielen's Role In the 'New' Offense
O'Connell is a McVay disciple, who utilizes/d a lot of the Mike Shanahan offense, meaning what was previously installed in Minnesota is not going to lead to a 180-degree learning curve. Having to learn a new offense affects every offensive player, so having some comfort level prior to installing any variations of the offense makes it easier to trust Thielen and company.
Thielen also has red zone chemistry with Cousins (which is why TD regression is a popular topic when discussing him). The duo has connected for 24 touchdowns the past two seasons (27 games), fourth over that period. 20 of those scores came in the red zone. Thielen also has the highest catch rate inside the 20 in the past two seasons. That matters because while Jefferson has established himself as a force, Thielen has been arguably the most dependable wideout when it's nut-cutting time. Earlier in June, O'Connell was asked about an OTA play where Cousins found Thielen in the end zone on a play that he would not prefer to see. What O'Connell did see was something that can't be taught.
"Do we coach it to throw in that area? Absolutely not. He's just throwing Adam open with some trust. I think that's the big word, the trust in the red zone."
What those two have is something successful offenses have to have - trust.
Thielen and the offense cannot operate as a pass-first offense without the offensive line improving. O'Connell's staff and the previous regime have spent a lot of draft capital on the hog mollies, and it's paying off.

Bottom Line