NFL Week 5 Lookahead Lines Report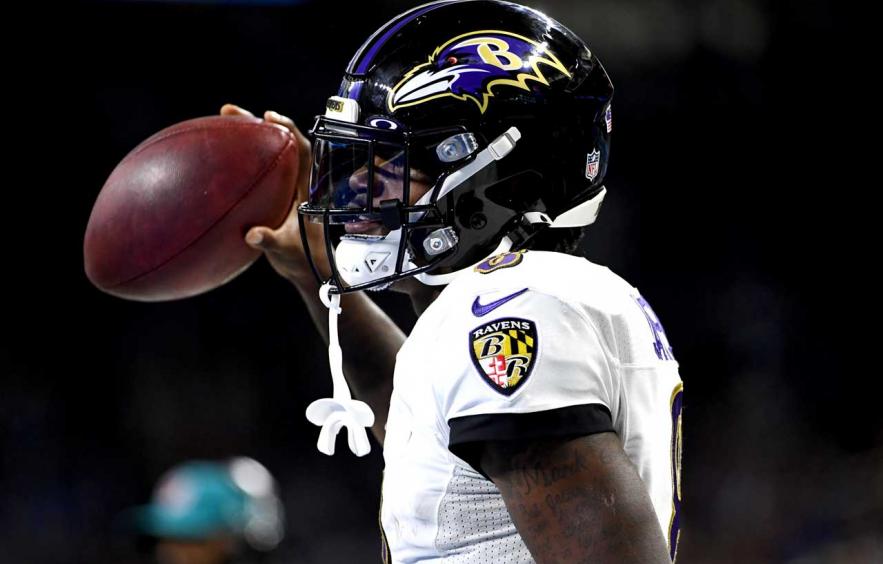 Nic Antaya/Getty Images
Week 4's Lookahead Line Report brought us closing line value this week on the Saints, Chargers and Rams. I also took early plays on the Dolphins and Browns—those lines will either hold or move in our favor as kickoff approaches. This isn't complicated, but it's invaluable.
Friends don't let friends bet NFL sides on game day. I understand the appeal of getting action down on a game that's about to kick off, but please, for the love of all things sacred, don't do it. I know that the majority of the casual bettors out there don't have time to comb through every news blurb and injury report the moment it comes out. It's difficult for most bettors to feel informed early in the week, or even more, right when next week's line is posted on Sunday evening for the following week's games.
In my opinion, the only way to consistently put yourself in a position to gain positive expected value (+EV) while betting on NFL sides is to beat the closing line. Sportsbooks gradually increase the limits they let bettors get down as the week progresses, which is an indication the book feels they've priced the game correctly. Unless you're waiting later in the week because you're betting five-to-six figures on a side, your +EV increases if you can get down on a number before it's sharpened by the whales.
Each week of the season, I provide a first glance at the upcoming NFL slate through the lens of lookahead lines. This brief lookahead window provides a sneak peek at how teams are valued by bookmakers prior to the start of the week. It's also an opportunity to act before the games are posted and sharpened on Sunday evening after the previous week's games are complete. These lines are a true indicator of how bookmakers value each team, without the influence of the recency bias that comes after watching eight hours of football earlier in the day. Depending on the bookmaker, and bettor for that matter, you may or may not be able to get the type of action down you'd like, depending on your unit sizing. The key is understanding where the value is on the board in any given week, and that is easier to do once you know what the opening number was.
When I take a position on a lookahead line, I believe the current number will beat the closing line. At times, it ends up being the best of the number, which is ideal. Basically, I'm parlaying my handicap. In essence, if I'm right in my Week 4 evaluation of the team and market, I'm going to have an advantage in predicting where the line movement will come first in Week 5.
For reference, I'll be using the initial odds released by Westgate back in May to show you how the game opened. You can use the game tiles below to find the best number, and the spread listed is based on the home team:

Week 5 Lookahead Lines Takeaways
I'm always on the hunt for scheduling and travel advantages. For the most part, these things are already baked into the number, but I believe there are instances each week that aren't accurately accounted for in the market.
Rams

(-1.5) @

Seahawks

Backed by nothing but conjecture, I assume blindly backing a short home dog in the division is a +EV proposition over time in the NFL. That premise alone could hold this line, or perhaps even move it in Seattle's favor as kickoff approaches. That's not how I handicap games, though. I'm more matchup-focused than trends-focused, and there's nothing in this matchup that makes me hesitant to back the Rams at anything less than three points.

The Sean McVay/Matthew Stafford pairing is still very much in its honeymoon phase. Offensively, they lead the league in EPA per play and DVOA. Stafford ranks fourth in expected completion percentage through the first four weeks. This is primarily a scheme stat, dependent on a play caller setting the quarterback up for success. What's different here is that the three players ahead of Stafford in expected completion percentage (Kirk Cousins, Jimmy Garoppolo, and Jared Goff) all have an average depth of target below 6.0 yards. Stafford's is at 8.7. Yahtzee. Seattle's defense can't get off the field. They're last in the league in yards per drive allowed and time of possession per drive allowed. The Rams will move the ball at will, and I'm firing the cannons at Rams -1.5.
Jets

@

Falcons

(-4)

The NFL knows its product is so much better than having to watch soccer, it keeps sending our worst teams to England each year. Strange flex, Roger Goodell, but I respect it.

The Jets and Falcons are two of the worst offenses in the league thus far. They're both bottom three in offensive DVOA and EPA per play, but something has to give when they cross the pond. C'mon, London! Get on your feet for this one! Let's hear it!

The Falcons are much more likely to win or be competitive in Week 4 at home against The Football Team than the Jets are against the Titans. A Falcons win in Week 4 could move this into the 6-6.5 range, so if your early lean is Atlanta here, act accordingly.
Patriots

(-7) @

Texans

New England will likely head to Houston with a 1-3 record, facing a surprising must-win situation if their playoff aspirations are to continue. With Tyrod Taylor set to miss at least another game or two, this will be Davis Mills against New England's seventh-ranked defense (EPA per play). The Texans are set to lose by 20 points in Buffalo in Week 4, so they'll do little to improve their public sentiment prior to this matchup with the Patriots. I think this settles, minimally, in the 7.5-8.5 range, so I'm backing New England (-7) now.
Packers

(-3.5) @

Bengals

Ceasar's is floating a Packers -3, which is appealing. The juice at other books indicates the early action on this has come in on Bengals +3. This is a wait-and-see for me. If both teams win big in Week 4, which is probable, this number likely oscillates between 3-to-3.5.
Broncos

(-2) @

Steelers

The proud and mighty Pittsburgh Steelers are home dogs to Teddy Bridgewater? This is not something we expected, especially after the Steelers' Week 1 win in Buffalo. This was Pittsburgh -4.5 in the preseason, but it's difficult to unsee Ben Roethlisberger falling over his own feet before landing on his face to throw yet another quick, short incompletion. If the Ravens upend the Broncos in Denver, this likely moves towards the Steelers. I know Denver has had a cupcake opening schedule, but I was a believer in them this preseason, and I think this is a top-three defense in the league. I'll wait and look for a better number on the Broncos next week. Time to use those Terrible Towels to wipe away the tears.
Bears

@

Raiders

(-6.5)

A Bears home win against Detroit paired with a Raiders loss on Monday night against the Chargers could improve the public sentiment surrounding the Bears heading into this Week 5 matchup in Las Vegas. Any signs of life offensively or displays of competent coaching against Detroit can rinse the taste out of our mouths after the Cleveland debacle in Week 3. I'm also backing the Chargers to handle their business against the Raiders in Week 4, so there's a clear path for this line moving below the six. I'm looking to back the Raiders against the Bears at 5.5 if that happens.
Bills

(+3.5) @

Chiefs

Should the Bills be underdogs in this one? That's certainly debatable, but they should not be getting more than a field goal. We know the Chiefs are better than their 1-2 record heading into their Week 4 matchup against the Eagles, but their defensive issues are real, and they've been magnified by untimely and uncharacteristic turnovers by the offense. The Chiefs have won 10 of their last 14, but they're 1-11-2 against the number in that span. The Patrick Mahomes factor has made Kansas City a public team, inflating their line every week. No one enjoys holding a ticket that backs the team Mahomes is facing, so bookmakers continue to drive the price higher each week. The Bills have one of the few offenses in the league that can go toe to toe with the Chiefs, and the far superior defense. I'll end up taking the Bills on the Moneyline, but I'll also take the hook if you're giving it away.
Colts

@

Ravens

(-6.5)

After trips to Tennesee and Miami, this is the third straight road game for Carson Wentz and the Colts. It's just so uncommon, so anyone facing a team that's on their third consecutive road trip is an auto-bet for me. I'd back the Ravens here regardless because I'm trying to fade the Colts whenever possible right now. They've had a plethora of key injuries that have impacted both sides of the football, and they'll be outclassed by the Ravens in this primetime matchup. Get this at 6.5 before it moves across the seven.