Yahoo! Single-Game DFS Breakdown: Bills at Saints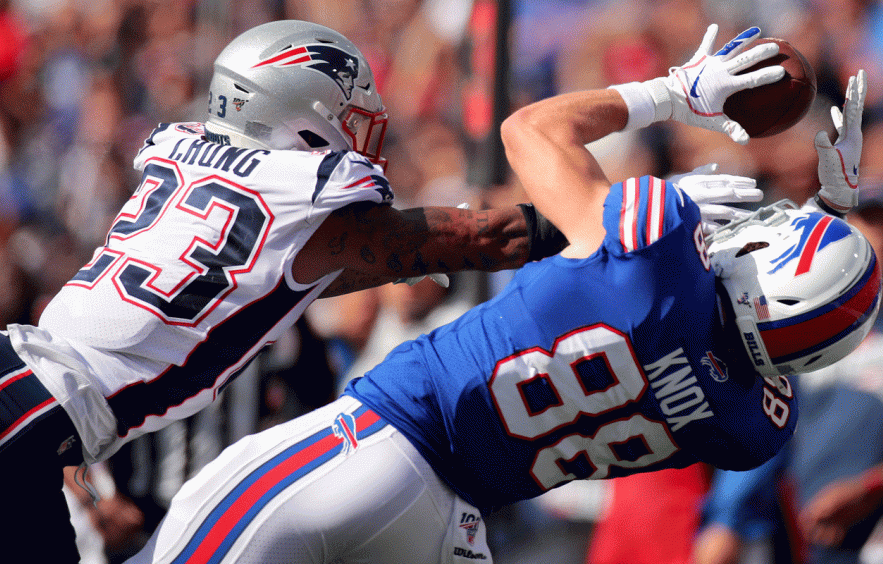 Brett Carlsen/Getty Images
One team is thankful to be healthy, while the other looks like it is 12 weeks into the NFL season. Turkey Day ends with the Buffalo Bills traveling to New Orleans to take on the Saints.
It is vital to remember that single-game slates are not simply a "max salary, play as many big names as possible, and submit" format, especially in larger tournament fields. We need to identify players that can be pieces in their offense's success, whether in the lead or trailing, as well as the players that could be focal points in a neutral game script. The ability to then take those players and identify which will succeed in the single-game format will put us in a better position to succeed as daily fantasy players.
Vegas Total and Spread
Buffalo is a 6-point favorite with an over/under of 45.5 points. The Bills have an implied team total of 25.75 points, while the Saints have an implied team total of 19.75 points.
Potential Game Flow Scenarios
In a game where the Saints would have a distinct advantage by #EstablishingIt, the offense will be without Alvin Kamara (knee) and potentially Mark Ingram (knee, $17). That would leave Tony Jones ($10) and Alex Armah ($10) as the top two backs for the Saints. And that is with their starting tackle Ryan Ramczyk also out, bad news for both facets of the Saints offensive attack.
That puts a lot on the shoulders of Northwestern's finest Trevor Siemian ($22). Siemian and the receivers have the toughest matchups in football this week as Buffalo is tops in schedule-adjusted fantasy points allowed (aFPA) against quarterbacks and wide receivers. That puts a damper on the collection of misfit wideouts that are employed by the Saints, but more on that later. Adam Trautman is out 4-6 weeks just as he was gaining traction as a trusted target for Siemian.
The Bills have to wash the nasty taste of Sunday out of their mouth and have to do so in one of the more fan-present stadiums in the NFL. Good thing Josh Allen ($38) and Stefon Diggs ($30) have chemistry that knows no bounds. Even if Marshon Lattimore travels with Diggs, a double-digit target game with a touchdown is realistic. If Diggs cannot shake Lattimore, Cole Beasley ($17) and Gabriel Davis ($12) have a lot of upside. Emmanuel Sanders ($16) has taken a backseat of late and is showing his age.
Dawson Knox has been vital this season and is also one of the reasons Beasley has suffered in terms of targets and touchdowns.
The Bills running game is a mess with Matt Breida ($10) playing spoiler Week 11 in their blowout loss. Zack Moss and Devin Singletary are the Spider-Man meme in terms of not producing and a standout would be nice facing the league's top-ranked rush defense according to aFPA. Instead, the Bills will probably be one-dimensional again and lose some of their leverage as an elite offense. The run game could have used right tackle Browns1" class="player_name_link">Spencer Brown, but he will miss his second game due to COVID-19 protocols.
Here's a brief rundown of which players would likely benefit the most from various game flow scenarios.
Close, low-scoring game
Close, high-scoring game
Blowout for home team
Blowout for road team
Cheap/Unique Stacking Option
Traditional stacks such as QB/WR1 or WR2, QB/TE, and RB/DEF are stacks seen used in winning lineups. The obvious choice is not always the winning choice. Below is a cheap stack with at least one unique quality that could break the slate.
Trevor Siemian

($22), Tre'Quan Smith ($11),

Deonte Harris

($13), and

Dawson Knox

($17)

I would go further with the Saints passing game but the goal here is to fade Josh Allen and Stefon Diggs for Knox, his touchdown equity, and the Saints passing offense. Siemian has thrived in garbage time and is a throwing machine when losing. Siemian is averaging 20.68 fantasy points (Yahoo! scoring) in three losses while scoring 10.56 points in his wins. Deonte Harris should not be minimum salary.
Low-Priced Volatile Plays
Deonte Harris

($10)

Harris's 11 receiving yards Week 11 were his lowest since Week 2. In home games, Harris has yardage outputs of 72, 52, 35, and 52 with one score.
Marquez Callaway

($10)

The preseason darling has three receptions the past two games after having at least three in three straight contests. Since Week 9 when Siemian took over as the starter, Callaway leads the team with a 16.4-yard average target depth. He is a boom-bust candidate at minimum price. Callaway is one of three receivers in this game on 4for4's Week 12 Breakout Receiver model.
Matt Breida

($10)

The biggest concern is rostership. Breida clearly outplayed Devin Singletary and Zack Moss Week 11, so how will he be rostered? His salary does not hurt your roster construction but if he busts it is because he is competing for touches with two other backs.
Superstar Picks
Josh Allen

($38)

With no running game bailing him out of late, Allen will be expected to do it all once again. There should be zero surprise if he operates as the red zone back (four touchdowns inside the 10).
Dawson Knox

($17)

His breakout season has hurt Cole Beasley, and with the Saints operating in man coverage, Knox should stand out as the secondary target behind Stefon Diggs.
Gabriel Davis

($12)

Man coverage away from Marshon Lattimore? Sign me up. Davis is one game removed from 105 yards on three receptions.
Tre'Quan Smith ($11)
Despite being the favorite Saints receiver at the moment, he is easy to play and still be different because of his salary. If you believe the Siemian garbage time narrative mentioned earlier, play him.
Longer Shot Superstar Picks
Emmanuel Sanders (REVENGE), Marquez Callaway, Cole Beasley, Juwan Johnson