Travis Etienne: Third Down Slasher or Work Horse Back?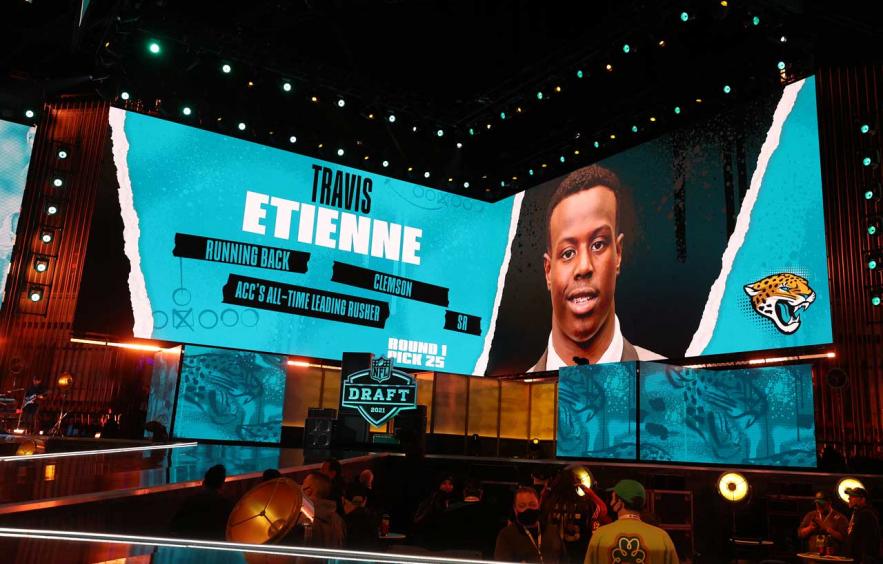 Gregory Shamus/Getty Images
Already bringing in Trevor Lawrence with the first overall pick, the Jacksonville Jaguars further boosted their offense by selecting Travis Etienne at pick 25. While James Robinson and Carlos Hyde also occupy this backfield, new head coach Urban Meyer reportedly has creative plans for Etienne in year one. Meeting every athletic threshold and production metric in college, Etienne has the profile of a workhorse NFL back. With opportunity presenting the only question, Etienne remains one of the more intriguing rookie running back case studies in recent memory.
---
Editor's Note: Read more player profiles from the rest of the 4for4 staff!
---
Etienne, Explosive by Nature
Hitting Clemson's campus as a freshman in 2017, Etienne entered the Tiger's program as a four-star prospect and the 15th overall back in his class. Interestingly, Etienne only held one collegiate offer prior to running a 4.43 40-yard dash at a regional camp. Already displaying his patented explosion at an early age, Etienne went on to finish as Clemson's all-time leading rusher. Standing 5-foot-10, 215 pounds, Etienne blazed the 40-yard dash in 4.41 seconds at Clemson's pro day, making him one of the most athletic backs in recent drafts.
Displaying his rare explosion from the moment he stepped on campus, Etienne immediately carved out a role alongside former four-star running back Tavien Feaster. As an 18-year old freshman, Etienne notched 766 yards and 13 touchdowns on just 107 carries, averaging 7.2 yards per carry (YPC). Impressively, he accomplished this while seeing double-digit carries just twice. Fully displacing Feaster as a sophomore, Etienne improved to 1,658 rushing yards, and 24 scores on 204 carries (8.1 YPC) in his 2018 sophomore campaign.
As a junior, Etienne added another wrinkle to his game as a pass-catcher. Only totaling 17 receptions during his first two seasons, Etienne recorded 37 catches, 432 yards, and four touchdowns through the air. With another 1,614 yards and 19 scores coming on the ground, Etienne solidified himself as one of the top backs in the country.
Curiously, Etienne decided to return for his senior season in 2020. Unlike previous seasons, Etienne saw four of five starting offensive linemen drafted. Looking at yards before contact, Clemson generated 3.8 in 2018, but that number dropped all the way to 1.8 in 2020. This caused Etienne to rush for just 914 yards and 14 scores (5.4 YPC). However, Etienne improved as a receiver with 48 catches, 588 yards, and another two scores.
Travis Etienne's College Production

| Year | Attempts | Yards | Rush TD | TGT | Rec | Yards | Rec TD |
| --- | --- | --- | --- | --- | --- | --- | --- |
| 2017 | 107 | 766 | 13 | 7 | 5 | 57 | 0 |
| 2018 | 204 | 1658 | 24 | 17 | 12 | 78 | 2 |
| 2019 | 207 | 1614 | 19 | 40 | 37 | 432 | 4 |
| 2020 | 168 | 914 | 14 | 58 | 48 | 588 | 2 |
Importantly, Etienne's efficiency also held fast as a rusher during his final season. Etienne generated 822 of his yards after contact while forcing 43 missed tackles. Mirroring his efficiency from previous seasons, Etienne remained highly productive as a rusher despite a less than ideal blocking situation. With his added ability as a receiver, Etienne ended up elevating his draft stock following his final collegiate season.

Offensive Fit in Jacksonville
Most of the uncertainty surrounding the Jacksonville backfield focuses on the touch distribution between Etienne and second-year pro James Robinson. Coming out of Illinois State as an undrafted free agent, Robinson rushed for 1,070 yards and seven scores on 240 carries while adding 49 catches for another 344 yards and three scores on 60 targets. Standing 5-foot-10, 220 pounds, it looked like the Jaguars struck gold in the undrafted free agent market. However, with the previous regime signing Robinson, Meyer clearly did not view the Illinois State product as a long-term answer at the running back position.
Also complicating matters, Meyer and general manager Trent Baalke added Carlos Hyde to the backfield. A former Ohio State Buckeye and San Francisco 49er, both Meyer and Baalke have familiarity with Hyde. Despite turning 31 early in the season, Hyde continues to see significant opportunity. While Hyde only carried 81 times last year, he had at least 172 in his four prior seasons. While he won't approach that number without injuries ahead of him, another 80-carry season could depress the overall workloads of Robinson and Etienne.
Adding an extra wrinkle to the running back discussion in Jacksonville, Meyer also stated that he views Etienne as his next Percy Harvin. Meyer has found roles for gadget and hybrid players throughout his coaching career. On top of coaching Harvin at Florida, Meyer coached both Curtis Samuel and Parris Campbell at Ohio State. Still, Etienne requires some projection in this regard. Etienne played a combined 27 snaps in the slot or out wide for Clemson last year (4.9%). Samuel and Campbell played 67.1% and 97.7% of their snaps in the slot or out wide in their final seasons at Ohio State.
At the very least, Meyer views Etienne as the Jaguar's third-down back. From there, uncertainty enters the fold. Meyer clearly wants to get Etienne involved early in year one. However, a gadget-only role would leave much to be desired from a redraft perspective. Right now, Etienne comes off the board at the tail end of the third round in seasonal leagues. Fortunately, a Percy Harvin-type role theoretically leads to elevated target volume for Etienne. Even with a 150-carry season, this elevated work as a receiver could pay dividends at this price in redraft leagues.
From a dynasty perspective, Etienne remains just 22-years old. With Jacksonville returning every starter on the offensive line on top of the addition of Trevor Lawrence, this offense actually looks potentially explosive for years to come. 4for4 dynasty expert, George Krtikos currently ranks Etienne as his third overall player and RB2 in dynasty rookie drafts. For those in dynasty startups, Etienne ranks as the RB16 and 29th overall player across positions.
Bottom Line
While Robinson complicated matters in the immediate future, Etienne still possesses elite size, draft capital, and production metrics heading into the NFL. Currently coming off the board at pick 46.8 on Underdog Fantasy, Etienne has already surged ahead of Robinson (71.3). With running backs quickly drying up in the mid-rounds, Etienne makes sense for those missing on one of the early studs. Etienne also simply looks like a value in this range. Projected to take on the high-value receiving role within the offense, Etienne's untapped ceiling makes him an intriguing and viable pick in this range.