Should You Pay Up for Travis Kelce in 2021 Auction Drafts?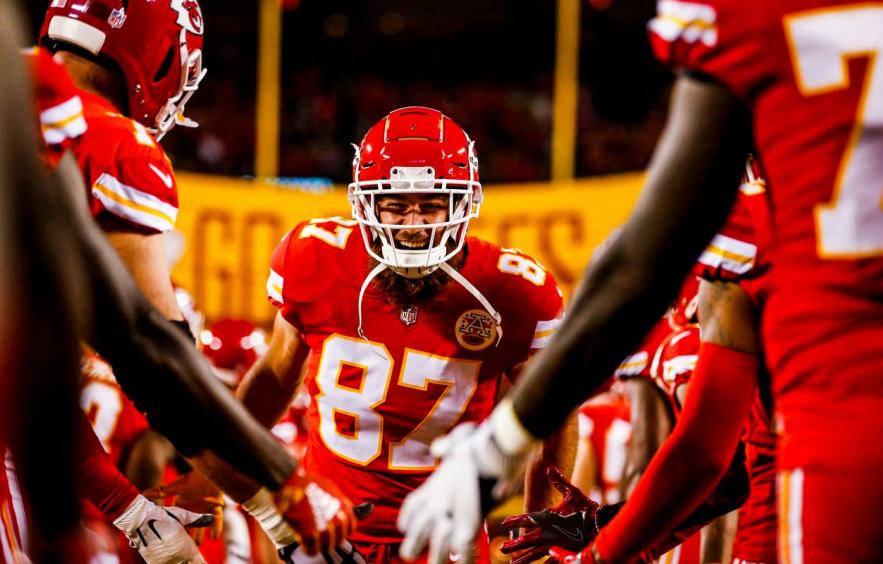 David Eulitt/Getty Images
Travis Kelce being the top tight end in 2021 drafts is one of the greatest certainties you'll have in fantasy football. Kelce has been the TE1 every year since 2016 and has scored 200 points in half-PPR formats for three straight seasons, something that Rob Gronkowski, Tony Gonzalez, and Antonio Gates never accomplished. Coming off of a career year and having not missed a game to injury since 2013, there's little reason to avoid Travis Kelce in redraft formats even as his age reaches 32 years old in 2021.
While his high price tag is a certainty, is he worth paying up for in auction drafts this coming season? Many auction drafters reserve just $1 for their starting quarterback and tight end so that they can double down on elite running backs and wide receivers, so making a tight end a roster centerpiece is already against the grain. However, historical performance data and our 2021 projections suggest that landing Kelce can be one of the best draft night moves you make this season.
A Look at History
Most proponents of grabbing a stud tight end in the upcoming draft will mention that 2020 was a tight end wasteland, that the fantasy points Kelce provides over the rest of the position makes him more valuable than similar options at RB and WR, and that he's the least likely to bust among top picks, but these arguments are rarely presented with the data to back them up. Thankfully we can assess a player's value any given season by looking at how many fantasy points they produced over the best option on waivers (VORP) and the worst starter at their position (VOLS). Combining VORP and VOLS gives us a view of performance that aligns with the Studs and Scrubs auction draft philosophy, where positional stars that provide a weekly edge in your starting lineup get a boost in value. Through this lens, we can understand how Travis Kelce compares not only to other tight ends but all potential fantasy options, and gain a firm understanding of the value he provides.
As mentioned, Kelce has been the TE1 going back to 2016. Through the lens of VORP + VOLS, he has delivered an average of $46 in value to fantasy owners in a 10-team, half-PPR league in that time; this alone makes him roughly equal in value to the average QB1, WR3, and RB8. Over the past three seasons, his average value has risen to $52, making him just as strong as the WR2 and just slightly behind the QB1 and RB5. Anybody who drafted Travis Kelce in 2020 likely got a steal as he produced $65 of value to his owners, and he did this when the last starter and top replacement tight ends posted unusually high point totals, Kelce was just that good.
As we look into the upcoming season, we can use this data to conservatively benchmark what price Travis Kelce should be paid for in your auction drafts. If he's bid up to the low-$40 range that would be a great time to jump in and grab him, as his value floor has been $42 in the past four years and you'd have the upside that he can deliver beyond that. If you see multiple wide receivers or the back end of RB1s going at a higher price than him, you're probably grabbing him at a good value.

2021 Outlook
With John Paulsen's 2021 projections officially live, we can apply the same logic to see the value that Kelce is expected to produce this year. Kelce is projected to total 99 receptions, 1,386 yards, and 11 touchdowns, which would bring him to similar production as his 2018 season where he was worth $50.
To gain a stronger understanding of where his draft price should be, we need to compare Kelce to the tight end baseline and all other positions. His VORP and VOLS totals are expected to decline compared to 2020, which is understandable given the high bar that was set last year. However, the entire tight end position projects to be more valuable compared to prior years, driven by a slight decline in quarterback value. As it stands, Kelce's 2021 outlook projects to be a strong $62 in auction value, bringing him in line with the WR1 (Davante Adams) and RB3 (Derrick Henry).
Should you pay $62 for Kelce in your auction drafts this season? Probably not, as the underlying uncertainty makes it difficult to tie your budget directly to projections. There's of course the potential that Kelce underperforms or misses time due to injury, and there's the chance that George Kittle, Darren Waller, or an emerging talent close the gap in the position. Even strong seasons by the other positional groupings can diminish Kelce's value, so the landscape will change if we see multiple running backs eclipsing 300 points or a quarterback having a season like 2019 Lamar Jackson. What we can be confident about is that Kelce is probably going to be worth the ~$40 price tag he carries in many auction drafts. He has delivered that value for years and has the upside to produce considerably on top of that. He's a consistent producer who has stayed both elite and healthy for five years, and there isn't a strong reason to expect that to change next season.
Even in a downside case where every other position performs historically well, Kelce's projected stat line compared to other tight ends would put his value at $49. Every auction league is unique and will take different approaches to the tight end position, but you should feel confident if Kelce lands on your roster by the end of draft night, and I'd still consider him a great pick if he was bid up to $50.
Bottom Line
Travis Kelce remains an elite talent and should be your top tight-end target in 2021.
In his run of dominance, Kelce has produced an average of $46 in value per year to auction owners, and recent seasons have pushed his value over $50.
Based on holistic 2021 projections and historical performance, you should feel confident bidding Travis Kelce up to $40-50 to draft him.