Studs and Scrubs: Dominating Your Auction Draft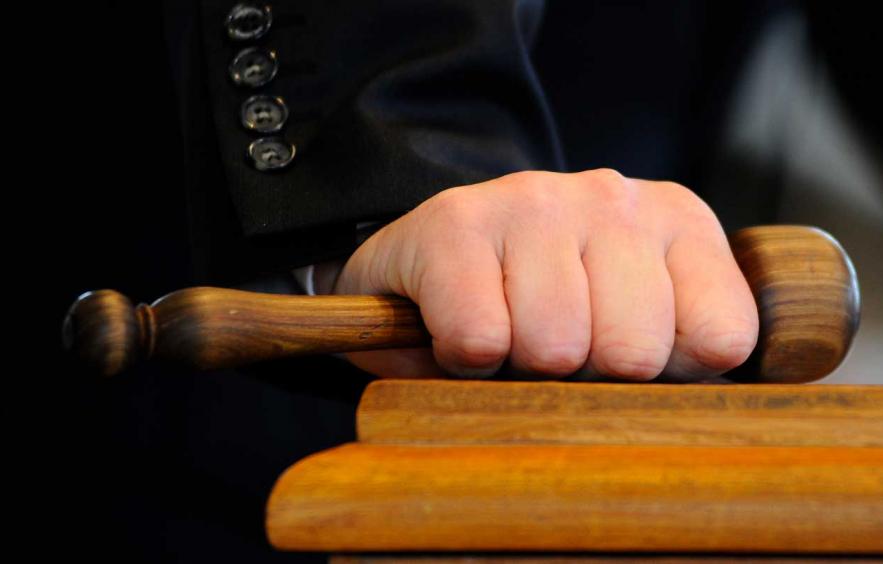 Alan Crowhurst/Getty Images
This summer, have a long and serious discussion with your league mates about switching to an auction draft. The appeal is obvious—you're able to construct your perfect roster as you see fit rather than fall victim to draft order. On top of it, auction drafts are pure fun, especially if your league can draft in person. The draft night is dynamic as your plan may shift dramatically in just the first 10 minutes if you get outbid on players you want, or strike at a guy you think is undervalued. As excitement for the upcoming season builds, now is the perfect time to talk about making the switch.
Each season I come out with new lessons learned from my auction drafts. The most important lesson, and a foundational philosophy among auction drafters, is an approach to roster building called Studs and Scrubs. In a snake draft you're required to take a player in each round, but in an auction draft you can gain a competitive advantage by ignoring the mid-round players almost entirely. On draft night there are two types of players you want to make up the bulk of your roster: dominant positional stars that give you a weekly advantage over your league mates (Studs), or promising talent with upside to deliver value beyond what you drafted them for (Scrubs).
Studs and Scrubs: A 2020 Example
Below is how the reigning champion in a 10 team, half-PPR league built his roster on draft night in 2020, and we'll walk through his picks to discuss the good, the bad, and the league winners. I've been able to model out the true 2020 value for these players by looking at how they performed compared to the replacement player (VORP) and last starter (VOLS) at their position, giving us an understanding of which picks paid off to lead the team to a championship.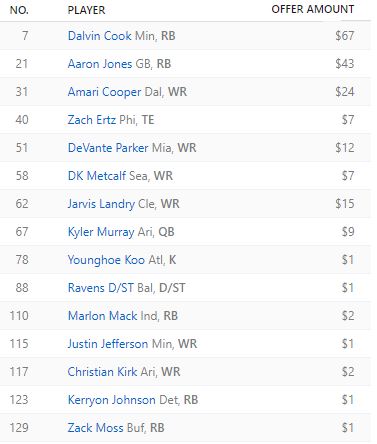 The Good
The roster was centered around Dalvin Cook, which in 2020 was an excellent decision. The bona fide Stud finished as the RB2 in half-PPR formats, and with a total season value of $88 offered a healthy premium above his price tag from draft night. Aaron Jones was another nice centerpiece to the roster and made for an elite second running back, coming in at $48 in value despite missing two games. These running backs gave the roster a strong foundation to build from with cheaper pieces.
The Bad
Amari Cooper, Zach Ertz, DeVante Parker, and Jarvis Landry were drafted to round out the starting lineup, yet delivered disappointing results. Each of these players cost more than the value they produced in 2020, making for a weak middle of the roster. A more committed drafter could have pooled those funds to land one more low-end Stud rather than build depth with underwhelming talent.
The League Winners
Kyler Murray, DK Metcalf, and Justin Jefferson were drafted for a combined $17 and delivered a $121 in value, an incredible turn of upside Scrubs that panned out as the QB2, WR5, and WR7. Combined with the elite performances of Cook and Jones, these players offset the weakness in middle picks and developed a championship quality roster.
You'll notice the majority of the $200 budget was spent on just two players, and only half of the roster had any sort of investment put into it. When you aren't forced to select a player each round you can focus almost entirely on building a strong starting lineup, those are the guys who will be scoring points for you on Sunday. An aggressive Studs and Scrubs drafter will have a bench full of players drafted for $1 to maximize the available budget for Studs; some will even leave the draft with a weak Flex spot in hopes that it can be filled by a breakout Scrub or waiver acquisition.

Landing Studs
The first 20 minutes of an auction draft will shape the landscape for the rest of the night, along with your roster for the entire season, and you must remain flexible and agile. You need to be clear about who you want on your roster as well as who you don't want. Before drafts you should research as many players as possible, starting from the top, and give them a simple color-coded ranking:
Green: Players that you are actively targeting and willing to push your budget for.
Yellow: Players that you don't love, but will pick up if they fit your roster and you feel they are being undervalued.
Red: You're avoiding these players and there's almost no chance that they go at enough of a discount for you to draft them.
As you gain experience in auction drafts you'll be able to develop a rough estimate of how much you think a player might be drafted for and how much you're willing to pay to get him. Don't be afraid to pay up to land a guy you're serious about, but don't be afraid to walk away if his price escalates too far. Having backup plans will help you grab an elite wide receiver if you missed out on the running back you wanted, or help you reallocate funds if you planned on a cheap quarterback but thought Patrick Mahomes was a great deal at his price.
Ultimately you should look to land between two and four players that would be taken in the first or second round of a snake draft, but remember to be flexible. You don't want to leave the draft with a roster built around Studs that don't excite you, and you don't want to walk out having missed on the first 10 players because you got scared to bid. If you're confident about your in-season management through trades and waivers then you can sacrifice some roster depth on draft night to build a foundation around Studs.
Targeting Scrubs
While identifying the Studs you want on draft night can be intuitive and come down to personal preference, targeting the right Scrubs takes some learning. A common mistake managers make will be spending their cash flow on dependable, low-ceiling talent. Players like Robert Woods and David Johnson were popular snake draft targets last year that you could presumably rely on to fill a starting spot, but never much positional upside. These players usually aren't making up a championship auction roster because they're unlikely to deliver significant value over what you drafted them for.
League-winning talent, especially in auction leagues, comes from high-upside players typically found for $20 or less on draft night. Jonathan Taylor, James Robinson, Justin Jefferson, DK Metcalf, and Stefon Diggs were all dirt cheap on draft night compared to the value that they provided in 2020. While each player had concerns that drove their draft price down, they all had a clear path to volume and potential to produce. This year when rounding out my starters on draft night, I'll spend my money on DeVonta Smith before Brandin Cooks despite their similar rankings.
Bottom Line
Auction leagues not only make for a more fun draft experience, but the flexibility it provides in building your roster can be incredibly rewarding. Whether you're brand new to auction drafting or a seasoned veteran, there are key lessons to keep in mind as you study this offseason and prepare to draft:
Build your roster around two to four Studs, and don't be afraid to pay up for guys you love.
Fill out your starting lineup and bench with cheaper, high-upside Scrubs. Highlight guys with a path to volume, they may be your league winners!
Be clear about both the players you want and don't want, have backup plans and adapt on the fly when necessary.
Be mindful of what you learn from each draft and how you can be more prepared next season.