Optimizing Your Dynasty Startup Draft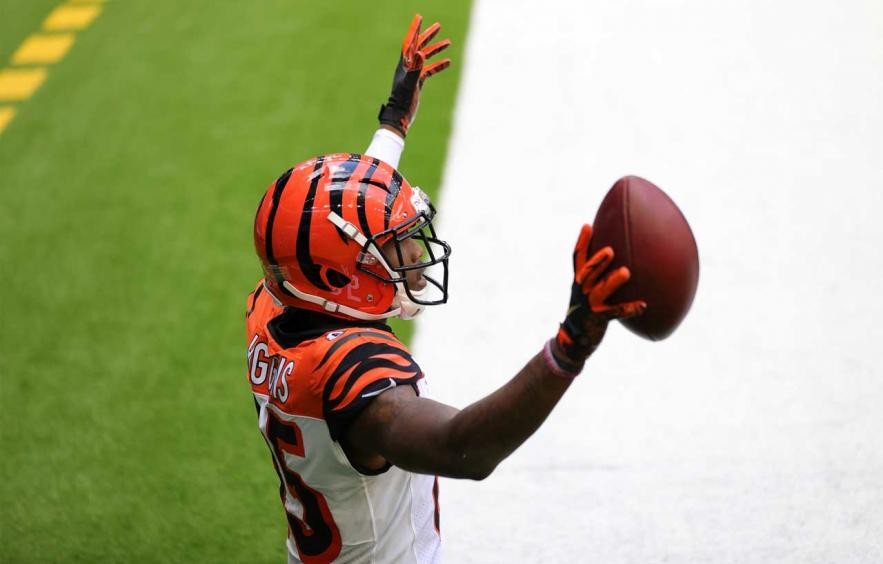 Carmen Mandato/Getty Images
After completing my latest dynasty startup draft, it seemed appropriate to update this article from last year. As we know with dynasty leagues, it comes down to more than player analysis as draft position, opposing teams' selections, and trading can all impact roster construction in a moment. That means identifying draft targets and making the appropriate moves (or staying put) to land those key players.
The focus here will be to review the startup draft landscape provided by our friends at Dynasty League Football to highlight an early (first four picks), middle (middle four picks), and late (last four picks) round option along with commentary. They conduct monthly startup mock drafts to determine player values throughout the season. The assumed format is one quarterback with PPR scoring.
Round 1
Early:
Christian McCaffrey
Middle:
Alvin Kamara
Late:
DK Metcalf
This is an easy group for me as they represent three of my top 5 dynasty players. I would be scrambling to move up if Kamara fell to five or Metcalf lasted until 9, which are currently the case in dynasty startup drafts. They also might have (a very) slight discount in trade scenarios.
Round 2
Early: D'Andre Swift
Middle:
CeeDee Lamb
Late: JK Dobbins
A trio of second year players, they are all first round level players in dynasty startups for me. Swift is just outside the top 12 in DLF's June startup mocks (14) while Lamb (19) and Dobbins (22) are even slipping into the third round in some instances. The latter two play for strong offenses that will highlight their talents and won't be a discount for much longer.
Round 3
Early:
Aaron Jones
Middle: Ja'Marr Chase
Late:
Terry McLaurin
Once again, these three players are going about a round later than I have them valued. All are in the middle to late second round range and are trending upwards. Jones has an extension in hand, Chase walks into an emerging Bengals offense as a top option, and McLaurin gets a temporary quarterback upgrade in gunslinger Ryan Fitzpatrick. No reason to be gun shy here.
Round 4
Early:
Chris Godwin
Middle:
Allen Robinson
Late:
Amari Cooper
I was tempted to select Brandon Aiyuk over Amari Cooper but the veteran receiver is on a better offense that should keep the 27-year-old (as of last week) as a strong fantasy starter for the next three to four seasons. Godwin and Robinson were more obvious choices with the former just a healthy season away from being a top 20 dynasty asset and the latter, hopefully, finally getting the quarterback in Justin Fields he has been searching for his entire career.
Round 5
Early:
Tee Higgins
Middle:
Mark Andrews
Late:
DeVonta Smith
Higgins may be the most underrated dynasty asset at the moment. He was the WR20 in PPR leagues in the 14 games he played meaningful snaps (Week 2 to Week 16). Chase is joining the team but A.J. Green had over 100 targets last year and he's gone so there's plenty of opportunity to go around. Andrews is one of the few tight ends I believe are a value in the early stages of startups. As for Smith, he's the likely top option in Philadelphia and should succeed right away given his advanced technical skills.
Round 6
Early:
Jaylen Waddle
Middle:
Robert Woods
Late:
Laviska Shenault
A pair of young wide receivers are growing with emerging offenses in the Dolphins (Waddle) and the Jaguars (Shenault) and could see quick rises in value if they click with their young quarterbacks. As for Woods, he remains underrated and gets a quarterback upgrade in Matthew Stafford and should be a fringe top-12 fantasy scoring wide receiver this season but will need a contract restructuring to remain on the team past 2021.
Round 7
Early:
Noah Fant
Middle:
Rondale Moore
Late:
Chase Edmonds
In this stage of the draft, values get harder to find, but I believe Rondale Moore is one of them. He joins a top passing offense in Arizona but may fight for targets in his first season so patience is key. His teammate, Chase Edmonds, likely has a more immediate impact this year with little competition outside of James Conner. As for Fant, he was the TE8 in PPR leagues last year and is still just 23-years-old.
Round 8
Early:
Dallas Goedert
Middle:
Michael Pittman
Late:
Jalen Reagor
As I write this, it seems like I'm higher on the Eagles offense than others, but I do like the talent. The challenge will be the passing volume, and targets, available to the receivers. Goedert showed what he could do last year with Zach Ertz out, but Reagor struggled in his rookie year. As for Pittman, he had moments of brilliance in year one, but gets a new quarterback and the return of Parris Campbell so questions remain.
Round 9
Early:
Ronald Jones
Middle:
Corey Davis
Late:
Raheem Mostert
Running back gets dicier at this point but there are some options that have shown past success and are on teams committed to the ground game. As for Corey Davis, he's the top option on an offense that's looking to bolster their passing game with a new quarterback and leverage Davis to take the pressure off their younger receivers. That's worth the pick here.
Round 10
Early:
Marquise Brown
Middle:
Denzel Mims
Late:
Mike Williams
This isn't a bad area to pick from with a lot of younger options that could rise with a good season. I don't love Hollywood Brown but this is a great range to grab him despite the addition of Rashod Bateman. As mentioned, the Jets have a couple of young receivers and Mims could have the greatest upside as an outside threat. As for Williams, he's a veteran at this point but the hole at tight end and good health could provide for a big season, especially in the red zone.
Rounds 11-12
Round 11:
DeVante Parker
Round 12:
Amari Rodgers
We will combine rounds the rest of the way here. Parker deserves real top 100 dynasty consideration as he should remain the top wide receiver in Miami even with the one year addition of Will Fuller, who is several rounds more expensive in dynasty startups. As for Rodgers, he fits the Green Bay culture and should get meaningful slot snaps as well as the ability to move all over the field early on.
Rounds 13-14
Round 13:
Tyler Higbee
Round 14:
Chuba Hubbard
This is where you decide if a productive veteran or a younger player with upside is a better choice. For Higbee, he's a veteran who has had production and now gets a greater chance with Stafford at quarterback and Everett off in Seattle, more on that in a moment. As for Hubbard, he's the likely backup for Christian McCaffrey, which can be fruitful with a single injury as we saw last year. He should have a role even with McCaffrey healthy but becomes a potential RB1 if he misses time again.
Rounds 15-16
Round 15:
Gerald Everett
Round 16:
Darrynton Evans
Everett, as mentioned, is in Seattle now and could see a real breakout opportunity even if his contract is for a single season. He has the physical attributes and flashed with the Rams but the quarterback upgrade to Russell Wilson is tantalizing at this point in the draft. Evans, like Hubbard, backs up a successful running back who handles a large workload. In this case, it's Derrick Henry, who has so far avoided major injury, but could even use the occasional breather. I like to bet on high upside, talented backups over middling veterans when it gets this late in the draft.
Rounds 17-18
Round 17:
K.J. Hamler
Round 18:
Anthony Schwartz
Hamler, admittedly, is a gamble as it's a crowded field in Denver and the quarterback situation is uncertain at best. He could become their primary slot receiver but Jerry Jeudy could excel there as well. As for Schwartz, he comes into Cleveland where the top two wide receivers are established for now, but both have expensive contracts and are approaching the dreaded age of 30. The rookie Schwartz has insane speed and would provide a unique weapon early on with the potential for more later.
Rounds 19-20
Round 19:
Cornell Powell
Round 20:
Anthony Miller
Towards this stage of the draft, it's all about picking your favorites. I could have gone in a number of directions here but I like Powell's potential in the explosive Chiefs offense that still lacks an established second wide receiver. Mecole Hardman has had several chances and Sammy Watkins is gone so Powell is a better bet at his price here. Miller has shown some success with lesser quarterbacks and if Justin Fields excels early, Miller could benefit. The large difference in dynasty price between him and Darnell Mooney makes Miller a cheaper alternative to become the second option next to Allen Robinson.


Draft Recap
That's it for the startup draft. There are many strategies to "win" a dynasty startup but it's important to go in with a general plan with the flexibility to react and adjust to the uncertainty of fellow dynasty players. Running back remains a bit top heavy while wide receiver has the depth needed to take plenty of middle round chances. Don't be afraid to wait on quarterback either, the position is unusually deep with several recent quarterback classes buoying what had been an aging group at the top.