Mecole Hardman's Summer Will Decide His Dynasty Future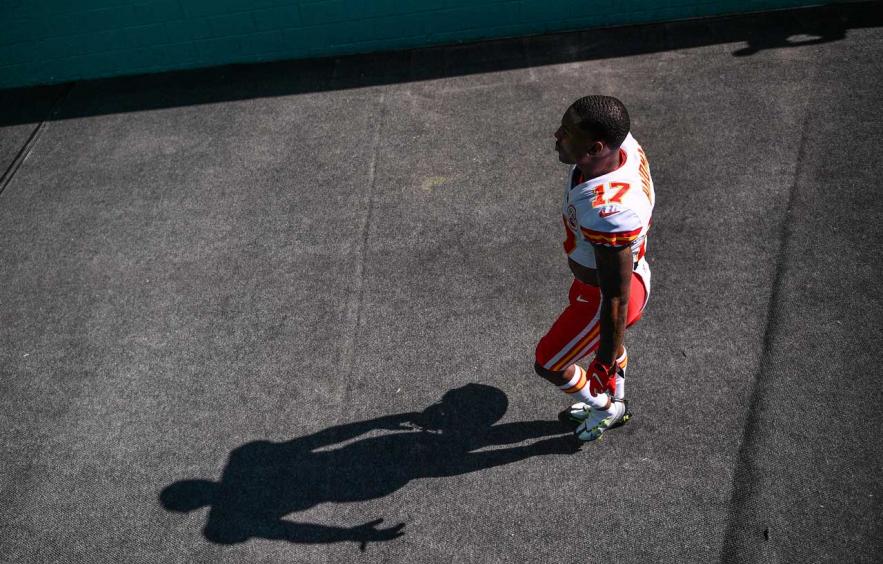 Mark Brown/Getty Images
It wasn't that long ago in dynasty fantasy football that you would simply expect a majority of your wide receivers to "break out" in their third year. Particularly in the most high-powered offense in the league, with a player who may go down in history as the best quarterback we've ever seen at the helm, you would expect a second-round receiver to pay dividends sooner rather than later.
Enter Mecole Hardman. Though he participates in an offense mostly dominated by the two options at the top of the pass-catching hierarchy, you would have assumed that a 56th-overall draft pick of the Kansas City Chiefs would have some opportunities to contribute to our dynasty teams before too long. Will that time come in 2021 and beyond or will it remain a pipedream? We'll explore that and more below.
---
More Dynasty Resources: Top 200 Rankings | How to Optimize Your Dynasty Draft | Undervalued Dynasty Players | 16 Sleepers
---
A Promising Bulldog
Though he didn't handle the ball much in his college career at Georgia, Mecole Hardman showed explosiveness in every situation he got an opportunity. Through his sophomore and junior seasons (2017 and 2018), Hardman found the end zone an absurd 13 times on only 73 touches, scoring a touchdown once every 5.6 opportunities. His burst and open-field ability helped spark interest in him throughout the pre-draft process and the idea that he could be paired with Patrick Mahomes in Kansas City left fantasy owners salivating.
Mecole Hardman is one of the most dangerous space players in the 2019 class #NFLDraft pic.twitter.com/wC6w5bBVuy

— Brad Kelly (@BradKelly17) January 30, 2019
Then came the news. Because of allegations that we won't get into here, Tyreek Hill, the Chiefs' number one receiving option and explosive offensive piece was going to be suspended for much—if not all—of the 2019 season, and Kansas City was going to need to replace him with a comparable choice. In the second round of the 2019 NFL Draft, they chose a temporary heir apparent; Mecole Hardman.
A Hard Couple of Years, Man
Spoiler alert for anyone stuck in 2019, Tyreek Hill avoided any punishment, had a year right in line with his career per-game averages, and the Chiefs won the Super Bowl. This left the offense in an enviable position; they had their star wide receiver back and now they had an extra toy with 4.33 speed to play with out of the slot, or even opposite Hill.
The rookie season started off well enough, with Hardman receiving 23 targets through Week 5 and sporting an enticing 15.8 aDOT, while Hill missed four games due to a shoulder injury. He didn't do enough to stay afloat in the pecking order once Hill came back, and with only two games with three or more targets after his return, Hardman finished out the season with only 41 targets.
2020 Kansas City

Chiefs

Pass-Catchers

| Player | Targets | Receptions | Catch% | Yards | Y/Target | Intended Air Yards | YPRR* |
| --- | --- | --- | --- | --- | --- | --- | --- |
| Travis Kelce | 144 | 105 | 72.9% | 1,416 | 9.8 | 1,257 | 2.59 |
| Tyreek Hill | 135 | 87 | 64.4% | 1,276 | 9.5 | 1,762 | 2.27 |
| Mecole Hardman | 62 | 41 | 66.1% | 560 | 9 | 647 | 1.53 |
| Demarcus Robinson | 58 | 45 | 77.6% | 466 | 8 | 498 | 0.84 |
| Sammy Watkins** | 55 | 37 | 67.3% | 421 | 7.7 | 449 | 1.21 |
*Yards Per Route Run
**Now in Baltimore
The 2020 season saw a trend in the right direction with 62 targets, an impressive increase, albeit with only 59 more yards. With a very similar season-long average depth of target (a minor decrease from 9.5-to-9.2), at least some of the lack of production can be blamed on drops (an increase to 14.6% from 3.2% in 2019). We have seen that catch rate is one of the least sticky year-to-year stats, but it should be noted Hardman's drop rate ranked 105th/112 qualifying receivers.
Finishing as a distant third in usage, possibly more troubling was the sophomore's increased usage with his special team's role (191 snaps on ST compared to 156 snaps in 2019), hopefully, for fantasy's sake, this isn't the beginning of a trend that will see him deviate further from his role in the offense.

Competition; Hill and Kelce Chief Among Them
As will come as a surprise for very few of us; the target share in Kansas City is dominated by Travis Kelce and Tyreek Hill, and is incredibly unlikely to stop in the near future. Kelce and Hill combined for 279 targets in 2020, the most raw targets between two teammates on the season. Notably, this isn't even the most combined usage the duo has had since their playing careers crossed. In Patrick Mahomes's first full season (2018) they combined for 286 targets, although the tandem of Stefon Diggs and Adam Thielen "beat them" that year (303 targets). This isn't to say that there is nothing left for a third or fourth option on this team—the Chiefs continuously are amongst the most pass-happy teams in the league—only that we need to know pretty definitively who those options are.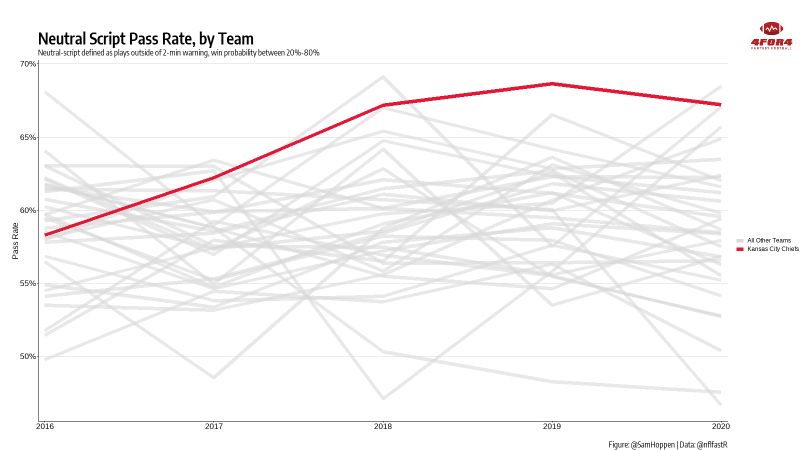 It all boils down to who can take over as the No. 2 WR on this team, and sadly it looks like the departure of Sammy Watkins means next to nothing for Mecole Hardman. Demarcus Robinson's role as a situational outside receiver, commanding around 10% of the team's target share hasn't changed since his fourth-round selection in 2016, leaving the second-fiddle conversation up to a slew of UDFA guys, fifth-round 2021 selection Cornell Powell and (once again) Mecole Hardman.
Cornell Powell was a five-year college player at Clemson who had trouble seeing consistent usage through the first four years, churning out 329 yards. His senior season saw him earn some extra action as he reached 882, helped by the fact that Tee Higgins left for the NFL Draft last season. The selection of Powell could be in part a response to Hardman's "sure hands" issues last season, as Powell fits the Demarcus Robinson role with more speed and could be used in the intermediate area of the field. The silver lining here is that Hardman has yet more speed than both of them and if he shows out in training camp at the end of July, he could overtake both of them.
On the contrary, if Hardman sees more time from the slot because of a Robinson/Powell rotation on the outside, it could bear further sweet fruit. Through two seasons, Hardman has been far more productive lining up in the slot (11.9 yards per target, 19 yards per reception) than lining up out wide (7.6 yards per target, 11.7 yards per reception, per Sports Info Solutions.
Value
As everybody knows, Twitter is where you need to go to find reasonable, unbiased opinions on football, and all other walks of life. As such, I polled the Interwebz to find out what dynasty players thought a good price for acquiring a share in Mecole Hardman would be. Here are the results:
What would you pay for Mecole Hardman in Dynasty right now?

— Justin Edwards (@Justin_Redwards) June 22, 2021
Just being tied to the Chiefs offense have some people thinking a random future second-round rookie pick is still a reasonable price for Hardman, while the majority of people are leaning towards a third or simply not trying to acquire him at all. Once upon a time wide receivers regularly took three years to truly round into form, and for the price of a future third-rounder, I would prefer Hardman, who is quite literally already in a perfect landing spot, even if he has barely performed more than a third-round rookie wide receiver.
4for4 Dynasty Lead George Kritikos has Hardman ranked as the 123rd-most valuable dynasty asset (WR63). That puts his value somewhere around a 3.02 rookie pick.
Bottom Line
It may not feel like it for those who took him in 2019 rookie drafts, but there is still a path to upside with Mecole Hardman.
If he continues to be forced more into the slot (50.1% in 2019, 53% in 2020) with Cornell Powell or Demarcus Robinson on the outside, it would better suit his abilities as a receiver
This will be a situation worth monitoring closely through training camp, which begins July 28th.