Kadarius Toney's Curious Path to Playing Time in New York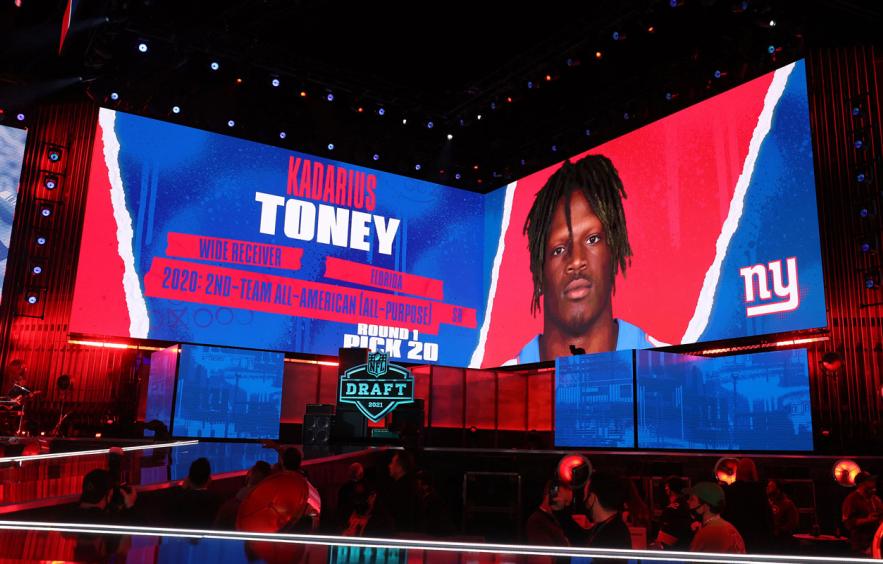 Gregory Shamus/Getty Images
After trading back for the first time in his career as a general manager, Dave Gettleman selected Kadarius Toney with the 20th overall pick in the NFL Draft on behalf of the New York Giants. An interesting prospect to say the least, Toney stands out from an athletic perspective, despite lacking elite college production. Toney also enters a revamped New York Giants receiving corps without a clear path to playing time. While the draft capital investment suggests early playing time, Toney's role and year one production still leave questions unanswered ahead of the 2021 regular season.
This piece will first examine Toney's collegiate production and what to expect at the NFL level. From there, we will dive into Toney''s potential fit with the New York Giants and decipher how this could influence the offense as a whole.
---
Editor's Note: Read more player profiles from the rest of the 4for4 staff!
---
Kadarius Toney

's Continued Growth

Hitting Gainesville in 2017, Kadarius Toney entered the Florida Gators program without a clear position. A dual-threat quarterback in high school, Toney played both receiver and running back early in his time with Florida. In his first three year with Florida, Toney only managed 45 receptions for 606 receiving yards and a pair of receiving scores.

However, some of this lacking production can be rationalized away. Playing without a clear position in his first two seasons, Toney actually also recorded 419 rushing yards and an additional score on 47 carries during those first three seasons. Already having his growth stunted by his dual-positionality early in his career, Toney also suffered a shoulder injury during his 2019 campaign that limited him to 93 snaps.

After that tumultuous start to his career, Toney finally broke out in 2020 with Kyle Trask under center. Toney posted 984 yards and 10 scores on 70 catches in 11 games. He also contributed 19 rushes for another 161 yards and a score. Interestingly, these passing numbers only equate to an 18.3% target share, 21.7% College Dominator, and 21.7 Breakout Age. College Dominator refers to the total percentage of receiving yardage and touchdown production a player accounted for in their final season, while Breakout Age refers to the age of a player during their first season accounting for 20% of receiving yards and touchdowns in their offense.

Even in his career-best season with Florida, he still did not dominate in the receiving game like other prospects in this class.
Toney's 2020 Game Logs

| Opponent | Targets | Receptions | Yards | TDs |
| --- | --- | --- | --- | --- |
| Ole Miss | 6 | 5 | 59 | 1 |
| South Carolina | 8 | 6 | 86 | 1 |
| Texas A&M | 9 | 7 | 92 | 2 |
| Missouri | 6 | 4 | 60 | 2 |
| Georgia | 10 | 7 | 42 | 0 |
| Arkansas | 7 | 7 | 57 | 0 |
| Vanderbilt | 6 | 6 | 100 | 1 |
| Kentucky | 3 | 3 | 38 | 0 |
| Tennessee | 9 | 8 | 108 | 1 |
| LSU | 12 | 9 | 182 | 1 |
| Alabama | 8 | 8 | 153 | 1 |
Known for his free-lance style and lack of route-running nuance, Toney's efficiency statistics mirror this notion. Toney played 86.4% of his snaps in the slot in 2020, seeing a slew of manufactured touches. Of his 84 targets, only nine occurred beyond 20 yards downfield. However, Toney created in other ways by forcing 20 missed tackles and posting 477 yards after the catch. A dynamic special teams player during his tenure with the Gators, Toney returned 15 kicks and 13 punts for 471 yards and one score. While he does lack the downfield plays on his profile, perhaps head coach Dan Mullen simply preferred to get Toney in space to utilize his ability to create yards on his own.

Offensive Fit in New York
What Toney lacks in college production, he makes up for in athleticism. Standing 5-foot-11, 193 pounds, Toney ran an official 4.41 40-yard dash. While players of this stature have been able to move outside on occasion, Toney's physical profile still suits the slot. This creates a curious fit with the New York Giants who already have Darius Slayton, Kenny Golladay, and Sterling Shepard on the roster. New York also took a flier on situational deep threat John Ross to provide added depth.
Interestingly, all of these receivers spent a majority of their snaps on the outside last year. Slayton and Shepard only spent 19.6% and 32.2% of their snaps in the slot, with Golden Tate occupying this role. Golladay made his way over from Detroit, but he only entered the slot on 18% of his snaps. Among this group, Shepard makes the most sense to play inside. He played 85.3% and 83.3% of his snaps from that alignment in his first two seasons. This percentage has dropped each season in the league, but Shepard's versatility provides a boost to New York.
Toney also doesn't look like an heir apparent to any of the incumbent receivers either. Golladay just signed a four-year $72 million dollar contract. Slayton and Shepard both remain under contract through 2022 and 2023, making Toney's path to playing time curious. Unless he simply outplays one of the receivers above him, Toney could be stuck in a limited target share through the early portion of his career.
Finally, a further complication to Toney's immediate path to playing time is the presence of Evan Engram. While technically listed as a tight end, Engram played in the slot on 46% of his snaps. Unlike the other players mentioned, Engram will be a free agent after 2021. However, his departure doesn't necessarily mean elevated Toney usage.
From an efficiency standpoint, all of the receivers in New York have performed well to this point. Using PFF's signature yards per route metric, Golladay finished in elite territory at 2.47 yards per route. Shepard registered 1.77, while Slayton struggled at times with a 1.37 mark. However, it should be noted that Slayton also led the team with a 14.2 average depth of target (aDOT), adding a degree of difficulty to his catches. Toney certainly possesses the speed to take over Slayton's field-stretching role. However, Slayton has now produced at least 740 receiving yards in back-to-back seasons.
Another reason for concern is the overall state of the Giants offense. Despite going 6-10 in 2020, the Giants ranked 26th in pass attempts per game (32.3) and 16th in pass rate (58.7%). Quarterback Daniel Jones also displayed very little growth in his second season. Jones's 62.5% completion percentage ranked 31st and his 6.1 adjusted yards per attempt ranked 30th. Combined with his propensity for turnovers, this offense leaves quite a bit to be desired under uninspiring offensive coordinator Jason Garrett.
From a redraft perspective, this Giants offense remains concerning. With weak quarterback play and poor coaching, all Giants pass catchers deserve pause. However, the one positive remains their cheap prices. Outside of Golladay, Shepard, Slayton and Toney all come off the board outside the top 150. Toney still presents major questions from a playing time standpoint, but a proven commodity like Shepard remains worth a dart throw at that point in drafts.
From a dynasty perspective, Toney holds more upside as a 22-year old first-round pick. However, with the Giants surrounded by playmakers at the wide receiver position, Toney still needs a lot to break his way to return value immediately in New York. 4for4's dynasty expert George Kritikos currently ranks Toney as his WR9 and 14th overall player in rookie drafts. Similarly, Kritikos pegs Toney as the WR57 and 101st overall player in startup dynasty drafts.
Bottom Line
While Toney possesses solid athleticism and draft capital, he still lacks a strong collegiate production profile and immediate path to playing time. On Underdog Fantasy, Toney currently comes off the board at pick 177.2. Similarly, Shepard and Slayton come off the board at picks 174.6 and 194.0. Golladay remains the only pass catcher with an elevated cost at pick 56.5. With the other three receivers functioning as cheap add ons at the end of drafts, taking a stab on one could prove profitable. However, predicting which one looks challenging. After finishing as 2020's most efficient receiver, Shepard remains the safest bet.