Dez Fitzpatrick Will Be a Study in Vacated Targets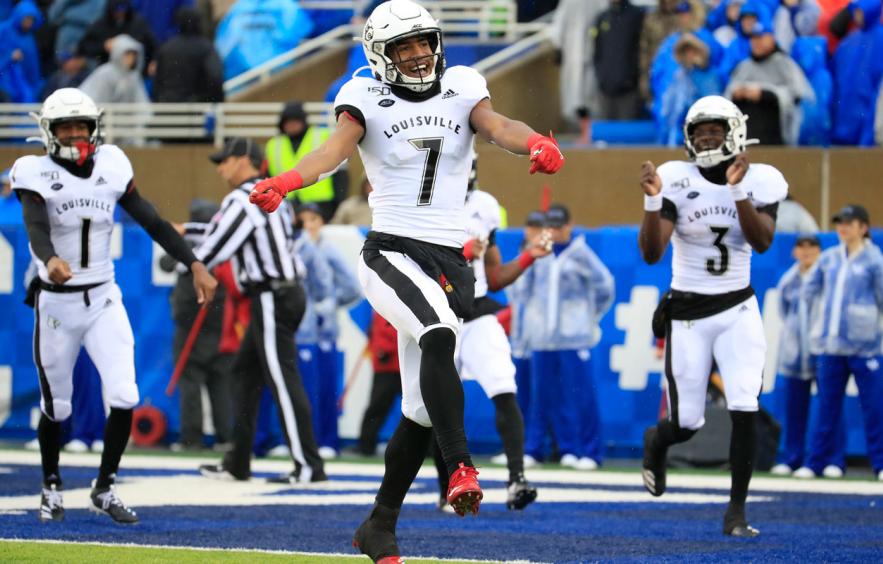 Andy Lyons/Getty Images
With the 109th overall pick of the NFL Draft, the Tennessee Titans selected Louisville's Dez Fitzpatrick, the 16th wide receiver off the board. He will do what he can to operate as the number three —or possibly the number two— option behind new addition Josh Reynolds and the locked-in focal point of the passing offense, A.J. Brown. The Titans have long been known to want to move the ball on the ground but with the departures of tight end Jonnu Smith, wide receiver Corey Davis, and offensive coordinator Arthur Smith, it remains to be seen if they will attempt to run the ball even more often, or shift their focus.
---
Editor's Note: Read more player profiles from the rest of the 4for4 staff!
---
Below we will examine Dez Fitzpatrick's collegiate production, how that can transfer at the next level, and finally, how he will fit in and impact the new-look Tennessee Titans offense.
Fitzpatrick's Four Seasons as a Louisville Cardinal
Across his four seasons in Louisville, Fitzpatrick produced consistent, if not flashy, production. Lamar Jackson's second-leading pass-catcher in his freshman year (45 catches, 699 yards, 9 touchdowns), the receiver dealt with erratic quarterback play in his sophomore year before taking a backseat to fellow 2021 draft class participant, Tutu Atwell in 2019.
In 2020, Fitzpatrick and Atwell produced similar numbers, with Atwell working as the underneath option (11.6 average depth of target) and Fitzpatrick operating as a deep threat (14.1 aDOT) who was frequently asked to play off his burst and ability to sink his hips to stop on a dime with persistent comeback routes.
Fitzpatrick wins often because of acceleration off the line and length to keep defenders at a distance at the stem of his routes (and it works pretty well as a stiff-arm while racking up the YAC). Because of mediocre long speed and limited lateral agility, he has problems creating vast separation deep down the field and defenders clamp down on in-breaking intermediate routes before quarterbacks are able to get Fitzpatrick the ball.
Working almost purely as an outside receiver, his 94.6% snap rate lined up out-wide was the third-highest among drafted receivers in this class, trailing only Nico Collins (98.6%) and Dyami Brown (98.9%). Fitzpatrick played on both sides of the field but I don't believe we will be seeing him operate out of the slot at the next level either, as his limitations as a receiver would be exposed if he were asked to lean on shifty, quick-twitch routes in the NFL.
Fitzpatrick does have the type of acceleration that will lead to huge plays if an offense can get him the ball quickly after the snap but because of his lack of work over the middle and an issue with concentration drops that pop up from time to time, he's not likely to be a "manufactured-touch" guy early in his career.
His Fit With the
Titans
Tennessee likely waited a little too long to address their pass-catching group in both free agency and in the NFL draft. They filled the holes left by Jonnu Smith, Corey Davis, Adam Humphries and Kalif Raymond with former Rams wide receiver Josh Reynolds and the fourth-round selection of Dez Fitzpatrick. The leading receivers returning for the 2021 season are A.J. Brown (106 targets), Anthony Firkser (53 targets), and Derrick Henry (31 targets), leaving a lot of extra usage to go around, even after Brown doubles that number this year.
As it pertains to the pure passing-game volume, it would be hard for newly appointed offensive coordinator Todd Downing to run the ball more often than Arthur Smith, or the previous regime did.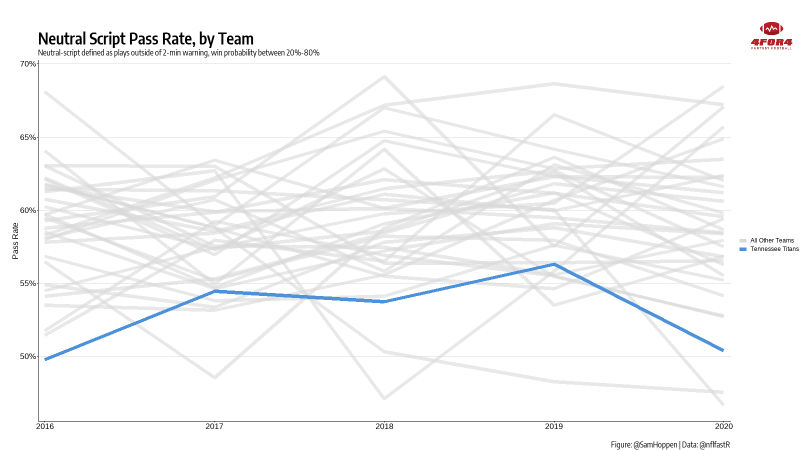 Over the past five seasons, the Titans have a neutral script pass rate around the 50%-55% range, ranking them at or near the bottom of the league annually. So, while there is some room for usage as the WR2 or WR3 in Tennessee, it would come as no surprise if A.J. Brown led the league in targets and left the rest of the team begging for scraps.
Tennessee did a good job getting the ball into Jonnu Smith (5.8 YAC per reception - sixth among tight ends) Corey Davis's (286 YAC - 34th among wide receivers) hands with room to run, and Dez Fitzpatrick definitely has the tools to capitalize in that sort of role, so I think he will have a few breakout weeks throughout his rookie season.
All-in-all, Fitzpatrick is a raw prospect, as to be expected with a fourth-round pick, but he tracks the ball well and he stops on a dime to turn back to the quarterback and offer an easy target.
Bottom Line