Cooper Kupp: A Perfect Fit with Matthew Stafford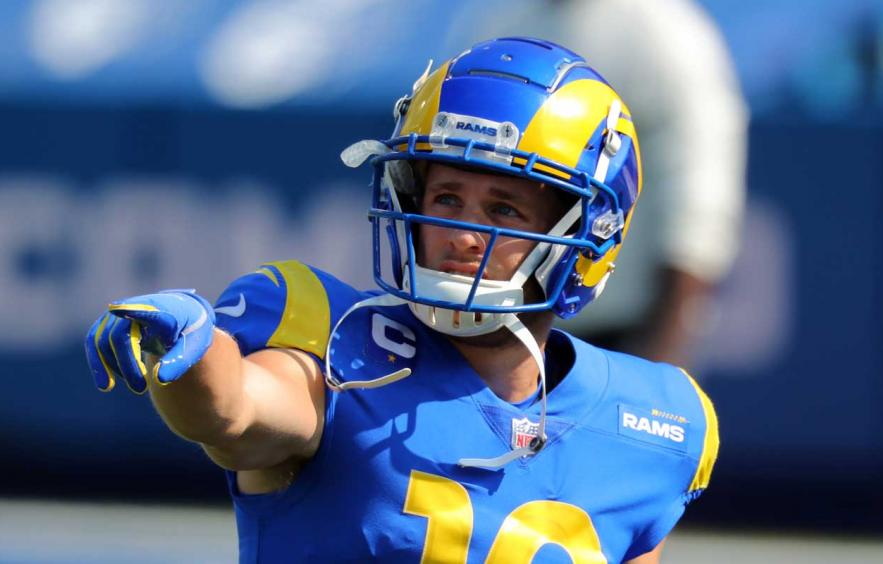 Timothy T Ludwig/Getty Images
Cooper Kupp has established himself as one of the best slot receivers in the NFL. He's coming off a disappointing season that saw him finish as the WR32 in half-PPR points per game, but he's only one year removed from ranking as the WR7. With the Matthew Stafford trade, Kupp gets a massive upgrade at quarterback, putting him firmly in line for a bounce-back season. He's currently being drafted as WR17 (37.2 ADP) in Underdog fantasy leagues, so his potential rebound is already baked into his draft cost. The big question often expressed by fantasy players is which Rams wide receiver do you target: Cooper Kupp or Robert Woods?
---
Editor's Note: Read more player profiles from the 4for4 staff!
---
The answer is both. These are two consistent receivers who have cemented themselves as 1A and 1B in this Rams offense. It's important to not let Woods's presence deter you from drafting Kupp. He is a good slot receiver with the ability to break tackles and rack up yardage after the catch while acting as a major threat in the red zone. Stafford is going to allow for more opportunities for Kupp to make big plays. He's a rock-solid WR2 with upside for your fantasy team, pairing nicely with a safe wide receiver like Davante Adams. Let's dive in to find out why Kupp is an appealing target this season.
More Shots Downfield
Stafford has a cannon for an arm with the ability to make every throw on the field. His arrival will unlock more big plays downfield in Sean McVay's offense. According to Sports Info Solutions, Stafford posted an 8.5 average throw depth last season, which ranked fifth in the NFL. Compare that to Goff, who put up a 6.1 average throw depth (29th). This stat perfectly demonstrates what Stafford will do for this offense. Expect more shots downfield, resulting in greater efficiency with an increase in scoring opportunities. This bodes well for Kupp's fantasy upside.
Perfect Fit with Stafford
According to Reception Perception, Kupp lined up in the slot on 51.9% of his snaps, posting a 82.1% success rate against zone coverage, along with an 80% contested catch rate. Kupp can also make things happen after the catch, averaging 5.8 yards after the catch (YAC) last season, which tied for fifth in the NFL (among players with 80 targets). This skillset aligns well with Stafford's tendencies as a quarterback. While with the Lions, Stafford helped slot receiver Golden Tate put up a career-high 99 receptions for 1,331 yards and four touchdowns. Tate was also very good after the catch, averaging 7.3 YAC. Stafford also guided contested-catch specialist Kenny Golladay (85.7% contested catch rate in 2020) to a career-high 65 receptions for 1,190 yards and 11 touchdowns. Kupp combines Tate's yards-after-the-catch ability with Golladay's contested catch rate to fit perfectly with Stafford.

Positive Touchdown Regression
Kupp has been heavily targeted in the red zone ever since coming into the league, posting red-zone target shares of 25%, 26.87%, 25% and 27.78%. This helped him put up 16 touchdowns in 24 games between the 2018 and 2019 seasons. Last year, Kupp scored a career-low three touchdowns, despite his 25% red-zone target share. This was partly because Jared Goff had a poor season but also just due to touchdown variance. The Rams project to have a much-improved offense with Stafford at the helm, so we can safely project positive touchdown regression for Kupp this season.
Need for Speed
The Rams prioritized speed this offseason, signing DeSean Jackson (4.35 speed) and drafting Tutu Atwell (4.32 speed). This is huge for Kupp because these two deep-threats will open up room in the middle of the field, allowing him to go to work in the slot. When you factor in Stafford's willingness to throw downfield coupled with Kupp's ability to rack up yards after the catch, you have a highly appealing situation for one of the best slot receivers in the NFL. According to Stathead, Kupp has seasons of 8.7 yards per target (2019), 10.3 yards per target (2018) and 9.2 yards per target (2017). That's highly impressive for a slot receiver and we can reasonably project him to return to those levels with Stafford.
Don't Worry About Woods
As I've said before, there's no need to worry about Woods affecting Kupp. Both receivers are in terrific situations to provide fantasy value while catching passes from Stafford. Woods is the perimeter receiver who can add rushing yards, while Kupp is the slot receiver who is the preferred target in the red zone. Both players put up 23+% target shares last season. Josh Reynolds (14.36% target share) and Gerald Everett (10.82% target share) have been replaced by DeSean Jackson and Tutu Atwell, so there's really no reason to expect Woods and Kupp to see a decrease in volume. In fact, with the addition of Stafford, as well as the season-ending injury to running back Cam Akers, we could see the Rams pass more. According to RotoViz, the Rams passed on 58% of plays in neutral game-scripts last year (T-10th). We could see that increase to 60+% with Stafford.
Bottom Line
Kupp is a rock-solid WR2 with significant improvements to his team context due to the addition of Stafford. Kupp is now entering his age-28 season with a career-year firmly within his range of outcomes with the upgrade at quarterback. The positive touchdown regression is going to be a thing of beauty for fantasy players. Enjoy the narrowly distributed target share in a highly efficient offense. Target Kupp with confidence.