Is Adam Thielen a Wasted Mid-Round Fantasy Pick?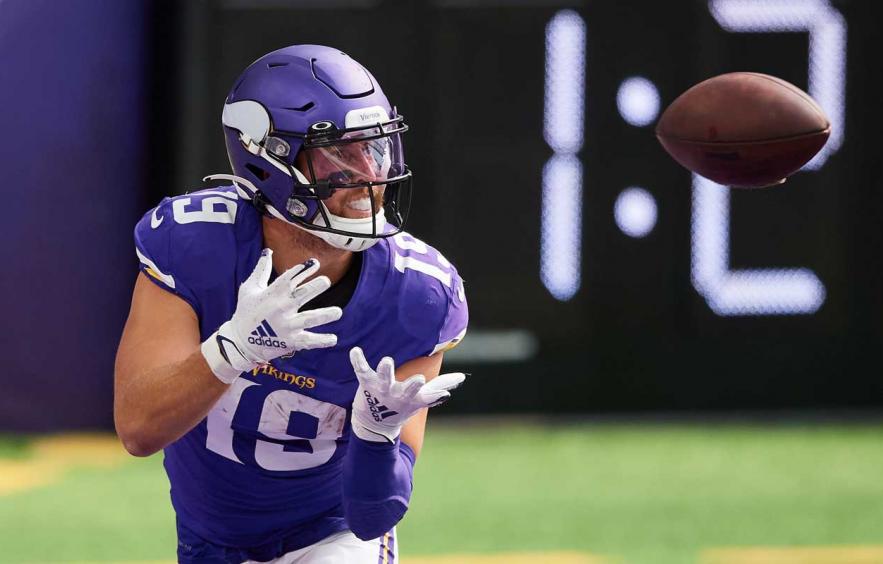 Hannah Foslien/Getty Images
When it comes to finding value in fantasy drafts, it's always savvy to check which players are being drafted later than their fantasy finish a season ago, and Adam Thielen certainly fits that criteria in 2021. Despite finishing the 2020 season ranked 11th among all wide receivers in fantasy points per game, Thielen has emerged as one of the most perplexing and polarizing players for fantasy gamers this offseason and is being drafted 19th at his position in Underdog drafts. Is Thielen a screaming buy at his current draft position, or have fantasy gamers correctly sniffed out an outlier 2020 season, and savvily lowered his 2021 projection? Let's dig into the numbers and see if there's some merit to fading the Vikings' star receiver in 2021 fantasy drafts.
---
Editor's Note: Read more player profiles from the 4for4 staff!
---
A Model of Consistency
Bouncing back from an injury-plagued 2019 where he played in only 10 games and totaled just 30 receptions, Thielen finished the 2020 season ranked top 20 among wide receivers in air yards share, deep targets and total red zone targets. Most importantly, he capitalized on his increased usage near the goalline, ultimately scoring 14 touchdowns, third-most at his position, all in just 15 games. Though his teammate, rookie sensation Justin Jefferson, outpaced him in yards per game, Thielen was neck and neck with Jefferson in terms of opportunity, averaging 86 air yards and 7.2 targets per game compared to Jefferson's 91 air yards and 7.8 targets per game. Jefferson and Thielen combined to receive over 50% of the Vikings' total targets in 2020.
Thielen was also particularly valuable in typical redraft leagues a season ago due to his consistency, outpacing Jefferson in rate of games finishing as a top-12 and top-24 receiver (falf PPR). He did this all without sacrificing ceiling, as Thielen finished top-12 among all running backs, wide receivers, and tight ends in a higher percentage of games played (27%) than Jefferson (25%) as well.
Beneficiary of a Prolific and Highly-Concentrated Offense
Moreover, Minnesota has been deceptively excellent in terms of team fantasy production. The Vikings, despite ranking 11th in the NFL in points per game, were one of only four teams in the last season to average 70 or more combined fantasy points (half-PPR) amongst all running backs, wide receivers, and tight ends. The other offenses to meet that benchmark are considered the most prolific in the league: Green Bay, Kansas City, and Tampa Bay.
Even better for fantasy gamers, no team concentrated their production more on their top-three producers. Cook, Jefferson, and Thielen combined for an astonishing 51 combined fantasy points per game, over 70% of the team's combined FLEX fantasy points. With no drastic changes to the offense besides the departure of Kyle Rudolph and only the addition of fifth-round draft pick Ihmir Smith-Marsett out of Iowa, new offensive coordinator Klint Kubiak is signaling to the league that he plans on running an offense that's likely eerily similar to his father Gary's, which should mean another season of consistent usage for Thielen.
A Prime Regression Candidate
Without a doubt, Thielen's fantasy season was buoyed by his 13% touchdown rate, a number that will almost certainly come down in 2021. His touchdowns represented over 30% of his overall fantasy production last season, which is extremely high compared to the wide receivers going near him in 2021 drafts. Only one receiver drafted between WR13 and WR23 had a higher percentage of their fantasy points come via receiving touchdowns, Mike Evans*. Thielen ranks dead last in that cohort with 33% of his expected fantasy points (via PFF) coming via expected touchdowns. If, for whatever reason, Minnesota begins to look away from Thielen in the red zone, Thielen's fantasy production could plummet. But Thielen has posted a touchdown rate higher than 12% dating all the way back to 2018—this number tends to fluctuate from season to season, with Thielen himself being a perfect example of the stat's variance. Thielen had a touchdown rate of just 2.8% during a 142-target season in 2017.
Thielen's days earning 140-plus targets in a season, as he did in 2017 and 2018, are certainly behind him, and his projection for the upcoming season, when accounting for touchdown regression and a likely continued ascent for Jefferson, will be decidedly lower than his top-tier production from 2020. While it's possible that he sustains his production another season, or an injury propels him back into a clear-cut number one role, there's otherwise little hope for a significant boost in targets or air yards. Thielen will have to continue scoring at unprecedented rates in order to maintain his value, and that's generally a losing bet.
Thielen is by no means a player to avoid entirely, but his positional ADP as the No. 19 wide receiver is fair, if not a little steep. The 4for4 projections see Thielen as a strong WR2, but with an ascending Jefferson in the mix, Thielen lacks the WR1 upside that some of the younger players in his tier offer. The 4for4 projections take a cautious approach to Thielen, ranking him 24th at his position, suggesting he's best to take when he begins to fall in drafts. He's an especially strong option for teams that begin their drafts with two running backs and top-tier quarterback or tight end.

Bottom Line
Thielen looks like a lock for seven-plus targets per game and for a top-20 season in terms of expected fantasy points, as he ranked 13th at his position in the statistic just a season ago.
The ascendance of Justin Jefferson means that Thielen's share of the overall offense has a good share of dwindling, if not this season, then soon after.
Wide receivers typically begin a steep descent in production somewhere between ages 31 and 33, as shown in a study by SharpFootballAnalysis' Rich Hribar.
As a counterpoint, between 1970 and 2017, 31 year-olds have accounted for almost the exact same percentage of top-12 and top-24 wide receiver seasons as 23-year-olds (Hribar).
Thielen's ADP is currently higher than his 4for4 projection, making him a decent safe-floor play but not a player with much upside to outperform his ADP.
---
* At the time of publishing, the list of receivers between WR13 and WR23 included: Amari Cooper, Julio Jones, CeeDee Lamb, Mike Evans, Robert Woods, Chris Godwin, Tyler Lockett, D.J. Moore, Cooper Kupp, and Diontae Johnson, along with Thielen.