Sunday Night DFS Single Game Breakdown: Washington at Eagles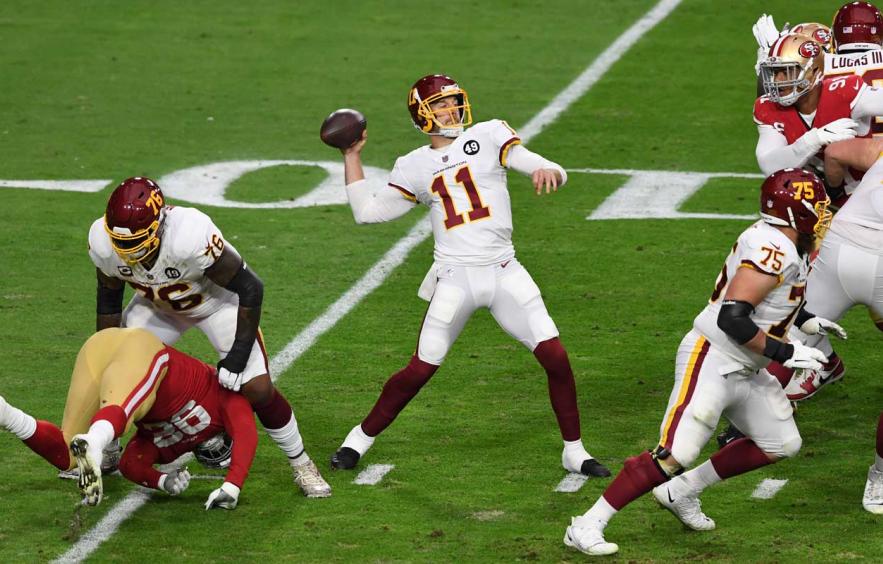 Norm Hall/Getty Images
All Washington has to do is win and they are in. Denny Carter's lord and savior Alex Smith appears ready to resurrect the WFT offense against the Philadelphia Eagles. Will the Smith-led offense reign, or be betrayed by Jalen Hurts and the Eagles' invigorated attack? Hurts would not ruin a storybook ending of biblical proportions, right?
It is vital to remember that single-game slates are not simply a "max salary, play as many big names as possible, and submit" format, especially in larger tournament fields. We need to identify players that can be pieces in their offense's success, whether in the lead or trailing, as well as the players that could be focal points in a neutral game script. The ability to then take those players and identify which will succeed in the single-game format will put us in a better position to succeed as daily fantasy players.
Remember that the captain spot is different on DraftKings than on FanDuel. The captain spot on DraftKings delivers fantasy points and prices multiplied by 1.5. The MVP spot on FanDuel will score at the same rate but without the increased pricing for the player slot. All flex positions score normally.
Vegas Total and Spread
WFT is 3.5-point road favorites in a game with a 43.5-point total. Washington has a 23.5-point implied team total, while Philadelphia has an implied team total of 20 points.
Potential Game Flow Scenarios
This game was a lot more intriguing when each of the four teams in the division were fighting to be the best under .500. The Eagles have nothing to play for and their Friday injury report confirms the team's interest in this game. Miles Sanders, DeSean Jackson and Dallas Goedert are out, as well as important defensive starters.
Jalen Hurts ($16,500 FD/$11,400 DK) will continue to try to make chicken salad out of chicken (this is a family column). How can Hurts not be excited to throw to Quez Watkins ($5,000 FD/$1,600 DK), Travis Fulgham ($6,500 FD/$5,000 DK) and Greg Ward ($9,000 FD/$5,800 DK)? Jalen Reagor ($10,000 FD/$6,200 DK) is still there but he was already hit or miss as a consistent target of Hurts.
Our favorite parking cone Zach Ertz ($8,000 FD/$4,600 DK) should also see an uptick in work in what may possibly be his final game as an Eagle.
Boston Scott ($6,500 FD/$1,400 DK) will be asked to do his best Sanders impression again after filling in admirably earlier in the season. Washington is eighth in schedule-adjusted points allowed to the RB position, so his work will be cut out for him. Scott's ability to run routes will keep him involved throughout.
Because of Hurts's rushing prowess, the Washington defense ($4,200 DK) cannot just bull rush on every passing down. How conservative will Ron Rivera be in deploying his defense? Will it matter with Philly's patchwork offensive line? Hurts will be tantalizing to watch and root for, but as we saw in Week 16, his dynamic abilities can be hampered by mistakes.
WFT should have Alex Smith ($14,500 FD/$9,800 DK) ready to cap off his impressive return to football, and whoever starts at running back, they will be busy. Antonio Gibson ($13,500 FD/$9,000 DK) looked good with a dozen touches last week, and J.D. McKissic ($12,000 FD/$8,800 DK) has been Alvin Kamara-lite. Gibson is questionable with turf toe, but there were no reported setbacks during the week.
WFT could also use Terry McLaurin ($13,000 FD/$10,000 DK). He did not practice all week and is listed as questionable. Without Smith and McLaurin last week, Taylor Heinicke ($14,000 FD/$6,000 DK) targeted Logan Thomas ($10,500 FD/$7,800 DK) 12 times, followed by McKissic, and the (not) brothers Sims. McLaurin would cut into all their targets, but Smith is more likely to spread the ball evenly. Heinicke was okay in a spot start and does not lower the offensive floor too much.
The Washington offense is in flux until the inactives are listed Sunday evening. We know who the offense is most successful with when healthy and have seen on multiple occasions how the offense rolls without all its parts.
Close, low-scoring game
Close, high-scoring game
Blowout for the home team
Blowout for the away team
Cheap/Unique Stack Options
Traditional stacks such as QB/WR1 or WR2, QB/TE, and RB/DEF are stacks seen used in winning lineups. The obvious choice is not always the winning choice. Below is a cheap stack with at least one unique quality that could break the slate.
Greg Ward

($9,000 FD/$8,700 DK)/

Zach Ertz

($8,000 FD/$6,900 DK)

Ertz and Ward have the lowest average target depths on the team (with Dallas Goedert) over the past month while scoring the fifth and second-most fantasy points, respectively. The duo also is both top four in red zone targets for the Eagles this season. Ertz's rostership will increase because of the opportunity, but Ward makes the stack unique because he is not a familiar name like Reagor or Alshon Jeffery ($7,500 FD/$4,400 DK) if he is active.
Low-Priced Volatile Plays
Antonio Gandy-Golden

($5,000 FD/$200 DK)

The fantasy community has been waiting for AGG to get on the field and saw three targets in Week 16. If Alex Smith is a surprise inactive and Taylor Heinicke starts, he could be one of the better salary-saving options on a thin receiver corps.
Quez Watkins

($5,000 FD/$1,600 DK)

Did you know Watkins has as many red zone targets as Miles Sanders? If Watkins plays (ribs), he has seen an uptick in usage with Hurts at QB. He has six receptions on eight targets for 100 yards and a touchdown over the past three weeks.
Robert Foster

($5,000 FD/$600 DK)

I cannot be convinced that Foster is any worse than Cam Sims and Isaiah Wright. He is also on the active roster over Dontrelle Inman. The former Bill has two targets in each of his three weeks active.
Corey Clement

($5,500 FD/$200 DK)

Scott has outplayed Clement when the two are asked to carry the running load, but at the minimum on DraftKings, a touchdown and 10 total touches is all it would take for Clement to be a necessity in winning lineups.
Captain/MVP Picks
Boston Scott

($6,500 FD/$2,100 DK)

Sometimes you have to play the hits. Scott was already used occasionally as the passing-down option with Sanders in the lineup, so it should not surprise that Scott will get as many carries as possible if the game is attainable before potentially switching to a pass-heavy game script. Scott also has 13 total red zone touches on the season.
Antonio Gibson

($13,500 FD/$13,500 DK)

Gibson did not practice Wednesday-Friday, but there were no reports of a setback for the rookie. There are a few of Philly's best defenders sitting out Sunday, and with Washington looking to win and slow down Hurts, Gibson will be the focal point of the offense. If Gibson is out, McKissic would be a Captain/MVP pick. The Washington defense also makes a good correlation play that should be littered across DFS lineups.
Logan Thomas

($10,500 FD/$11,700 DK)

If Terry McLaurin does not play, Logan Thomas will be Alex Smith's go-to receiver. He may be that regardless since McLaurin should not be expected to play a full set of reps in his first game back after multiple weeks out. Thomas had his best yardage output of the season with Dwayne Haskins, but Thomas's last two touchdown receptions came from Smith.
Jalen Hurts

($16,500 FD/$17,100 DK)

I believe Hurts will be captained like when the Eagles have their full roster because he has been that good for fantasy. The last time the Eagles took on a top 10 defense, Hurts ran for 106 yards in an upset of the New Orleans Saints. WFT probably has that film on loop, but a game similar to that wins the slate.