What Can We Expect From Jordan Howard in Miami?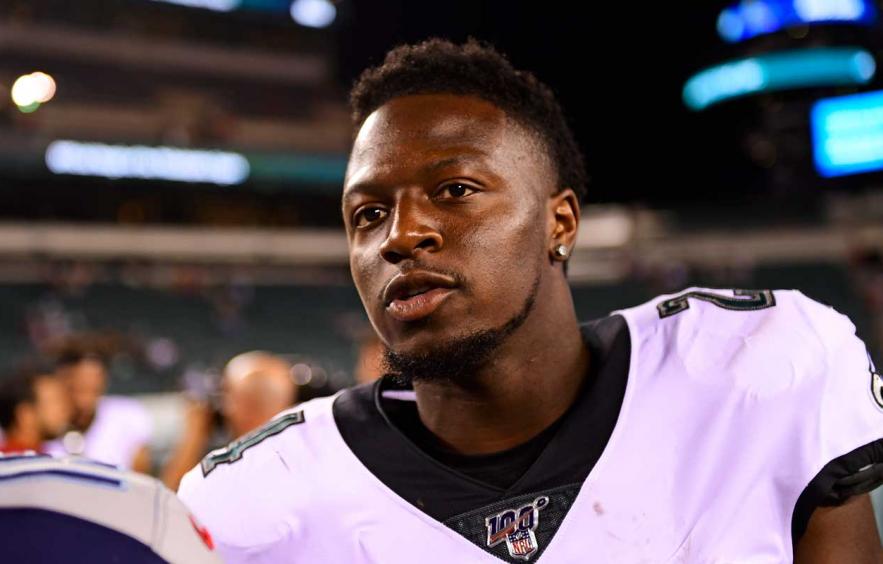 Corey Perrine/Getty Images
After a midseason trade of Kenyan Drake to the Arizona Cardinals, the Dolphins finished up 2019 with Patrick Laird, Myles Gaskin, and Kalen Ballage as their backfield—Ballage was the only one in the group of running backs with significant NFL Draft capital (fourth round of 2018). Enter free agent Jordan Howard, who signed with Miami on March 19th to the tune of two years, $9.75 million dollars, with $4.75 million guaranteed, making him the 14th-highest-paid running back according to overthecap.com. He brings one Pro Bowl berth and 4,532 total scrimmage yards to the table as he begins his attempt to secure the Dolphins bell-cow back designation.
Jordan Howard

's History

Before we attempt to project 2020, let's take a look at Howard's first four years in the league. Even though most people watching Howard's style of play wouldn't call him a "burner" by any means, he actually went into the 2016 NFL Draft with one of the best Relative Athletic Scores in the entire draft class and was able to flex versatility with athleticism in his first year in the league.
As is the case with most running backs who are not of the highest echelon, his performance has degraded over time, bottoming out in 2019 with an injury-shortened stint as a Philadelphia Eagle.
Jordan Howard

Career Output

| Year | Age | Team | Total Yards | Total Scores | Half-PPR Finish |
| --- | --- | --- | --- | --- | --- |
| 2016 | 22 | Bears | 1,611 | 7 | RB10 |
| 2017 | 23 | Bears | 1,247 | 9 | RB14 |
| 2018 | 24 | Bears | 1,080 | 9 | RB20 |
| 2019 | 25 | Eagles | 594 | 7 | RB43 |
For the first time in his NFL career, Howard missed time with a stinger that numbed his arm, with no respite for nearly two months. Couple that with the fact that teammate Miles Sanders was in the running for a Rookie of the Year award, and Howard didn't get a chance to prove himself again for the rest of the year. Instead, he will get his second fresh start in as many seasons with the Miami Dolphins.
Projecting
Jordan Howard

's Fit with the

Dolphins

For all intents and purposes, the Dolphins started off 2019 in tank mode, which skews their volume of running back touches quite a bit. After averaging only 18 rushes through five weeks, a peculiar thing happened—they started being competitive, finishing 5-6 the rest of the way. Even after shipping Drake to Arizona, the Dolphins averaged 24 carries a week with Laird, Gaskin and Ballage.

If Howard can stay in on third downs more frequently than the last two seasons, he can benefit from a Miami scheme that targeted running backs 121 times, the ninth most. With his receiving work decreasing year-over-year since he entered the league, it's improbable he earns too much of that receiving pie but it's useful to know they have been incorporating the position into their plans.

With Howard slotting in as the first and second-down back, with the possibility of amassing some of the receiving work, it's time to pencil him into a cheap RB2 in half PPR leagues, right? Right?

Not so fast, says Matt Breida. With Miami opting not to spend a premium draft pick on a running back, they decided instead to trade a fifth-rounder to the 49ers for the explosive running back. Breida limits the ceiling of our article's subject here but likely not to the extent that a first or second-round draft pick would have. The former San Franciscan will be tasked with taking the passing-down role and could be rewarded with early-down roles as well if he begins to shine with the ball in his hands.

Even with all of these negatives, there is still upside to be had. What the signing of Howard does tell us is that Miami has no intention of putting Ballage and Laird—who combined for 47.8% of the team's running back touches—back on the field. Howard isn't as elusive as he used to be (his broken tackle % has decreased steadily from his rookie year according to Sports Info Solutions (14.7%>14.1%>9.6%>10.9%), but it would be foolish to believe he can't equal or best Laird and Ballage's combined 2.23 yards per attempt.
The Bottom Line
Jordan Howard's signing with Miami may have been the best landing spot in the league if we're ever going to get a chance to see a 1,500-yard performance from him again—however unlikely that may be.
There may not be another team in the NFL who would be willing to let him accrue upwards of 200 touches while they figure out exactly what their offense is going to be behind Tua Tagovailoa or Ryan Fitzpatrick or whomever.
Howard has been going at an ADP of 9.05, as the RB42 in best-ball drafts. That's a fair range and I would definitely be taking him as high as an RB4, or any time in the double-digit round range. According to our Half-PPR rankings, Howard falls into the 36-40 range among running backs.