Matt Breida: Bargain PPR Target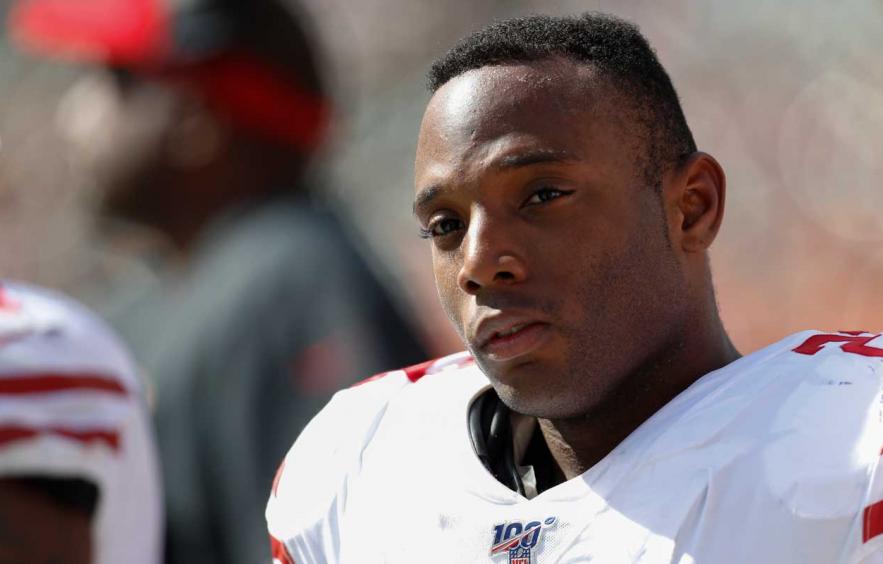 Michael Hickey/Getty Images
After not spending an early-round pick on a running back like many expected, the Dolphins sent a fifth-round pick to the 49ers for Matt Brieda. Now sharing a backfield with Jordan Howard, Breida has an opportunity to be a premier pass-catching back
The Miami
Dolphins

Offense

Matt Breida's new team sets him up for consistent work for the first time in his career. An afterthought late in the season for the 49ers, Breida is a playmaker with long speed—see below against the Browns last year—but fell out of favor in San Francisco with the emergence of Raheem Mostert. Breida has also been nicked up, missing five games over the past two seasons despite playing in a complementary role throughout his career.
22 to the ?!#CLEvsSF pic.twitter.com/T0BYJIDhul

— San Francisco 49ers (@49ers) October 8, 2019
Miami ranked last in both rushing yards and attempts last season. This was largely because they played from behind so frequently, but also due to a dearth of talent at the position and struggles on the offensive line. Quarterback Ryan Fitzpatrick actually led the team with 243 rushing yards. Breida will join free agent acquisition Jordan Howard in a revamped backfield as the team looks to the future. The Dolphins are in rebuilding mode, but had an improved offense toward the end of the season, have made considerable moves in the offseason and brought in veteran playcaller Chan Gailey at offensive coordinator.
This article assumes Fitzpatrick will be the starting quarterback for Week 1, with a gradual shift to fifth overall pick Tua Tagovailoa. Connor Allen agrees this is the most likely scenario. However, even if the rookie ends up starting, his accuracy and advanced ability to go through progressions should allow Gailey to continue to run the same offense he would with Fitzpatrick. While much of the data is driven by Fitzpatrick's history, this article assumes Tagovailoa taking over the starting job would mean he's advanced beyond what Fitzpatrick offers, and would actually allow Breida to maintain or increase production.
How
Matt Breida

Fits in Miami

Breida is the perfect complement to Howard. While Howard has averaged 15.7 carries per game over the course of his career, his usage in the passing game has steadily declined every year he's been in the league. In the three seasons since his outlier rookie year where he was targeted 50 times, Howard continued to see a decline in total targets and targets per game. Last season, he received just 12.4% of targets to running backs on his own team, down from 22.3% the year before. Breida has maintained at least 20% each of his three years in the league, and he's been in much more of a committee while in San Francisco, with backs with similar skill sets. Howard has often been the running-down player by design, with Tarik Cohen getting receiving work when he was with the Chicago Bears, and Miles Sanders and Boston Scott getting those looks last season with the Philadelphia Eagles.
Three-Year Target Share Comparison
2017 Bears
2018 Bears
2019 Eagles
Category
2017 49ers
2018 49ers
2019 49ers
473
512
613
Total Team Targets
607
532
478
133
121
113
Targets to RBs
165
107
103
32
27
14
Player Targets
36
31
22
6.8%
5.3%
2.3%
Target Share
5.9%
5.8%
4.6%
24.1%
22.3%
12.4%
Target to RBs Share
21.8%
29.0%
21.4%
Jordan Howard
Player
Matt Breida
Despite significantly less playing time, Breida has similar receptions and target share to Howard. In fact, Breida is targeted on nearly 10% of his offensive snaps, approximately double that of Howard, as shown below. Breida was also more productive than Howard with the targets he received.
Target Comparison

| Player | Games | Snaps | Receptions | Targets | Yards | Yards/Rec | Receptions/Target | Targets/Snap |
| --- | --- | --- | --- | --- | --- | --- | --- | --- |
| Matt Breida | 43 | 933 | 67 | 89 | 561 | 8.37 | 0.75 | 9.54% |
| Jordan Howard | 42 | 1485 | 53 | 73 | 339 | 6.40 | 0.73 | 4.92% |
The Dolphins had every opportunity to add more talent at the running back position, with ultimately 11 selections in the draft after trades. The only addition they made was combo receiver-runner Malcolm Perry out of Navy in the seventh round. He's a slash player who will be on the roster bubble. Outside of that, the only competition Breida will have for the change-of-pace role will be a hodge-podge of holdovers and players unlikely to make the roster, led by Kalen Ballage and Patrick Laird. Ballage averaged just 4.5 yards per reception on 14 catches last year. Laird, who was forced into a more prominent role late in the season with 30 targets, looks like just another guy. Breida was brought in to be the complement to Howard, and he's likely to lead Miami running backs in targets.
The Impact of Chan Gailey
While there's reason to suspect play-calling is driven by talent, Gailey's track record is strong regarding running back usage.
Chan Gailey RB History Since 2008

| Year | Team | Team Year | Position | % Team Touches to RB | Rank | Rush % in Neutral Game Script* | Rank | Target Share to RB | Rank |
| --- | --- | --- | --- | --- | --- | --- | --- | --- | --- |
| 2008 | KC | KC 2008 | OC | 53.9% | 30 | 43.3% | 25 | 15.7% | 27 |
| 2010 | BUF | BUF 2010 | HC | 59.1% | 17 | 45.2% | 18 | 19.4% | 17 |
| 2011 | BUF | BUF 2011 | HC | 53.8% | 25 | 41.5% | 26 | 21.7% | 11 |
| 2012 | BUF | BUF 2012 | HC | 61.0% | 12 | 46.6% | 11 | 21.6% | 7 |
| 2015 | NYJ | NYJ 2015 | OC | 59.6% | 11 | 41.3% | 19 | 20.8% | 13 |
| 2016 | NYJ | NYJ 2016 | OC | 64.0% | 1 | 46.9% | 7 | 23.3% | 4 |
*Neutral game script is when the score is with 7 points either way
It looks slightly inconclusive at first glance, but note the time with the Bills and Jets, specifically. Ryan Fitzpatrick was the quarterback in both spots, and during those five seasons, the top two running backs on the roster combined to average 100.8 targets per year. That includes Fred Jackson, C.J. Spiller, Matt Forte, Chris Ivory and Bilal Powell. We can argue where Breida would rank among that group, but we can all agree we're not talking about Christian McCaffrey-level talent there. The combination of Gailey and Fitzpatrick should continue to net close to 100 targets to the running back position, and Breida should be the primary beneficiary.
Dolphins

Offense on the Rise

Whether Fitzpatrick or Tagovailoa is under center, the quarterback position went from a glaring weakness a year ago to a potential strength. Last season, Fitzpatrick started on and off the bench behind Josh Rosen and got spot work as Miami lost the first seven games and averaged just 11 points per outing. They finished the season with a 5-4 record, averaging 25.4 points per game. Fitzpatrick averaged 291.3 yards, 1.67 touchdowns and 0.67 interceptions during that span. With an adequate veteran to bridge the gap until Tagovailoa is ready, Miami is in great shape to see continued offensive success heading into 2020.

Fitzpatrick also has an excellent history of targeting running backs in the passing game.
Yearly team RB target share for active QBs (minimum 1,000 career attempts, 10 starts to qualify in a season.)



Could a pass-catching back emerge in Indy? Does Brady's late-career trend mean a rookie RB like CEH balls in TB? pic.twitter.com/dZGIdJELFr

— TJ Hernandez (@TJHernandez) April 14, 2020
Fitzpatrick ranks ninth among quarterbacks since 2010 in average running back target share for active quarterbacks, including 20.2% last year. This was despite subpar running back talent, particularly after trading away Kenyan Drake.
Miami also addressed a huge need in the draft and free agency: the offensive line. I asked Justin Edwards to help me quantify just how bad Miami was up front last year. He pointed out they were dead last in the following metrics: adjusted line yards (3.17) (Football Outsiders), QB hits Allowed (146), experience (number of career game starts among Starting 5), number of different starters (12), and Blown Block Percentage (3.87%). Blown Block Percentage is Sports Info Solutions' (SIS) metric for how often a player does not successfully block the defender they attempted to.
Individually, Miami is likely to have four new starters on the offensive line. They brought in free agents Ted Karras and Ereck Flowers to play center and left guard, respectively, and they drafted USC tackle Austin Jackson in the first round, and Louisiana-Lafayette guard Robert Hunt in the second. Based on last year's Blown Block Percentage on running plays from SIS, they should have considerable upgrades, as shown in the following table:
Dolphins

Estimated O-Line Improvement

| Team | Average BB% | Average Rank* |
| --- | --- | --- |
| 2019 Dolphins | 3.13% | 76.2 |
| 2020 Dolphins (Estimated**) | 1.59% | 34.4 |
*Rank among interior offensive linemen or among offensive tackles with a minimum 200 Rushing Snaps **Estimated Rookie Production, included 2019 totals for free agents Flowers and Karras
I took an average of each of the positions based on players with at least 200 rushing snaps to get the total Blown Block % average of the four starting positions likely to be upgraded—left tackle, center and both guard spots.
I estimated the rookie production by taking the average of the four rookie tackles and five rookie guards who played at least 200 snaps last season after being drafted in the first two rounds. It's not exact, but it is a pretty good idea of what you can reasonably hope for from a highly-drafted first-year starter on the offensive line.
By the numbers, the line should be much better this season.
Bottom Line
Ultimately, Breida's addition to Miami provides some clarity to a murky backfield situation. Barring any additional moves between now and the start of the season, Jordan Howard should be the primary two-down back, with Breida as the change-of-pace and receiving option. This takes him from being a fringe roster player in most fantasy leagues to a potential PPR value pick as a bench player and spot starter.
Breida's current ADP is at 181 right now, putting him below guys like Rashaad Penny and Justin Jackson, making him a bargain in PPR formats, where he could have borderline RB3/flex potential.
If Fitzpatrick continues his running back usage in the passing game, there should be up to 124 targets available to the running back position, based on his percentage and the Dolphins' pass attempts from a year ago.
The Dolphins have a bad reputation for fantasy points right now, and with noticeable improvements across the roster, it's a good time to buy low on the talent they do have.