Does Tua Tagovailoa Have 2020 Fantasy Upside in Miami?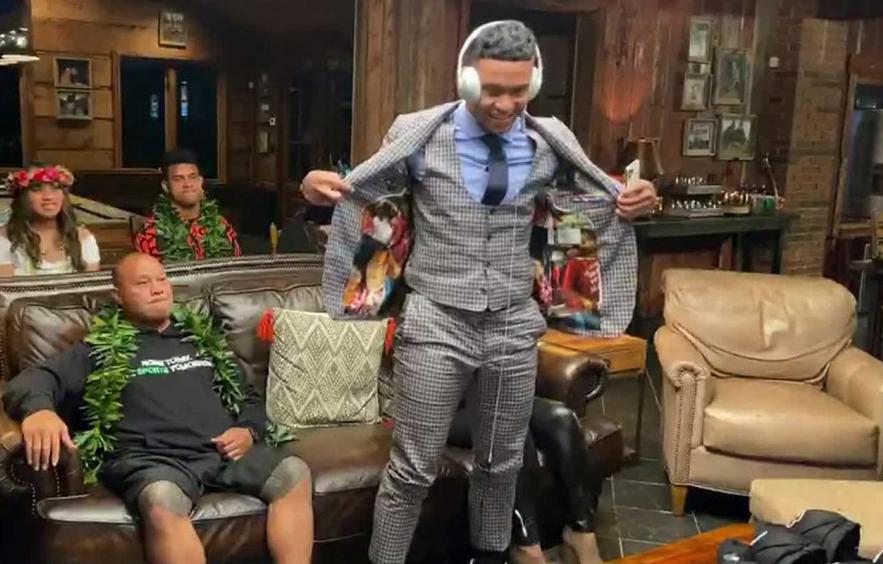 Getty Images
Ever since Tua Tagovailoa's electric second-half performance in the 2018 National Championship game, "Tank for Tua" has been a relatively popular phrase and for good reason.
Never forget that true freshman Tua Tagovailoa entered the 2018 National Championship game in the second half—down 13-0—and threw three touchdowns including this one to win the game: pic.twitter.com/fV5U90t5hs

— Connor Allen (@ConnorAllenNFL) April 11, 2020
Tua Tagovailoa

's Collegiate Career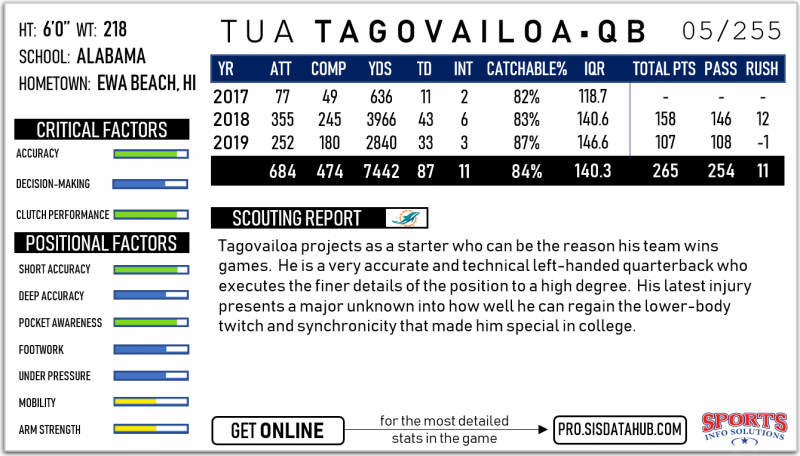 After exploding onto the national spotlight as a true freshman, the former Alabama quarterback was largely fantastic as a sophomore. He completed 69% of his passes for 3,966 yards while averaging 11.2 yards per attempt. He placed second in Heisman voting that season behind the future No. 1 overall pick, Oklahoma QB Kyler Murray. There were some ups and downs within that season including leaving the SEC championship against Georgia with an ankle injury. He recovered in time for the college football playoff and shredded the swiss cheese Oklahoma defense to the tune of four touchdowns and 318 yards while completing 24-of-27 passes (88%). Even after a relatively disappointing national championship game against Trevor Lawrence and the Clemson Tigers, Tua was the -200 favorite to be the No. 1 overall pick in 2020 prior to the 2019 season.
Side note: Don't get me wrong, Tua was a great prospect entering 2019 but that might have been one of the fishiest lines I've seen in the past few years given the timeframe.
With so much hype surrounding the left-handed signal-caller, Tua's 2019 season was almost bound to disappoint. That rang true but for reasons out of his control. He was having a successful season prior to dislocating his hip against Mississippi State. This kept the star quarterback sidelined for the rest of the season and focused on rehabbing in hopes of throwing prior to the NFL Draft.
Had this injury not happened, there likely would have been some discussion about selecting Tagovailoa at No. 1 overall instead of 2019 Heisman winner Joe Burrow. Over 80% of Tagovailoa's passes were deemed catchable by Sports Info Solutions for three straight seasons. Alas, Burrow went No. 1 overall. The Dolphins laid the thickest smokescreen possible, pumping rumors of love for Justin Herbert to media members with legitimate notoriety. They were able to stay at No. 5 overall and still grab their quarterback of the future in Tagovailoa.
Tua's Fit With the
Dolphins
The beauty of Tagovailoa landing with the Dolphins is that he won't be rushed back to start in 2020. They aren't Super Bowl contenders this season and they know that. That being said, they have plenty of promising talent that could make them a team to watch for in the coming years.
Their offensive line struggled last season and ranked 28th in Football Outsiders' adjusted sack rate metric and dead last in adjusted line yards. The Dolphins front office prioritized the trenches in the draft, selecting two offensive linemen in the top-40. At pick No. 18 they grabbed OT Austin Jackson and at pick No. 39 selected versatile OL Robert Hunt from University Louisana Lafayette. Two rookies won't solve their hog molly deficiency, but the Dolphins also signed OG Ereck Flowers to a three-year, $30M contract as well as C Ted Karras to a one-year deal in free agency. This means the Dolphins could have as many as four new starters up front. Normally this wouldn't be good but given how poor their offensive line play was in 2019, big changes are probably a positive.
Miami isn't stocked with receiving talent but the group has plenty of upside. WR Devante Parker finally proved why he deserved to be a first-round pick a mere five years later. He racked up 1,202 yards and nine touchdowns on 72 receptions. The 'Phins secured their presumptive No. 1 wideout through 2023 towards the end of last season. Beyond Parker, the Dolphins will trot out some combination of Preston Williams, Allen Hurns, Albert Wilson, and Jakeem Grant. Williams was on track for a solid rookie year (64/856/6 pace) prior to a season-ending injury halfway through the year. Wilson will likely slide in as their No. 3 wideout after a strong finish to the 2019 season where he posted 59 yards-or-more in three consecutive games.
Running back play rarely has a sizeable impact on the game unless your starter is Kalen Ballage. Out of the 49 running backs with 70-or-more carries last season, Ballage ranked dead last in success rate (32%) while averaging 1.8 yards per carry. The next closest running back was Alexander Mattison who posted a success rate that was 6 percent better then Ballage's while averaging 4.6 yards per carry. Some of Ballage's struggles can be written off by poor offensive line play but he was especially bad.
What's embarrassing isn't that Ballage ducked this wide-open checkdown. What's embarrassing is that this incompletion was actually Miami's 58th-best play out of 79 by EPA. pic.twitter.com/7xlCwP2Ujg

— Bill Barnwell (@billbarnwell) September 29, 2019
This truly wasn't meant to be an article called "the roast of Kalen Ballage" but when analyzing the Dolphins offense it was tough to avoid. The Dolphins added Jordan Howard (53% success rate) during free agency and traded for Matt Breida (42% success rate) during the draft so Ballage will be an afterthought.
The Dolphins also made a change at offensive coordinator to Chan Gailey. He has worked with Ryan Fitzpatrick when he was with both the Jets (2015-2016) and the Bills (2010-2012). I'm not a doctor but reading the tea leaves suggests Tua will likely need to continue rehabbing throughout the summer and potentially into the season. Even after posting an impressive virtual pro-day video, most specialists agreed that it could be a while longer until he is at full health. In order for Tagovailoa to have a legitimate chance of starting in Week 1, he would need to be fully healthy and prepared entering training camp. With a shortened offseason i'd say his chances of opening as the Week 1 starter are close to none. There are so many variables that are tough to account for this far out from the NFL season but for the time being, I'd handicap Fitzpatrick as the heavy favorite to open the season as the starter. If Tua does get the nod at some point he could add some production on the ground. He didn't rack up a ton of pure rushing stats while at Alabama but flashed mobility throughout his career. I wouldn't anticipate the Dolphins calling any designed QB runs as he continues to heal from his injury but I'd bet they could expand the playbook starting in 2021.
Bottom Line
It's tough to have much value in fantasy football if you aren't on the field. Especially in 1QB redraft leagues, Tua is undraftable for the time being. That's nothing bold and right in line with his QB28 ADP.
If he's the Dolphins starter before the season he should be considered as a late-round dart throw in deep leagues.
Since Tua likely won't start the season he could be an intriguing pick-up and quarterback streamer at some point during the year. As I harped on in the article, the upside is there if he's healthy.
Even if he doesn't play much in 2020, he's a promising prospect with a good chance of producing multiple fantasy-viable seasons in the near future