Here's How Carson Wentz Could Blow Away His ADP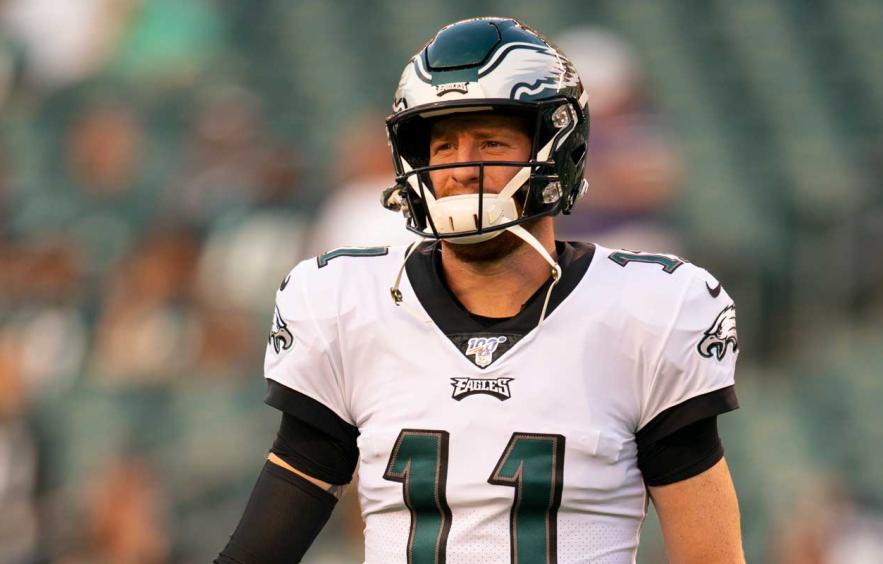 Mitchell Leff/Getty Images
It's a weird thing: the 12th quarterback off the draft board doesn't have a wide receiver on his team going in the first 10 rounds of a 12-team draft.
But that's what we have with Carson Wentz. Jalen Reagor is the first Eagles wideout off the board—in the 11th round, after 46 other receivers.
Peruse average draft positions today and you'll see the wideouts of the top-12 quarterbacks scattered across the opening rounds. Mathew Stafford, who's going after Wentz, has two receivers being drafted in the first nine rounds. The same goes for Ben Roethlisberger, who's being drafted nearly three rounds after Wentz. A pair of Joe Burrow's wideouts are being taken in the first seven rounds and he's going four rounds after the Philly signal caller.
You get the idea: if Wentz is going to meet or exceed his draft day cost, he's going to have to do it with a group of receivers seen by fantasy managers as little more than bench fodder in traditional leagues.
In one-QB leagues, it's hard—bordering on impossible—to prioritize a quarterback like Wentz in the ninth round. I suppose this analysis is better applied to superflex and 2-QB formats, where quarterback actually matters. Wentz is the eighth quarterback off the board in such formats, going at the end of the third round. Is he worth it?
The
Eagles

' Pass-Catchers and the Deep Ball

Wentz enters the 2020 season with one of the game's premiere pass catching running backs in Miles Sanders, who the team seems committed to feeding this year. He'll also have two productive tight ends at his disposal, as Zach Ertz continues his Wittenesque career path and Dallas Goedert flashes in frustratingly limited opportunities. Wentz managed to finish as a top-10 fantasy quarterback last season despite having Greg Ward—a quarterback turned wideout—as his No. 1 option for a chunk of the season.

Will adding Reagor and his scorching speed make enough of a difference for Wentz in 2020 to catapult him further inside the top-10 quarterbacks? Considering he averaged more than 15 yards per catch in college, we might consider what Reagor means for Wentz's deep throws this year. Last year, Wentz had the 11th most deep shots (more than 20 yards downfield) even though Desean Jackson—Philadelphia's lone long-ball threat—missed almost the entire season. Wentz completed 51% of those throws, the ninth-best mark in the league.

It's clear that Wentz likes the long ball, and he's not bad with those attempts. It became clear, however, that his lack of legit deep threats affected how effective he was with those downfield shots. In seven of his 16 games last year, Wentz's completed air yards per completion (yards the football traveled beyond the line of scrimmage before being caught) was below his career average of 6.6. In his one game with Jackson blowing the top off the Washington secondary, Wentz's completed air yards per completion was a fat 7.8.

The hope is that Wentz's high-value downfield throws have a better chance of reaping fantasy points in 2020 with a presumably healthy Jackson and Reagor lining up wide for Philadelphia. It was three short years ago -- in Wentz's breakout season -- that he was among the most efficient deep throwers in the NFL. In 2017, Wentz posted an adjusted completion rate of 44.2% on downfield throws. Only three QBs had a higher rate of downfield passing than Wentz. Maybe he can repeat those 2017 numbers (or something resembling them) with two wideouts who excel at running very fast past backpedaling defenders. It'll be a critical part of Wentz exceeding his ADP this year.
Carson Wentz

's Rushing Ability

Rushing production—the fantasy quarterback cheat code—will also be key if Wentz is going to end the 2020 season as a fantasy football difference maker. Here's a brief rundown of his rushing opportunity and how it's affected his fantasy scoring over the past four years.
Carson Wentz

's Rushing Opportunity, 2016–2019

| Season | Rushing Att/Game | Rushing as % of Fantasy Production |
| --- | --- | --- |
| 2016 | 2.88 | 6.1% |
| 2017 | 4.92 | 9.9% |
| 2018 | 3.09 | 4.1% |
| 2019 | 3.88 | 9.9% |
I'm much more interested in the rushing attempts column since the rushing production as a percentage of his total fantasy points is highly dependent on rushing touchdowns, which are inherently unpredictable and subject to massive variance. Outside of his rookie season, Wentz has been consistent in his rushing attempts. With a little rushing good fortune carriying over from 2019 (when he scored his first rushing touchdown since 2016), another season of around four rushes per contest could give Wentz one of the highest weekly floors outside the first few QBs off the board.
The Bottom Line
A full season of Reagor and Jackson over the top, along with Sanders, Ertz, and Goedert underneath, makes Wentz a sensible target for fantasy managers looking for a set-it-and-forget-it starter in the last half of the draft. I should note that Wentz and Josh Allen are going at almost identical ADPs in 2-QB formats, and the latter option offers an even safer rushing opportunity floor than the former. I don't know what kind of process one would employ to choose Wentz over Allen at the same cost.
The central takeaway from this analysis might be that Reagor (and possibly Jackson) are bargains at their redraft price points.