Austin Hooper's Fantasy Outlook for 2020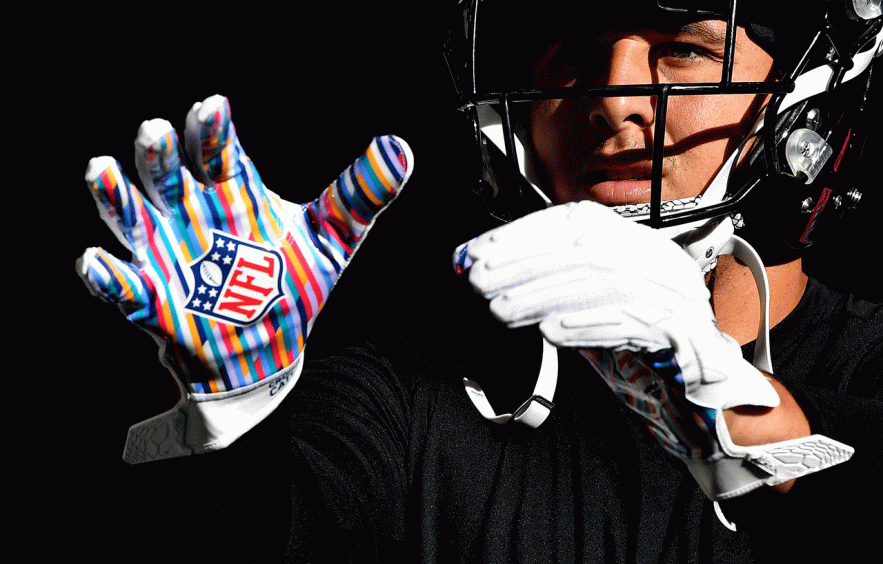 Mark Brown/Getty Images
One of the jewels of the free agency class, at least on offense, Austin Hooper was not lacking for suitors. Rumors to the Packers, Redskins, and Patriots among others dominated the headlines but it was an unlikely team in the Cleveland Browns that landed his services. The four year deal for $44 million is just the second tight end contract to exceed eight figures in annual salary. It should secure Hooper for the majority of his prime and perhaps revamp the hype that surrounded the Browns offense going into 2019.
---
---
How
Austin Hooper

's Departure Impacts Atlanta

Any time a pass-first NFL offense loses their safety valve, it will negatively impact the team. Hooper did miss time last season and Matt Ryan slowed down a bit, averaging just one touchdown per game, roughly half of his rest of the season output. He was also sacked an astonishing 18 times in those three games, which could have partially been due to a lack of short field options. Ryan does get a replacement of sorts in Hayden Hurst, but he is less experienced despite being older than Hooper.

Julio Jones is largely impact-proof short of a major injury to Matt Ryan, so I would be surprised if he sees much of a change. 2019 saw him average over 10 targets per game and it didn't fluctuate with or without Hooper. The volume will be there and the only possible upside could be in the touchdown department. Jones had just six scores last year with five of those occurring inside the red zone. Hooper's six scores were all in the red zone, five within 10 yards of the end zone. Even with the attention paid to Julio, at least a few of those targets could find their way to the star receiver.

Calvin Ridley might be the biggest beneficiary among the receiving options. He has largely been an effective red-zone option in two years with the Falcons, but hasn't seen an increase in targets despite that success. The loss of Hooper should help there and could provide an additional uptick in volume, Ridley had less than a 0.5 target per game increase in 2019 (8.9 to 9.3). In those three 2019 games that Hooper missed, Ridley was the WR3 in 0.5 PPR leagues and had 10.6 targets per game. This could become a Mike Evans and Chris Godwin situation where both receivers are top 12 fantasy options.

With Todd Gurley being new to the fold, it's hard to say what his impact looks like, especially without Austin Hooper to compete with as a short field receiving option. What we do know is his potential ceiling as a receiver. Gurley has two seasons averaging over four receptions per game with over 500 receiving yards and at least four receiving touchdowns. The problem arises with the other three seasons. He averaged fewer than three catches per game in each with just two total receiving touchdowns in 44 games played. I'm not sure which receiving version of Todd Gurley emerges in 2020, but there is a clear path to some serious pass-catching fantasy upside. A deeper dive by 4for4 is available here.

New guy Hayden Hurst also has his own full breakdown here.
The
Browns

Offense with

Austin Hooper

This is where things get interesting and it's best to start with Baker Mayfield. It's easy to find reasons to blame Mayfield's sophomore struggles. Inconsistent offensive play calling, a lackluster offensive line, poor decision making, and an incoherent offensive personnel philosophy all contributed among other issues. He had seven games under 15 fantasy points scored last year and 13 of 16 games with at least one interception. On the bright side, Mayfield did better towards the end of the year with multiple touchdown passes in six of the last eight games which made him the QB11 during that time, better than the QB16 finish from his rookie year. That coincides with the "addition" of Kareem Hunt, a safety valve option for Mayfield to look for in times of distress. That sounds a lot like the capabilities that Austin Hooper can provide, and do so incrementally to Hunt.

Outside of 2019, Austin Hooper has never managed more than four touchdowns in a season. That should bode well for Nick Chubb, and to a lesser extent, Kareem Hunt. Hooper is capable of keeping the chains moving and allowing for Chubb, a player who has scored nine of his 16 career rushing touchdowns inside the 10-yard line, more chances to find paydirt. Hunt will see some negative impact with volume from those aforementioned short targets potentially being reduced. When he played, Hunt averaged 4.6 catches per game last year but never saw double-digit carries in a game. So if his receiving volume decreases, Hunt could become nothing more than a fringe flex option.

Odell Beckham should be happy. Anyone who diverts defensive attention away from him is a welcomed sight. Yes, it will likely be another monkey wrench in terms of volume, but it would be a surprise if his efficiency doesn't increase. 2019 saw Beckham manage career worsts in receptions per game, catch rate, and touchdown rate while failing to reach 100 yards in a game after the team's Week 7 bye. That means Beckham is at his floor (hopefully), providing a place where he may have real upside for the first time in his career. Jarvis Landry is likely to see a more tangible hit. Hooper and Landry work similar parts of the field so that 14.1 yards per reception from 2019 needs to hold up if target volume takes a hit. With that in mind, Landry is just one of 11 players who has recorded six or more straight seasons of 80-plus receptions. If he takes a volume hit, history would indicate that the drop shouldn't be too far.

The biggest hit is obviously David Njoku. The former first-round pick has struggled with offensive responsibilities, injuries, and the general growing pains of the tight end position. It would have been nice to see what year four held for him as a starter, but he takes a back seat here. Njoku is still just 23 years old and was a raw prospect coming out. One full season as a starter in 2018 led to a TE9 finish so he has already flashed that potential. A trade would be nice but the Browns don't seem concerned about his inclusion on the roster as an impediment to Austin Hooper. Unless that trade materializes, Njoku is useless in redraft leagues barring injury, and is a hold for dynasty league owners.
2020 Outlook (and Beyond)
Austin Hooper isn't a dynamic tight end like George Kittle or Travis Kelce, capable of making big plays and salvaging a game with a lower target count. He relies on volume similar to Jason Witten or Delanie Walker with comparable touchdown limitations. While the volume keeps him in the mid to lower TE1 conversation for fantasy players, Hooper will never break into the top tier for a full season. That's ok since his current form remains usable in what has become a depleted tight end landscape. Right now, he's the 56th player drafted overall and the seventh tight end being selected, which is in-line with our Never too Early Rankings. While it is aligned, it also means that there is no accounting for any variability that comes with a new team, a new system, and a whole lot of uncertainty.
In dynasty settings, Hooper is the sixth tight end picked in Dynasty League Football mock drafts and 77th player overall. My post-combine rankings put him 79th as the TE7 but this signing pushed him up a spot in positional rankings ahead of Darren Waller. Hooper has the hefty contract, good personnel, and young quarterback that should keep his value stable for the next few years while providing reasonable fantasy production returns. Hooper is a solid hold for contenders and a reasonable trade chip in TE premium leagues and for rebuilding teams to hope for a late first-round pick or comparable value.