The Top DFS Running Back and Defense Stacks: Week 4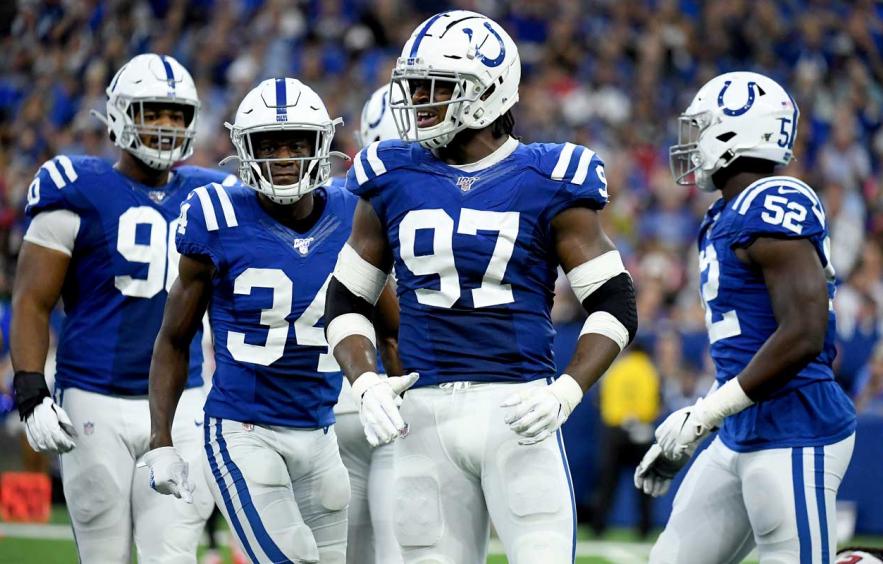 Bobby Ellis/Getty Images
These are the Week 4 running back-defense stacks on FanDuel and DraftKings. I'll examine where we might be able to get a solid defensive performance and volume-driven running production, including at least one RB-defense stack that will have minimal usage.
One should not base their weekly DFS lineup composition on the RB-DEF stack, as the correlation isn't nearly as strong as the QB-WR1 combo, for example. But considering RB1s—and only RB1s—get a decent bump in production when their team's defense scores at least 15 fantasy points, it's worthwhile to see where this stack might offer upside and differentiation for those who play large-field DFS tournaments. Running backs and defenses from the same team often face positive circumstances together.
It's these conditions that lead to fantasy points. Sometimes a lot of fantasy points—the kind that swing DFS tournaments.
One of our three Week 3 RB/DEF stacks didn't fare well amid a veritable flood of terrible game script, as Chris Carson and the Seattle defense combined for seven points. Sony Michel and the New England defense put up a total of 22 points, while Minnesota's defense and Dalvin Cook put up a combined 32 points.
Marlon Mack

/

Colts

vs.

Raiders

Combined percentage of FanDuel salary: 19.1%

Combined percentage of DraftKings salary: 18.4%

This combo, especially appealing on DraftKings, is our latest attempt to exploit game script turning against the Oakland Raiders, who, according to reports, are bad. I foresee Oakland being a frequent target in this stacking space. Bold, I know.

Only Christian McCaffery and Dalvin Cook have more rushing yardage than Marlon Mack ($7,300 FD/$6,100 DK) through three weeks. No one has more carries than Mack, the linchpin of the Colts' offense, which clearly wants to Run The Damn Ball. He's on pace for a startling 325 carries. We finally saw Oakland go up against a formidable running attack last week in Minnesota. It didn't go well for the Silver and Black, as the Vikings piled up 213 ground yards on 38 carries. More than 45% of the plays run against Oakland's defense this season have been on the ground, and only four defenses have seen more rushes tried against them. It'd be an upset if Mack didn't see 20 touches in this matchup, and with Indy at home sporting an implied total of 25.75 points, we can expect at least one touchdown for the Colts' primary runner. Volume-wise, this stack is everything we could ask for.

I wrote last week about Derek Carr's completion rate tanking in Oakland losses. That didn't happen in Week 3 but he did throw a pick and the Raiders were unable to move the ball at all until garbage time. We want Carr in a pass-heavy game script; that's exactly what we'll get barring a total meltdown by the Colts ($4,200 FD/$3,100 DK) on Sunday. Oakland is allowing a sack on nearly 7% of its plays through three weeks, the 11th highest rate in the NFL. The Raiders are giving up 9.4 schedule-adjusted points to enemy defenses.
Austin Ekeler

/

Chargers

at

Dolphins

Combined percentage of FanDuel salary: 22.3%

Combined percentage of DraftKings salary: 23.6%

I'd be remiss—and I haven't been remiss since the late-90s—if I didn't tout the Chargers in this space as they square off against the worst NFL team in living memory. You have to go fairly low in at least a couple spots to create a viable tournament roster if you're going in on the Chargers defense ($5,300 FD/$3,800 DK) and Austin Ekeler ($8,100 FD/$8,000 DK). This stack is crushingly expensive on DraftKings, where it's $1,300 more than the third-highest priced RB-defense combo on the main slate. That Melving Gordon is expected to play in an emergency situation on Sunday in Miami doesn't change my thoughts on Ekeler.

Nevertheless! Miami's imaginary defense is being shredded in every way possible. Opponents have attempted 101 runs against the Dolphins in three weeks, 13 more than the next closest team. Only Denver has allowed more rushing touchdowns, and only the Chiefs allow more yards per rush. That's the sort of thing that happens when game script is constantly against you. Ekeler, meanwhile, has had incredibly consistent opportunity as the team's starter, seeing 18, 23, and 17 touches in the first three weeks. I wouldn't fret about LA getting out to a big lead and benching Ekeler for Justin Jackson. The Chargers have a 30 point implied total; I suspect Ekeler will have something to do with that scoring. Just a guess.

Miami is an utter disaster on offense too, as you may have noticed. They allow an eye-popping 10.4% sack rate, fourth highest in the NFL. No team has more turnovers than Miami. And they once again enter a game as massive underdogs (LA is a 16.5-point favorite) who will likely face four quarters of negative script. No RB/DEF combo has a higher Week 4 ceiling than this one. It's not hard to understand why.
James Conner

/

Steelers

vs.

Bengals

(Full Slate)

Combined percentage of FanDuel salary: 18.5%

Combined percentage of DraftKings salary: 19.4%

Having James Conner ($6,900 FD/$6,500DK) at a more reasonable price this week makes this stack more appetizing on FanDuel, though I think this combination represents what should be a low-owned RB-defense stack across sites. Conner is the 11th highest priced RB on FanDuel's main slate; he's RB9 on DraftKings.

Conner saw a healthy 17 touches in Mason Rudolph's first attempt to make the Steelers great again—volume generated by the team's unwavering commitment to play ultra-conservative football with their new quarterback.

Probably we'll see more of the same in Week 4 with the Bengals coming to Pittsburgh ($4,200 FD/$3,800 DK) after being gashed by three straight opponents on the ground. Fifty-five percent of the plays run against the Cincy defense—which allows the most schedule-adjusted points to backs—have been via the run. Only Miami has seen a higher rate of rushing attempts against them through three weeks. And the striped ones are being ripped for 4.9 yards per carry. Once teams seize the lead against the Bengals, they run and run and run some more. That formula would obviously benefit Conner, who notched 17.5 carries per game in Steelers victories last season. Pittsburgh is a 3.5 point home favorite here. Conner's floor is a tad frightening since it largely hinges on Rudolph's ability not to melt down, but he's an attractive ceiling play—that's all that matters for us. Only seven running backs have a higher ceiling in Week 4, per the 4for4 floor and ceiling projections.

The Conner-Steelers stack has the second-highest projected ceiling in Week 4 thanks in large part to the defense having a ceiling of 14.2 points. Andy Dalton has been a turnover machine in Bengals losses over his career, averaging 1.11 interceptions in those contests. Dalton's INTs per game climbs to 1.2 when the Bengals lose by more than three. Cincinnati opponents have collected sacks at a good clip through three weeks, with only four teams allowing more sacks than the Bengals. The Steelers stink, so the Bengals could win here and no one would walk away stunned. But the prospect of Dalton having to drop back time and again, chasing points, is one I want to chase in Week 4.