Week 3 O-Line Rankings and Matchups to Exploit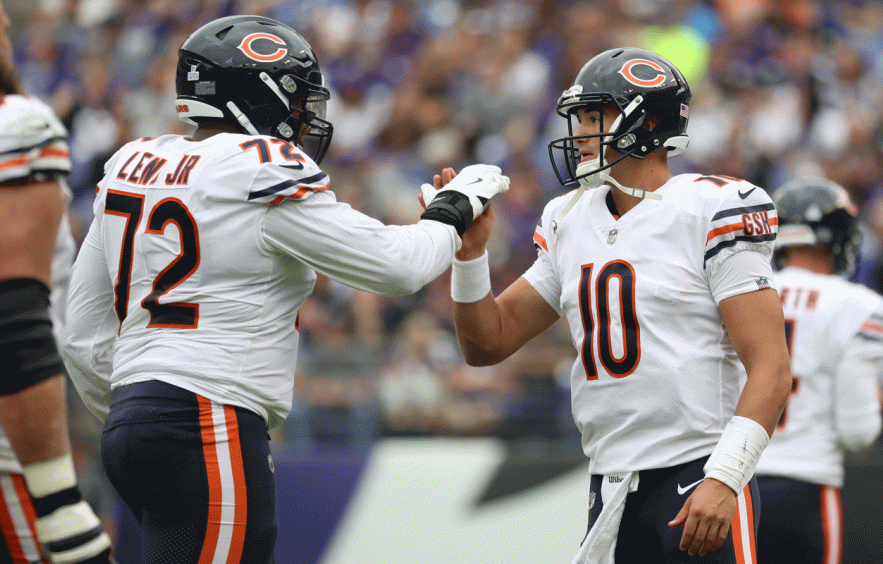 Rob Carr/Getty Images
Evaluating offensive line play regarding its effect on fantasy football output has been a stone unturned throughout the course of our game within a game. Here at 4for4, we're dedicated to looking at fantasy pieces from all angles, and that includes the positive and negative impact an offensive line has on that team's fantasy assets.
Below I'm going to be digging into specific weekly matchups between offensive lines and the opposing defense's aFPA—one of the many useful tools available to us here at 4for4. Many sites publish raw fantasy points allowed by position, but 4for4 goes a step further and adjusts those numbers for a defense's relative year-to-date schedule strength. For now, the aFPA numbers are from the 2018 season as we allow the 2019 season to shape into form. Once we have some reliable numbers and patterns the aFPA stats will begin to reflect this season (starting Week 4).
Let's begin by diving into the passing game to see what o-line/defense match-ups we can exploit.
Favorable Quarterback Matchups




Basically, what we're looking for here is a tall bar (a team ranked low in aFPA) towards the left of the graph (a team ranked high in offensive line play) for a positive correlation to offense and a small bar towards the right to a positive correlation for a defense. Here are some plays that stick out to me:
Cowboys

vs.

Dolphins

Dallas has the privilege of delivering the weekly demolition of the Miami defense this Sunday. With right guard Zack Martin, center Travis Frederick and left tackle Tyron Smith all playing at full health, the Cowboys will have no problem imposing their will against a Miami defensive front that has allowed 4.8 yards per carry (21st) and 11.7 yards per pass attempt (32nd) through their first two miserable weeks. Former 11th overall pick Minkah Fitzpatrick is now a Pittsburgh Steeler, further siphoning talent from the secondary and removing a key component to the Dolphins run-stuffing ability out of the safety position.

Miami's defense has been most susceptible on runs towards the right side of their defensive line, or, where All-Pro left tackle Tyron Smith will be lining up on Sunday. I have no doubt that Ezekiel Elliot will be "eating" to his heart's delight and the Cowboys are a full-go in lineups everywhere. With Michael Gallup slated to miss Week 3 action, both Randall Cobb and Devin Smith are worth a look in deep leagues, with the latter being priced near the minimum in daily fantasy.
Ravens

@

Chiefs

This has the potential of being the biggest game of at least the first quarter of the season, as the two most promising young quarterbacks in the league will battle it out in Kansas City with an over/under of 55. Like the above matchup, the Chiefs are susceptible to the air and the ground attack so it's all systems go for the Ravens' pieces here. Lamar Jackson is feeding two players above all else; Mark Andrews has accounted for 18 targets and Marquise Brown 17 targets while the rest of the offense has failed to see more than five. Brown gets a beefy matchup against Chiefs cornerback Charvarius Ward who has been more than burnable through two games this season.

This should be a fantastic game and if Baltimore is able to move the ball as easily as I think they will behind this stout offensive line, we'll be looking for the Chiefs to move the ball through the air as well. Play all your dudes in this game, and mark this as a definite game stack in DFS.
Bears

@ Redskins

Chicago's offensive line isn't exactly playing up to the standards I set for them when I ranked them as a top-five unit coming out of the preseason, but the talent is still there and I think this could be a get-right spot for themselves and the passing game. In a 16-14 snoozer win over the Denver Broncos on Sunday, tackles Charles Leno and Bobby Massie held Von Miller to zero sacks, zero hurries and zero hits on Mitchell Trubisky which is a feat in itself. This week's task should be easier against a defensive front that has a 2.82% sack percentage, 29th in the league. According to Sports Info Solutions, Washington only has one player in the top-120 front seven players (DE, DT or LB) in pressure percentage (Ryan Kerrigan - 13th). As long as they can keep a special focus on him they should be able to keep Trubisky clean.

Speaking of Trubisky, if he can't get it done in this situation then he's not going to get it done in 2019. His stat line to this point (348-0-1 through two games) could be more than matched in this game alone with the theoretical extra time he's going to have in the pocket. Hopefully, that uptick in effectiveness will result in another usable week for Allen Robinson.
Favorable Defensive Matchups
Vikings

vs.

Raiders

Even with gun-swinging tough guy Richie Incognito returning to the Raiders this week, they still have a weak offensive line unit facing off against a stout defensive line. Tackles Kolton Miller and Trent Brown will have a handful of edge rusher Danielle Hunter who has already accumulated two sacks and a 14.7% pressure rate, 11th-highest amongst defensive ends.

The Vikings have allowed only six explosive pass plays this season according to SharpFootballStats.com, further limiting the ceiling on the Raiders offense this week.
Bills

vs.

Bengals

Of the top-60 front seven players in pressure rate - again, according to Sports Info Solutions - the Buffalo Bills can claim five of them. In order of ranking, the Bills have Shaq Lawson (DE, 10th), Darryl Johnson (DE, 21st), Lorenzo Alexander (LB, 45th), Jerry Hughes (DE, 49th), and rookie Ed Oliver (DT, 59th). That is a staggering amount of competent pass rushers, and they're going to be facing off against possibly the worst offensive line that isn't part of a blatantly tanking team.

Andy Dalton has taken the second-most sacks in the league and the line has provided a league-worst 2.2 Adjusted Line Yards. The Bengals are going to have a rough go of it moving the ball down the field.
Favorable Running Back Matchups
The above rushing aFPA graph will work exactly the same way as the QB aFPA graph worked; tall lines on the left are areas we want to attack and short lines on the right should make you second guess the fantasy pieces associated with those offenses.
Cowboys

and

Ravens

(again)

As with the aFPA QB section, both of these running games are in play behind the respective offensive lines.
Colts

vs.

Falcons

Indianapolis hasn't been nearly as bad as we had feared after the retirement of Andrew Luck and a big reason for that is the exceptional line play, particularly in the running game. Marlon Mack, who has kept a hold of the reins of the rushing attack, has been the biggest beneficiary of the earth-movers up front. Ceding only six carries to Nyheim Hines and five carries to Jordan Wilkens, Mack has accumulated 45 carries and a smooth 36.7 fantasy points heading into this matchup against Atlanta. The elephant in the room is Mack's lack of passing game involvement but this is something we should have been expecting as we drafted him over the summer.

Before a sloppy game against the Eagles in which half of Philadelphia's team left the field for one reason or another, Atlanta had just been gashed by Dalvin Cook to the tune of 21-111-2 on the ground. I won't predict any scores here for Marlon Mack but that rushing production is very much in his grasp running behind an even better line than the Vikings have.
Giants

@

Buccaneers

It's not as if you were not going to play Saquon Barkley anyways, but now you can feel even more comfortable using him in a plus matchup, running behind an improving offensive line. It will remain to be seen how Daniel Jones will be implemented in this offense but Barkley is really quarterback-proof with his huge usage in the passing game. He's still gonna get his.
Running Backs with Bad Matchups
As opposed to breaking down every bad match-up through the rest of the slate, here are some running backs I'm looking to avoid because of their poor offensive line and the strong defensive fronts they will be facing:
That's all I've got for this week, everyone. If there's something you'd like me to dig into specifically with regards to offensive line vs. defensive lines please give me a shout! For further reading regarding our aFPA statistic and how to use it in your favor, give John Paulsen's Sneaky Starts series a read!