NFL Week 3 Betting Picks & Preview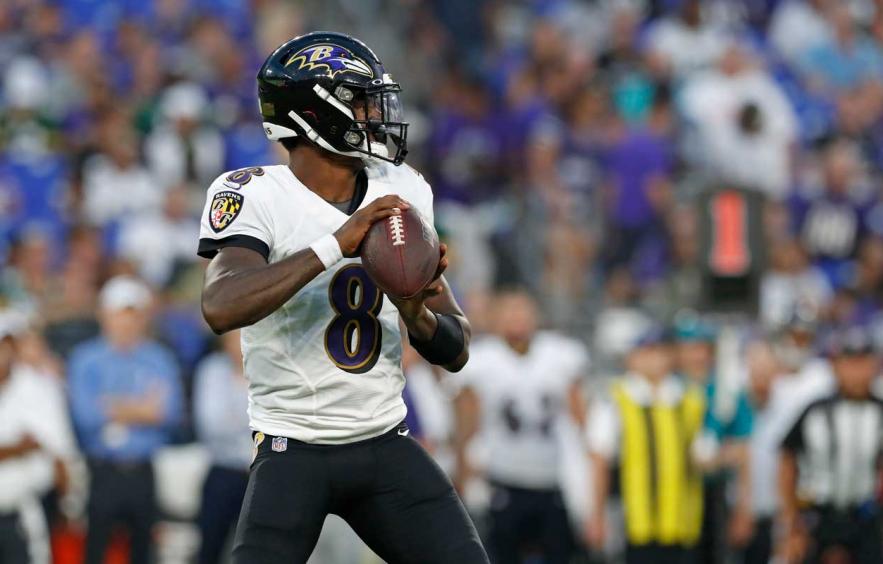 TNF Recap: I dropped to 2-5 on the season following the Titans' ugly performance last night in Jacksonville. That's all I have to say on that.
465 Baltimore
Ravens

at 466 Kansas City

Chiefs
Spread: Ravens +5.5
O/U: 52
Time: 1:00 p.m. ET
I was surprised to see that the line for this game opened at 6.5 in favor of Kansas City, although I don't know why. The Chiefs remain a juggernaut and whether Tyreek Hill is in the lineup or not, Patrick Mahomes and the KC offense continues to be indefensible.
That said, I don't think the Ravens are purely a product of facing the dumpster fire that is the Dolphins and the young, inexperienced Cardinals either. I've been on the, "Lamar Jackson is a better passer than people think" bandwagon and thus far, he has silenced his critics. The Ravens will remain a run-heavy offense but they're not as one-dimensional as they appeared in the second half last year. It remains to be seen how much the Chiefs have improved defensively but I doubt they've made enough strides to hold Jackson and Co. in check this weekend at Arrowhead. Points will be scored on both sides.
Speaking of which, Mahomes is like LeBron: He'll get his. He's going to have big moments and he will move the Chiefs' offense. It is it what it is. But despite losing several key defenders in free agency this season, Baltimore's defense remains steady. The Ravens will blitz heavily with zone concepts in coverage, which causes confusion for opposing signal-callers. If Baltimore can come up with a turnover or two, I wouldn't be shocked if the Ravens pulled off the outright upset.
NFL Week 3 Selection: Baltimore Ravens +5.5
---
DraftKings Sportsbook Deposit Bonus: Available to Currrent & New Users! Create an account, deposit and DraftKings will match 50% of the deposit amount up to $500. Additionally, new users will get their first bet matched with up to a $200 risk-free bet.
---
463 Detroit
Lions

at 464 Philadelphia

Eagles
Spread: Lions +6
O/U: 45.5
Time: 1:00 p.m. ET
This is too many points. The Lions blew a double-digit fourth quarter lead in Arizona in Week 1 and probably should have lost last weekend at home to the Chargers. The Bolts had back-to-back touchdowns called back because of penalty and also lost a fumble at the 1-yard line. It was an ugly win for Detroit, no doubt.
That said, while the offense lacks explosiveness and consistency, the Lions' defense has played well save for their fourth quarter performance against Kyler Murray and the Cardinals. The Eagles enter Sunday extremely banged-up offensively, with DeSean Jackson already ruled out and Alshon Jeffery unlikely to play as well. Corey Clement, Dallas Goedert, Tommy Jernigan and Jonathan Cyprien also missed practice on Thursday.
Carson Wentz took a beating last Sunday night in Atlanta and even had to leave the game at one point before halftime. He was able to finish the game and should have lead the Eagles to victory. Nevertheless, the Philly offense was off and if the Lions can pressure Wentz like the Falcons did, this game will remain close throughout. The key, of course, is for this Lions offense to make enough big plays to stay within a touchdown. I believe they're capable.
NFL Week 3 Selection: Detroit Lions +6.5
---
DraftKings Sportsbook Deposit Bonus: Available to Currrent & New Users! Create an account, deposit and DraftKings will match 50% of the deposit amount up to $500. Additionally, new users will get their first bet matched with up to a $200 risk-free bet.
---
487 Los Angeles
Rams

at 488 Cleveland

Browns
Spread: Rams -3
O/U: 47.5
Time: 8:20 p.m. ET
The Browns thumped the Jets on Monday night but that was hardly an impressive performance by Cleveland's offense (save of course for Odell Beckham Jr.). Cleveland's offensive line, specifically its tackles, have played poorly the first two weeks and Baker Mayfield has struggled as well. A year ago, Mayfield did an exceptional job moving defenders to create open throwing lanes and he was mostly accurate, which was a strength of his at Oklahoma. That said, he's been under pressure a lot the first two weeks and his accuracy and decision-making has waned.
Ultimately, I believe Mayfield will be fine but I'm not convinced the Browns' offensive line will be and they face a daunting task on Sunday night. Aaron Donald continues to ruin the lives of opposing quarterbacks, running backs, offensive linemen and offensive coordinators. Thanks to his incredibly burst and quickness, Donald remains one of the best defenders in the league and the Browns, much like many of the Rams' opponents, will struggle to keep him off their quarterback.
Meanwhile, the Browns are building a defense that could wind up being in the top-12 by the end of the year. There's a lot of talent on that side of the ball and with Jared Goff struggling to start the year, Cleveland won't get blown out at home this weekend. Still, when the Rams have needed a long drive the past two weeks, they've leaned on Todd Gurley, who has delivered despite concerns about his knee.
Here's the bottom line for me: This line is too low for a matchup that, in my eyes, favors the Rams in several ways. Again, I wouldn't be surprised in the least if the Browns kept the game close throughout, but I feel confident the Rams will pull away in the fourth and deliver a cover.
NFL Week 3 Selection: L.A.Rams -3
ATS Betting Records
Week 1: 1-2
Week 2: 1-2
Week 3: 0-1