The Top DFS Contrarian Stacks: Week 2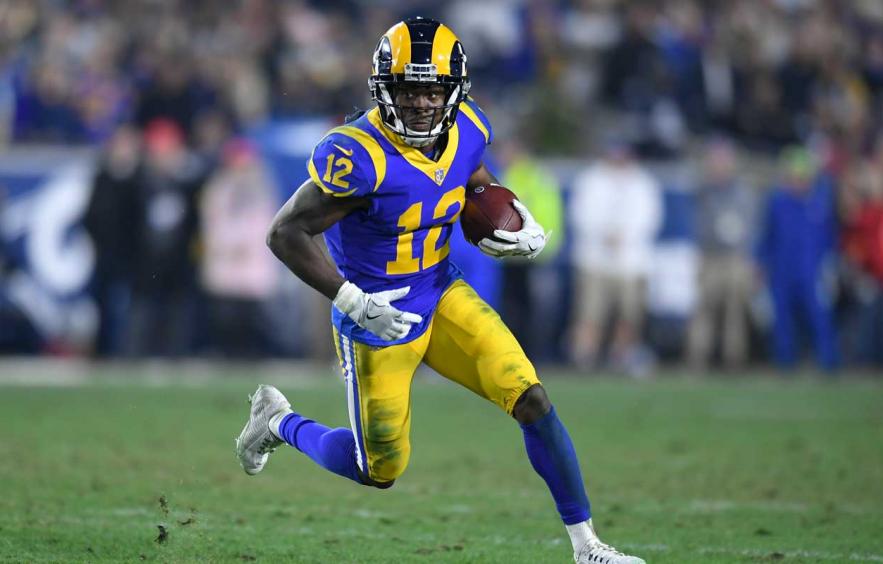 John McCoy/Getty Images
When laying out contrarian stacks, I'll be using a combination of our Stack Value Reports and GPP Leverage Scores to find unique stacks that can take down a tournament. I encourage you to read the series on how to win a GPP in the DFS Strategy Hub. You'll quickly realize that taking down a tournament requires a balance of players ranging from low-owned to chalky.
I like building contrarian stacks around my chalkier core of players because you only have to get one instance correct for it to hit. For example, if we hit on a contrarian quarterback play while having a pass-catcher or two from that same game, the positive correlation of those stacks is technically getting one contrarian play correct despite filling multiple roster slots. I feel this is easier than having a chalkier stack while trying to hit multiple individual low-owned plays throughout the rest of your lineup. Keep in mind that these are contrarian stacks, so you don't have to use these stacks in a large percentage of lineups to be overweight on the field.
QB/RB1/WR1 Stack
QB
Josh Allen

($5,300 DK/$7,500 FD)

RB

Devin Singletary

($4,200 DK/$5,700 FD)

WR

John Brown

($5,200 DK/$6,300 FD)

Josh Allen and John Brown could be a very popular stack especially against a Giants' defense that just got lit up against the Cowboys. To make it a bit more contrarian, I like adding in Devin Singletary. Singletary remains the number two running back on the depth chart, however, the tale is in the usage. Singletary played 70% of running back snaps and gained 98 yards on nine touches. While that may not be repeatable, it should have Sean McDermott getting him more involved this week. Adding Singletary makes this stack much more unique.

John Brown saw a 27% target share and nearly 40% of the team's total air yards. We are finally seeing Brown in a top-dog role, rather than a one-trick pony deep ball receiver like he'd been used at previous stops. He ran a myriad of routes against the Jets and is being treated like the top target in the Bills offense. Add to that Josh Allen has the ceiling busting rushing ability and this stack could really crush. Allen did have four turnovers last week, but two were very fluky deflections right off of receivers' hands. This stack currently ranks as the second-best 3-man stack value for DraftKings and the eighth-best for FanDuel.
QB/WR1/WR2 Stack
Ben Roethlisberger

($5,800 DK/$7,600 FD)



JuJu Smith-Schuster

($7,500 DK/$8,100 FD)



James Washington

($3,600 DK/$5,500 FD)

The Steelers got waxed in Foxboro, which is becoming a trend. The narrative surrounding the Steelers' offense on Monday morning questioned whether or not their offense is going to struggle this year. Returning home against the Seahawks could be a deceptive bounce-back spot. The Seahawks just allowed Andy Dalton to rip them up for 400 yards through the air, so they definitely have kinks to work out on the back end. They currently rank 19th in adjusted fantasy points allowed to the quarterback position. Last week Donte Moncrief saw a 21% target share and flopped pretty hard.

This is speculation, but I think we see Roethlisberger go to other receivers this week. James Washington saw a 13% target share, but a 36% share of the teams air yards, meaning they were targeting him deep. He ranks third in the league with 169 air yards which only translated to 51 yards in Week 1. At his salary, if he and Ben connect on one of those deep targets, he instantly hits value. JuJu Smith-Schuster didn't produce to expectation, but he had Gilmore draped all over him for most of the game. He's in line for a bounce-back week as long as there are no reports that he will be limited due to his injury. We have to capture the leverage of recency bias with the Steelers poor performance in Week 1 and roster them at low ownership before the offense erupts.
QB/WR1/Opp WR 1 Stack
Jared Goff

($5,900 DK/$7,600 FD)



Brandin Cooks

($6,300 DK/$7,000 FD)



Michael Thomas

($8,000 DK/$8,500 FD)

You could potentially add an extra player or two to this stack from either team, but I'm targeting Brandin Cooks in contrarian stacks. I don't think he'll be highly owned in the slightest, so you don't need a lot of him in your player pool to be overweight on him. He saw fewer targets (6) than both Robert Woods (13) and Cooper Kupp (10) last week, so Cooks may be the odd man out in most Rams' stacks this week. However, his average depth of target (13.3) dwarfs Woods (7.5) and Kupp (5). The Rams offense, in general, had a bit of a down week through the air, but we have Goff projected for a 300-yard, two-touchdown stat line against the Saints. The flow of the game should dictate a bit more passing. The offense also punched in two short touchdowns with Malcom Brown, variance at it's finest. This game could be the game of the week that you have to stack to be alive in tournaments. I prefer Goff to Brees for a few reasons—mainly salary, ownership, and home field. Michael Thomas should have had a much bigger day than he turned in last week, as well. He didn't get in the end zone, which hindered his stat line, but he commanded a monstrous 44% of air yards from Brees and 30% of the team's total targets. If you want to add Alvin Kamara or Robert Woods to this stack, it makes it even more contrarian, but the important aspect is the Goff to Cooks connection as it should be fairly low-owned.