NFL Week 15 Betting Picks & Predictions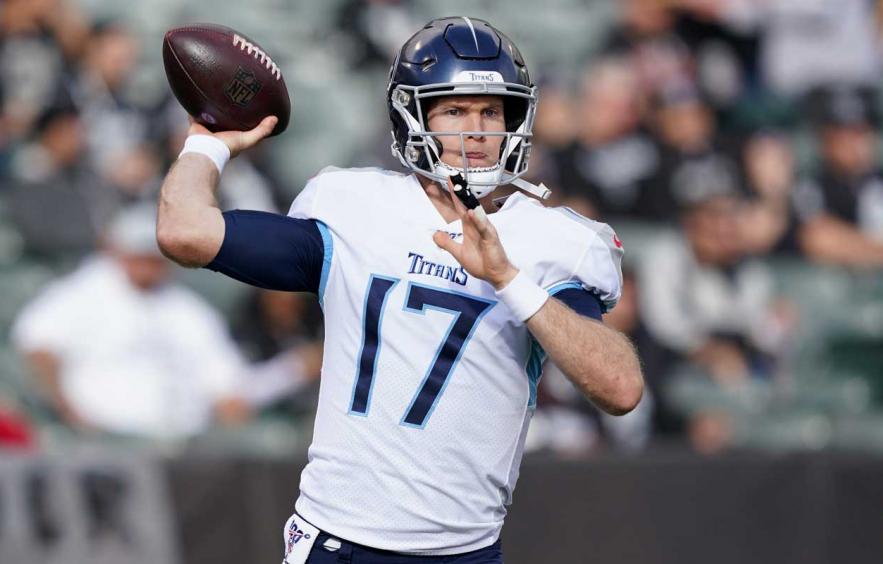 Thearon W. Henderson/Getty Images
Week 14 Recap: It took 14 weeks but I finally got my first sweep of 2019. The Ravens covered as a 6-point favorite in Buffalo while the 49ers (+3 at Saints) and Chiefs (+3 at Patriots) both won outright as underdogs. The perfect 3-0 Sunday improved my season record to 25-22-1, which makes us barely profitable, but profitable nonetheless.
Better yet, after a rough stretch from Week 8 through Week 11 when I went 5-10-1, I am now 8-2 against the spread over the past three weeks. Let's see if we can't keep the momentum rolling through Week 15…
313 Houston Texans at 314 Tennessee Titans
Spread: Titans -3
O/U: 51
Time: 1:00 p.m. ET
I could be way off, but I feel like every non-Titans, Colts and Jaguars fan is willing the Texans to an AFC South crown. We want to see Deshaun Watson and DeAndre Hopkins play in the postseason, so we almost talk in absolutes when it comes to Houston.
"Who you got in the AFC South?"
"Oh, the Texans. Yeah, for sure. Watson and Hopkins. Let's move on and not debate this any further."
In reality, I'm not convinced the Texans are better than the Titans right now. Sure they have the dynamic duo of Watson and Hopkins and yes, we're only two Sundays removed from the Texans beating the Patriots convincingly on Sunday Night Football. However, the Texans are fairly pedestrian on defense without J.J. Watt. They rank 14th in Football Outsiders' DVOA run metric and are 27th against the pass. They allowed rookie Drew Lock to make big play after big play a week ago and while their lopsided loss had just as much to do with three costly turnovers, Houston was still a step behind defensively all day.
Meanwhile, Ryan Tannehill has completely changed the look of Tennessee's offense. Yes, the Titans have benefited from a soft schedule but they're not merely a byproduct of facing three straight teams that won't be playing come January. The Titans still scored 42 points in two of their last three games and have topped 30 points in four consecutive weeks.
Tannehill looks like a different quarterback than he did in Miami and the Titans have responded to his leadership, unlike the painfully quiet Marcus Mariota. Tannehill should have excellent maneuverability in and out of the pocket last week and took several shots downfield while connecting with A.J. Brown (91 yards), MyCole Pruitt (42 yards), Anthony Firkser (39 yards) and Corey Davis (24 yards) on explosive plays. It helps that Derrick Henry is seemingly unstoppable late in the year and Brown has emerged as a legitimate weapon, but Tannehill is the biggest difference-maker for a rejuvenated Titans squad.
For my Chiefs-Patriots selection a week ago, I noted I was going to trust my eyes when writing about fading New England and backing Kansas City. I'm going to do the same here and lay the field goal with Tennessee. The Texans and Titans each have their flaws, but Tennessee is the more complete team at the moment and has home-field advantage. In fact, the home team is a perfect 6-0 against the spread in the last six meetings between these two teams.
NFL Week 15 Selection: Tennessee Titans -3
---
DraftKings Sportsbook Deposit Bonus: Available to Current & New Users! Create an account, deposit and DraftKings will match 50% of the deposit amount up to $500. Additionally, new users will get their first bet matched with up to a $200 risk-free bet.
---
Spread: Seahawks -6.5
O/U: 48.5
Time: 1:00 p.m. ET, Sunday, December 15
I might be one of the few football-watching fools who doesn't believe the Seahawks are as good as their 10-3 record would indicate, but that doesn't mean I won't jump on Seattle if I like the matchup. And I like the matchup for the Hawks this Sunday in Charlotte.
The Panthers have one of the worst run defenses in the league and that was before they lost defensive tackle Dontari Poe to a torn quad. The Falcons haven't been able to establish the run all season and yet they gained 159 yards on the ground last week in their 40-20 blowout of the Panthers in Atlanta. Carolina has allowed a league-leading 24 rushing yards this season and now face the No. 3 rushing team in the NFL this weekend when Seattle comes to down.
Meanwhile, the best time to back Russell Wilson is after a loss. Since he entered the league in 2012, the Seahawks are 24-11-2 against the spread following a loss. That's good for a 68.6% ATS winning percentage. In those games, Seattle won by an average margin of 9.3 and covered by an average margin of 4.5. After they completely laid an egg to division rival the Rams last week, you know Wilson and Co. will be sharp this weekend.
The Panthers looked like they quit two weeks ago in their loss to the Redskins. They didn't play inspired ball for interim head coach Perry Fewell last week, so what makes anyone think Carolina will show up for this one on Sunday? Carolina's season started to spiral as soon as Christian McCaffrey was stuffed at the goal line in Green Bay just over a month ago.
NFL Week 15 Selection: Seattle Seahawks -6.5
---
Looking for more picks? Check out Sharp Angle Sports for access to Anthony's CFB selections and exclusive NFL selections from SuperContest Winner James Salinas, who is a documented 63% ATS over 320 NFL selections since 2015.
---
327 Atlanta Falcons at 328 San Francisco 49ers
Spread: 49ers -11
O/U: 48
Time: 4:25 p.m. ET, Sunday, December 15
After the Falcons routed the Panthers 40-20 and it was revealed that the Niners would be without cornerback Richard Sherman (hamstring), center Weston Richburg (torn patellar tendon) and pass-rusher Dee Ford (hamstring) for the foreseeable future, I was hoping oddsmakers would set this line around 7.
No such luck. No matter, we'll do it the hard way.
Over the past two seasons, I have labeled the Falcons as paper tigers. I don't know what got into them back in mid-November when they smacked the Saints 26-9, but that performance was clearly an aberration. Against legitimate playoff contenders, the Falcons shrink. They lost by 16 to the Vikings, by 14 to a Titans team that still had Marcus Mariota under center, by 21 in Houston, by 27 to the Rams, by 7 to the Seahawks and by 8 to the Saints on Thanksgiving night. Their four wins came against the aforementioned Saints, a Week 2 victory over the Eagles in a game they probably should have lost, and a twin killing against a Panthers team that has since fired head coach Ron Rivera.
Rarely do I play double-digit favorites or underdogs, but I'm making an exception this weekend. Nick Bosa is going to take fellow rookie Kaleb McGary's soul on Sunday, just as New Orleans defensive end Cam Jordan did on Thanksgiving night in Atlanta. The Falcons traded up to the 31st overall pick in April's draft to nab McGary because they liked his tenacity in the run game. Perhaps they should have watched his feet because the slow-footed tackle is getting abused by faster edge rushers like Bosa.
Even in a blowout win last week, the Falcons still had issues protecting Matt Ryan, who also could have had a bigger day had he not missed a few open throws. Calvin Ridley, who had five receptions for 76 yards and a touchdown in the win over the Panthers, is also out for the season due to an abdominal injury. Thus, not only will Ryan will be under siege by the No. 1 pass rush in the NFL, but he will also be without one of his top weapons.
One of the reasons why the Falcons have had so much success versus the Panthers this year is because Carolina ranks dead last in Football Outsiders' DVOA run metric. Atlanta also ran the ball effectively in New Orleans when it upset the Saints back in November. The problem is the 49ers rank ninth in run defense DVOA, so Ryan will be a sitting duck once the Falcons' offense inevitably falls behind the chains.
On the other side, Jimmy Garoppolo is coming off arguably his best performance of the season and will face an Atlanta secondary that will be without its top corner Desmond Trufant (broken forearm). Granted, Trufant has dealt with injuries and inconsistency all season, but Garoppolo should greatly benefit from facing a young, inexperienced Atlanta cornerback group.
Finally, after Kyle Shanahan shredded a much better New Orleans defense last week with his outstanding play-calling, he should take former boss Dan Quinn behind the woodshed this Sunday. The Falcons aren't without talent on defense, but it's one of the most poorly schemed units in the league.
NFL Week 15 Selection: San Francisco 49ers -11
321 Buffalo Bills at 322 Pittsburgh Steelers
Spread: Bills +1.5
O/U: 35.5
Time: 8:20 p.m. ET, Sunday, December 15
I'm going to keep this one short and sweet: I'm taking the better team on Sunday night. The Steelers have a ferocious pass rush but the Bills have one of the more underrated offensive lines in the NFL.
Yes, Buffalo struggled with Baltimore's blitzes last week but the Bills still had the ball deep in Ravens territory in the closing minutes with an opportunity to send the game to overtime with a touchdown and a PAT. The Ravens are largely considered the best team in the AFC, if not the NFL and the Bills, despite not playing a very clean game, gave themselves an opportunity to win. Even when I pick against them like I did last week, the Bills continue to impress me.
The Steelers, meanwhile, are severely limited offensively. Their defense has been outstanding and Mike Tomlin deserves consideration for Coach of the Year with the way he turned the Steelers around following Ben Roethlisberger's early-season injury. But at some point, the dam is going to break and the defense is going to be able to carry the offense. Just because Devlin Hodges has had some gritty moments this year doesn't mean he's not ripe for the taking.
The way to beat Buffalo is to attack its run defense and force Josh Allen into some bad mistakes. That's why I laid the points last week with Baltimore. That said, the Bills have an excellent pass secondary and the Steelers rushing attack is too inconsistent. Give me the Bills in a game we might look back to as the season-ender for the Steelers.
NFL Week 15 Selection: Buffalo Bills +1.5
2019 NFL ATS Betting Record
Week 1: 1-2
Week 2: 1-2
Week 3: 3-1
Week 4: 3-1
Week 5: 2-1
Week 6: 1-2
Week 7: 2-1
Week 8: 1-3
Week 9: 1-3
Week 10: 2-2
Week 11: 1-2-1
Week 12: 3-1
Week 13: 2-1
Week 14: 3-0
Season Total: 26-22-1 (54%)