O-Line Rankings and Matchups to Exploit: Week 12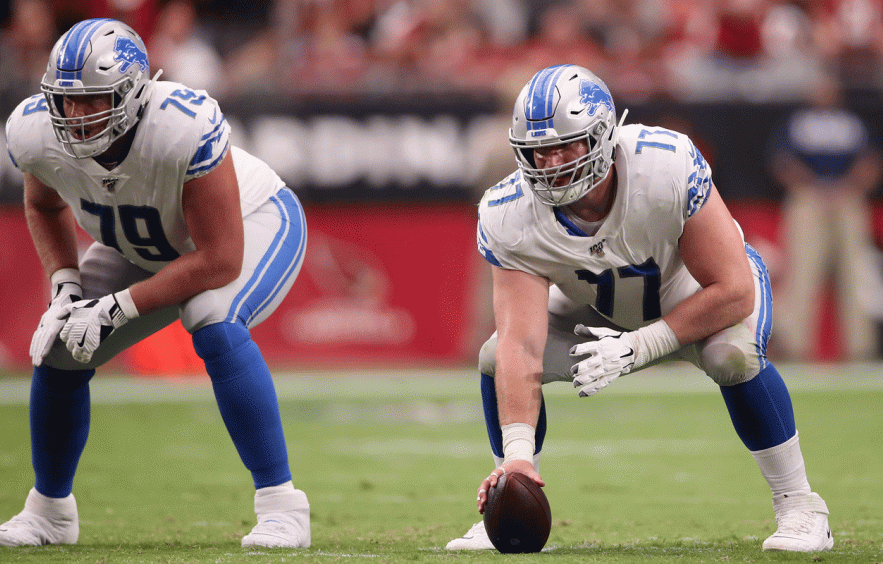 Christian Peterson/Getty Images
Evaluating offensive line play regarding its effect on fantasy football output has been a stone unturned throughout the course of our game within a game. Here at 4for4, we're dedicated to looking at fantasy pieces from all angles, and that includes the positive and negative impact an offensive line has on that team's fantasy assets.
Below I'm going to be digging into specific weekly matchups between offensive lines and the opposing defense's aFPA —one of the many useful tools available to us here at 4for4. Many sites publish raw fantasy points allowed by position, but 4for4 goes a step further and adjusts those numbers for a defense's relative year-to-date schedule strength. Beginning this week and moving forward, aFPA will reflect the current season since we believe the three weeks of information begins to show reliable numbers and patterns.
Let's begin by diving into the passing game to see what o-line/defense matchups we can exploit.
Favorable Quarterback Matchups
Week 1 Quarterback Matchups

| Team | aFPA | Opponent | O-Line Ranking | Diff |
| --- | --- | --- | --- | --- |
| MIA | 11 | @NE | 1 | -10 |
| NYG | 21 | PIT | 2 | -19 |
| CLE | 26 | @BAL | 3 | -23 |
| NYJ | 32 | @BUF | 4 | -28 |
| DET | 31 | CHI | 5 | -26 |
| GB | 23 | @MIN | 6 | -17 |
| CIN | 7 | LAC | 7 | 0 |
| DAL | 9 | @LAR | 8 | -1 |
| LV | 20 | @CAR | 9 | -11 |
| ARI | 22 | @SF | 10 | -12 |
| TEN | 17 | @DEN | 11 | -6 |
| MIN | 8 | GB | 12 | 4 |
| WAS | 14 | PHI | 13 | -1 |
| JAX | 30 | IND | 14 | -16 |
| HOU | 10 | @KC | 15 | 5 |
| NO | 27 | TB | 16 | -11 |
| ATL | 28 | SEA | 17 | -11 |
| TB | 24 | @NO | 18 | -6 |
| DEN | 13 | TEN | 19 | 6 |
| LAR | 5 | DAL | 20 | 15 |
| BUF | 12 | NYJ | 21 | 9 |
| IND | 16 | @JAX | 22 | 6 |
| BAL | 2 | CLE | 23 | 21 |
| KC | 1 | HOU | 24 | 23 |
| SEA | 29 | @ATL | 25 | -4 |
| PHI | 15 | @WAS | 26 | 11 |
| NE | 3 | MIA | 27 | 24 |
| LAC | 4 | @CIN | 28 | 24 |
| CAR | 18 | LV | 29 | 11 |
| CHI | 25 | @DET | 30 | 5 |
| PIT | 19 | @NYG | 31 | 12 |
| SF | 6 | ARI | 32 | 26 |
Basically, what we're looking for here is a tall bar (a team ranked low in aFPA) towards the left of the graph (a team ranked high in offensive line play) for a positive correlation to offense and a small bar towards the right to a positive correlation for a defense. Here are the plays that stick out to me:
Raiders

@

Jets

This game bodes well for the likelihood of clean pockets for Derek Carr. The New York Jets have only one player inside Sports Info Solutions Pressure% top-50 (linebacker Jordan Jenkins - 48th) and Oakland has allowed only 27 quarterback hits—the least in the NFL thus far. This will allow Carr to open up the passing game and use the entirety of the field with his extra allotted time, benefitting the deep(er) passing game. With his massive 15.0 average depth of target (seventh-highest, minimum 25 targets), Tyrell Williams should be the largest beneficiary, followed at a distance by Hunter Renfrow and Darren Waller.

Renfrow and Waller make for decent plays, and with the present landscape of the tight end position, it will be next to impossible to bench Waller if you have him in season-long leagues. It is worth noting, though, the Jets rank 12th in adjusted PPR fantasy points allowed to the tight end position while allowing the second-most points to the wide receiver position. Renfrow slides in as an acceptable WR3 but the ceiling is capped with his 6.7 aDOT.
Eagles

vs.

Seahawks

Even with a couple of absolutely dominant performances from a resurgent Jadeveon Clowney, the Seahawks are still a shell of their former pass-rushing self, ranking 29th in Football Outsiders' Adjusted Sack Rate. Can Philadelphia's powerful — yet aging — offensive line help to resuscitate a struggling passing attack in a winnable matchup? Much of that, for better or worse, depends on Nelson Agholor who has received 32 targets in the three games since Alshon Jeffrey has been incapacitated. For a deep dive on Agholor's 2019 season, I suggest this read from Eagles journo Jeff McLane, but the long and short of it is this; Agholor is earning a paltry 0.9 yards per route run, good enough for a last-place finish amongst all receivers this season.

Instead of worrying about the inconsistencies of Nelly, maybe we should just embrace the possibility of the Eagles boasting two tight ends with very possible paths to a top-six TE finish this week. Regardless of whether or not Jeffery is on the field, the offense runs through Zach Ertz and his 25% target share but Goedert has also become more involved in the offense lately with 20 targets and three touchdowns over his last four games.

If you have any shares of Carson Wentz you know firsthand how frustrating this season has been. Pre-season rumblings that he could be back in MVP form have cratered as he only has three games of either 300+ yards passing or 3 touchdown passes. He makes for a very intriguing play this week on Draftkings, though, where he's priced as the QB13 on a main slate that only sports 22 quarterbacks.

PostScript: Nelson Agholor did not practice Thursday, would further boost tight end usage if he were to miss Sunday.
Lions

@ Redskins

Whew. What a star-studded game we're set to attack here, am I right? On a week where there's only one game with an over/under higher than 48.0 (Tampa Bay/Atlanta - 51.5) and six games at or below 45.0, we need to mine for value where we can. Though it may seem strange with Jeff Driskel at the helm, this Washington team is one we can pick on. The Redskins bottom-ten pass rush (according to Adjusted Sack Rate and QB pressures) facing off against Detroit's ninth-ranked pass-blocking unit already looks good on paper but pair that with one of - if not the - worst coverage team in the NFL and things are starting to get inticing. There are 135 cornerbacks who have seen at least ten targets this year and Washington has the great privilege of rolling out three of the worst; Josh Norman (129th - 134.42), Fabian Moreau (132nd - 145.83), and Aaron Colvin (134th - 146.59) have allowed some of the highest QB ratings when in coverage. This isn't a small sample size either, they have combined for 561 coverage snaps on the year.

Driskel enters this game with a stocked cupboard of athletic playmakers in Kenny Golladay, Marvin Jones, T.J. Hockenson and to a lesser extent, Danny Amendola. After Bo Scarbrough's plodding 55 yards on 14 carries last week, and J.D. McKissic's uninspiring 36 yards on 10 carries the week before that, it'd be nice if Detroit would allow the offense to run through Driskel, especially in this soft matchup. As mentioned with Carson Wentz above, Driskel also seems to be priced pretty disrespectfully on Draftkings. Priced at QB15 on a slate with only 22 quarterbacks, Driskel has four total touchdowns and a sneaky 88 rushing yards in his two starts. He has enough of a floor to consider him in DFS and there's more than one 2QB league in which I'll be plugging him in.
Favorable Defensive Matchups
Ravens

@

Rams

The Ravens were in this article last week and they definitely produced against the Houston Texans, notching seven sacks, an interception and a fumble recovery while wreaking havoc on the Texans' weak interior line. This week they have a similar matchup against a Rams team that is anchored by two solid (if declining) tackles but are frail up the middle. Baltimore's Jihad Ward — who came into last week's game with seven QB hurries in 2017 and 2018 combined — contributed to the fray, logging three hurries after logging exactly zero through his first three weeks while playing in Indianapolis. The Colts used him almost exclusively as a nose tackle while the Ravens have started shifting him all over the formation.

Baltimore's propensity to get a hefty rotation of players like Ward into the fold may not bode well for the Rams. Though they had a great showing against Khalil Mack and the Bears on Sunday Night Football, L.A. didn't have quite the same showing the last time they faced an aggressive, high-level pass rush. In Week 10 against the Steelers, the Rams allowed a whopping seven different defenders to notch a QB hurry, as the team combined for 19 of them while limiting the offense to three interceptions and 12 points.

Projecting D/ST fantasy points is a fickle mistress but Baltimore is in a good situation to score another double-digit performance.
Jaguars

@

Titans

Jacksonville will likely end up being my favorite "floor play" defense of the week against a Titans team who rank in the bottom-10 in both pass play percentage (22nd) and pace of play (25th). When Tennessee does decide to pass the ball they will be doing so behind a line that has allowed 71 QB Hits and flaunts a 12.2% Adjusted Sack Rate — the worst in the league. On top of failing to keep their quarterback clean, the Titans also rank 23rd in offensive line penalties with their left tackle Taylor Lewan leading the league in o-line penalties (9) since returning from his four-week suspension to start off the season.

The Jaguars are three-point road underdogs but I see a lot of paths where they could flip the script on the Titans—particularly if Nick Foles can take advantage of DVOA's 22nd ranked pass defense with one more week distancing him from his collarbone injury.
Favorable Running Back Matchups
The above rushing aFPA graph will work exactly the same way as the QB aFPA graph worked; tall lines on the left are areas we want to attack and short lines on the right should make you second guess the fantasy pieces associated with those offenses.
Steelers

@

Bengals

In what is likely the juiciest matchup on the slate, it sure would be nice to have access to James Conner but we're going to proceed as if he is not going to play on Sunday. He hasn't practiced yet this week and even when he was cleared last week he handled only five carries before re-aggravating his shoulder and leaving the game. Thus, the Steelers are left with a two-headed backfield of Jaylen Samuels and Benny Snell to take advantage of the porous Cincinnati run defense. As you'll notice in the graphic below, the Bengals defense is actually quite stout up the gut with the presence of defensive tackle Geno Atkins but the edge is extremely susceptible to big gains.
Photo courtesy of SharpFootballStats.com
The Cincinnati linebackers are simultaneously unable to help crash down on the edge in the run game or cover the running back in the pass game. This matches up greatly with the strengths of Jaylen Samuels, who has accumulated 38 targets in his last five games. Samuels is an easy play for this week where you've got him and Benny Snell makes for a decent Flex play for desperate RB-hungry teams.
Saints

vs.

Panthers

In the first week of life without Andrus Peat (for five more games, at least) the Saints offensive line didn't miss a beat. They allowed one sack in their 34-17 win over Tampa Bay, and that only occurred when Alvin Kamara stayed in to pass protect and got beat. This week New Orleans gets the run-funnel defense of Carolina, who rank as DVOA's seventh-best pass defense but land as the 32nd ranked rush defense. With the Saints sporting the far-and-away highest Adjusted Line Yards (5.17) in the league, we should be seeing a lot more usage from Alvin Kamara than the 17 carries he's had over the last two weeks.

It's very possible that Latavius Murray vultures some goalline work against a Carolina team that has allowed the most rushing touchdowns in the league (18), but even if we strip Kamara of a TD I still think I'll be building cash game teams around him in DFS this weekend. He is $2,300 cheaper than the man on the other team; Christian McCaffrey. As with Benny Snell for the Steelers, Latavius makes for an acceptable play on desperate teams because of that scoring upside.
Running Backs with Bad Matchups
As opposed to breaking down every bad match-up through the rest of the slate, here are some running backs I'm looking to avoid because of their poor offensive line and the strong defensive fronts they will be facing:
That's all I've got for this week, everyone. If there's something you'd like me to dig into specifically with regards to offensive line vs. defensive lines please give me a shout! For further reading regarding our aFPA statistic and how to use it in your favor, give John Paulsen's Sneaky Starts series a read!