Dead Weight Report: Week 12 Droppables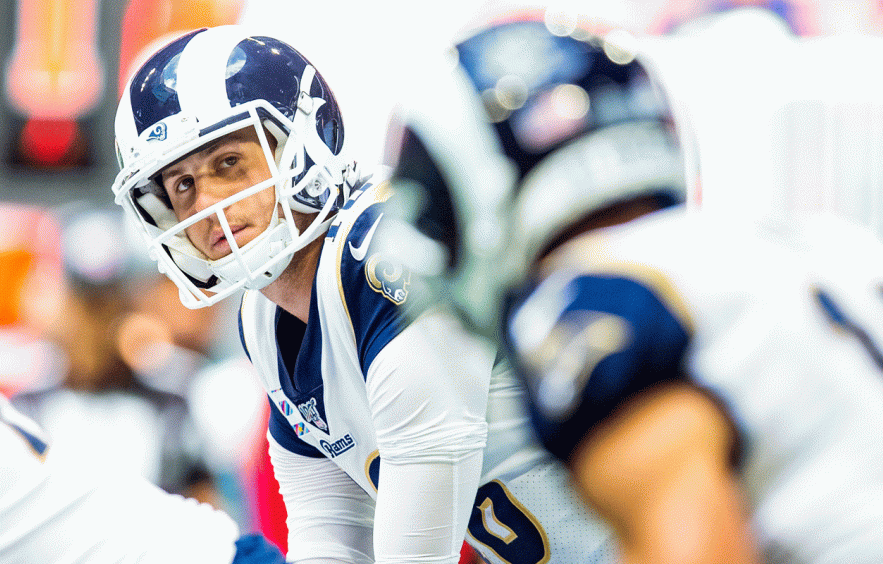 Carmen Mandato/Getty Images
We're close to, if not at, the win or go home point of the season, so there's no more time left to mess around with rosters. We all have players who are underperforming, should you hang on to them for another week or cut them loose now?
In this weekly article, I comb through the weak and underwhelming performances to see who's droppable in favor of some waiver wire magic.
Pre-list Note (again): Both Odell Beckham and JuJu Smith-Schuster deserve to be on this list, but I don't have the stones to drop either of them, and neither do you.
Jared Goff

, QB –

Rams

To say the Rams quarterback has been a disappointment in 2019 is a massive understatement. His output was solid for a few contests this season, but Goff has posted single-digit fantasy numbers in back-to-back weeks. He's most likely sunken many a best-ball team thus far, but for redraft, there's still time to rectify your situation at quarterback.

With a fantasy playoff schedule of Seattle, Dallas and San Francisco, Goff is looking at an average schedule-adjusted fantasy points (aFPA) ranking of 11th for those three contests, which has the potential to torpedo any chances for hoisting that elusive trophy. It may feel dirty, but dropping Goff in favor of a signal-caller with a softer schedule like Nick Foles or Jacoby Brissett could be a legit difference-maker.
T.J. Hockenson

, TE –

Lions

Tight end is spotty at best, but Hockenson just isn't cutting it as a serviceable starter for fantasy purposes. He hasn't posted more than 56 receiving yards since his Week 1 explosion and has only crossed the pylons twice all season.

The rookie is fourth in the pecking order behind Kenny Golladay, Marvin Jones Jr. and Danny Amendola, and they all take a hit with Jeff Driskel under center. Tilts with Minnesota and Denver are on the horizon, and both defenses play tough against the tight end, which doesn't exactly help Hockenson's outlook.
Robby Anderson

, WR –

Jets

This is a tough one to come to terms with as I was high on Anderson heading into this season, but it's time to call it. He and Sam Darnold are just not simpatico this season and it shows. The 26-year-old receiver has only one 100+ receiving yard game this season and has six contests with fewer than 24 yards.

He's always teetered on boom-or-bust, but Anderson is now a stretch as a WR4 on a weekly basis. His schedule is decent for the remainder of the season if you're in a league with a deep bench and want to hang on. If you need wins now to earn a playoff berth, though, let him go in favor of a wideout with a higher weekly floor.
Auden Tate

, WR –

Bengals

I hate to kick a guy when he's down, and Tate was carted off the field in Week 11 after suffering a brutal concussion along with a cervical strain. Even if healthy, Tate's outlook for the remainder of the season is grim while Ryan Finley is tossing the rock in Cincinnati.

He hasn't seen double-digits fantasy-wise since Week 6 and there are some wideouts on the waiver wire with greater potential moving forward. Let Tate get some much-needed rest on the waiver wire and grab someone like Deebo Samuel or Randall Cobb, who are in better situations offensively.
Brian Hill

, RB –

Falcons

The Brian Hill era was shorter than some stomach bugs but is much easier to get rid of. Replacing Devonta Freeman last week, Hill was putrid against one of the league's worst run defenses, showing no burst and meager directional mobility. The third-year back rushed 15 times for just 30 yards, with an additional eight-yard catch on three targets.

Even if Freeman is sidelined again for Week 12, the Falcons will take on a Buccaneers defense currently ranked first in the league against the rush. Now is the time for maximum points and keeping Hill is not the best strategy moving forward. Send him packing for Jonathan Williams, J.D. McKissic or even Tony Pollard if you're collecting handcuffs.