TJ's #Taek: Week 9 NFL DFS Recap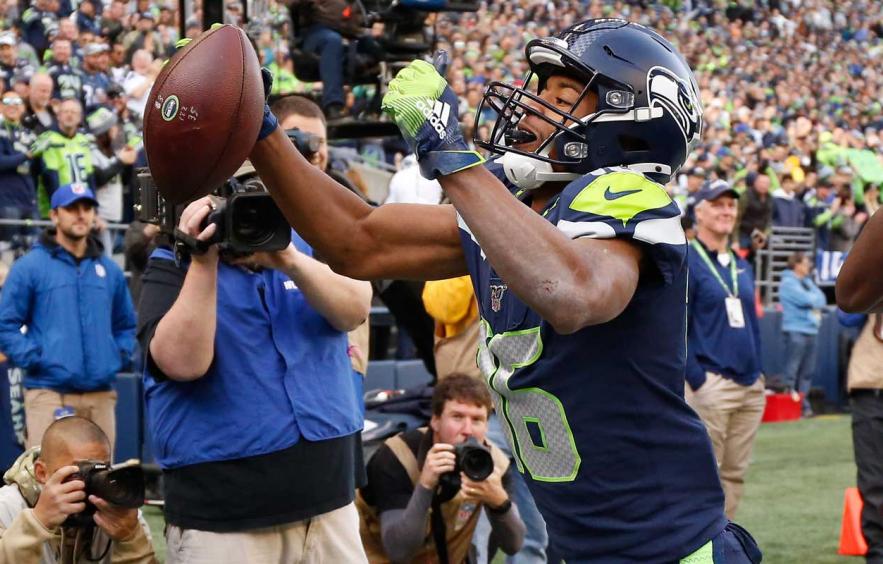 Otto Greule Jr/Getty Images
Week 9's winning lineups from the biggest contests on FanDuel and DraftKings can be used to tease out lineup-building strategies and offer clues on how you could have landed on a similar team. Reviewing your hits and misses each week is imperative if you want to be a profitable DFS player but examining winning lineups is also a useful exercise in cultivating a winning approach.
DraftKings Week 9 Millionaire Winning Lineup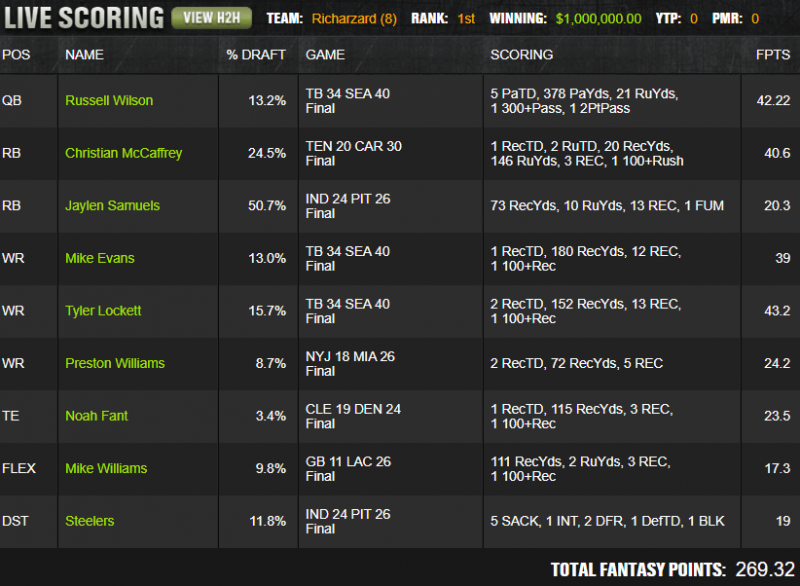 One of the toughest decisions of Week 9 was managing the shares of the Seahawks-Buccaneers game, especially on the Seattle side. Their point projection and Russell Wilson's fantasy projection was so much higher than the field that it was clearly the highest-ceiling offense to target but we have also seen quarterbacks approach 20% ownership in similar spots this season. It looked like the field may have leveled themselves a bit, as 13% is almost as low as you would expect Wilson's ownership to be if we ran this same exact week over 100 times.
A true stars and scrubs approach was absolutely necessary to pay up for all of this week's slate-breakers in one lineup. It obviously helps to have a $4,200 receiver and $3,000 tight end go off for over 20 DK points but it isn't always required. Often, paying down to get up to multiple studs is the highest ceiling play, as evidenced by this lineup and the four players who hit the 39-mark.
What Were the Indicators for the Low-Owned Plays?
Going into the week, Preston Williams and Mike Williams popped as top-12 values at receiver and top-five values priced under $5,000, according to 4for4's lineup generator. In a stars and scrubs build, pass-catchers are my preferred scrubs since the position is naturally so high variance. Preston Williams had seen at least seven targets in consecutive games and was entering a matchup with two bad defenses but two equally bad offenses. These bad versus bad scenarios lead to games with extremely wide ranges of outcomes, but that's exactly what we're looking for in GPPs. Mike Williams popped as a mid-season positive regression candidate and while he didn't find the end zone, his usage has been indicative of a player ready to explode.
One thing I've preached in this space is unrecognized volume and the Emmanuel Sanders trade left a target vacuum in Denver. Noah Fant quietly saw eight targets in Week 8 and while his performance in Week 9 wasn't a volume-driven one, his previous usage pointed to a potential rise in production.
FanDuel Week 9 Sunday Million Winning Lineup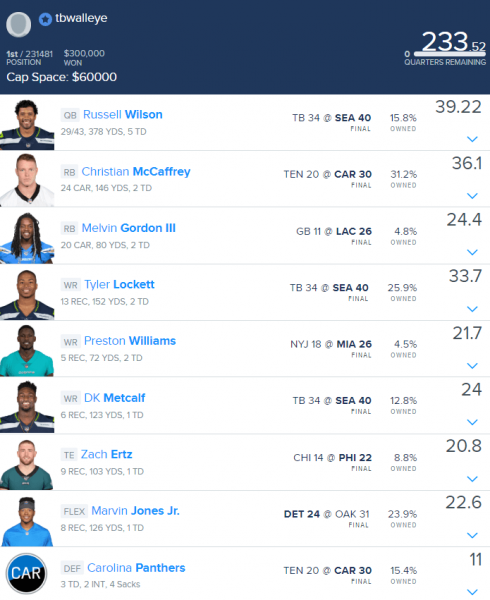 There wasn't a ton of mystery to this week's winning lineup, as tbwalleye targeted some of the most popular players and offenses of the week but when you take that approach in a massive field, a major differentiator is necessary. The Preston Williams play was already discussed but the Melvin Gordon dart proved to be one of the best leverage plays of the week. Aaron Jones was one of the most popular running back targets in Week 9 but the Packers have been one of the most obvious run funnel defenses in the league. Taking a chance on a game script that favored the Chargers in a game with a relatively small spread and high point projection was especially savvy since the Chargers' backfield is one the public has strongly ignored since Gordon's return. Gordon only saw 10 touches in Week 8 but his share of backfield work had steadily been increasing over Austin Ekeler in recent weeks. If you are building a lineup hoping for a good game script for the Chargers, Gordon is the likely beneficiary there.
TJ's Final #Taek