Sunday DFS Single-Game Breakdown: Cardinals at Buccaneers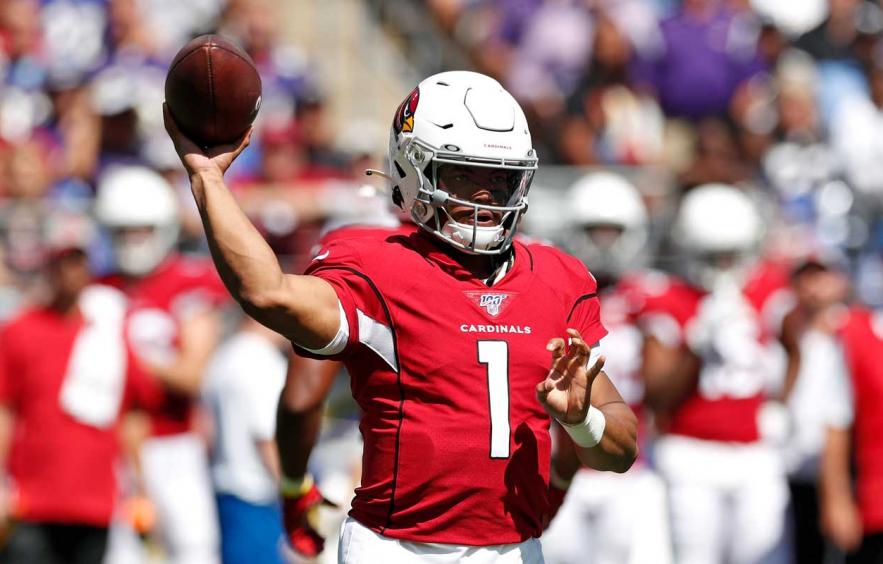 Todd Olszewski/Getty Images
The contest with the week's highest over-under isn't the most hateful for showdown purposes, as one defense in this matchup (Tampa) is being eviscerated via the pass while the other (Arizona) is being ripped on the ground and through the air.
Using the captain's spot on either quarterback in this one—Jameis Winston or Kyler Murray—would separate you from approximately no one in this single-game contest, but it would make sense in a more conservative cash game approach. The Cardinals are allowing the second most schedule-adjusted points to QBs, while the Bucs are giving up the third most.
Jamming both quarterbacks into your DK showdown lineup leaves you with less than $5,000 per player for the remaining four spots. That leaves you relying on Murray and Winston connecting with low-volume options priced well below guys like Mike Evans, Chris Godwin, Christian Kirk, and Larry Fitzgerald. You could, of course, put Godwin or Evans into your showdown lineup, then fill the other three spots with options in the $3,000 range (Peyton Barber, the Tampa defense, and the Cardinals defense among them). Rolling with Murray and Winston in a FanDuel single game lineup is slightly more workable—you'd be able to insert Ronald Jones (who seems on the verge of becoming something akin to a workhorse runner) without having to rely on desperation options in the final two spots in your FD lineup.
Assuming you're all in on Winston and Murray in your single game lineup, we land on two obvious stacking partners with good (great, maybe) matchups: O.J. Howard and KeeSean Johnson.
You're asking if Howard retired six years ago. He did not. He's still on the Tampa roster and he's slated to return from injury this week in a matchup that can't be ignored. You may have heard the Cards are bad against tight ends. It's true. They're allowing 7.2 tight end receptions per game, along with a touchdown per contest to enemy tight ends. Tight ends are averaging 90 (NINETY) yards per game against the Cardinals; no other defense in the league is allowing more than 74 tight end yards per game.
Howard, who's seen four targets in two of his past three games, could stumble into some opportunity here even though he's been treated as an afterthought in Bruce Arians' offense. Priced below Cameron Brate, Howard is the 14th most expensive option in this single game showdown on DK, and the 15th priciest on FanDuel. Perhaps even Howard could take advantage of a matchup from the fantasy football gods, however vengeful and angry they might be. You could conceivably stack Howard with Winston and Godwin—who's $400 cheaper than Evans on DK and $500 cheaper on FD—and expand your chances of seizing on the Bucs' implied total of 28.25 points. That would leave you without enough money to ensure points at every spot in your lineup though.
Johnson, the recipient of three targets and a touchdown in last week's loss to the 49ers, comes at a price tag of $3,600 on DK and $7,000 on FD and could be an ancillary piece of the Arizona offense who benefits if they approach or exceed their implied total of 23.75 points. There's almost no scenario in which Arizona will be able to establish the run in this one: Tampa allows the fewest adjusted points to running backs as opponents have largely abandoned the ground game against the Bucs, running the ball on less than 35% of their plays against Tampa's defense. Nearly 80% of the yards piled up against the Bucs this season have come through the air -- the highest rate in the league. With these teams combining for an average of 131 offensive plays per game, we could see Murray drop back a bunch, and not every pass can go with Kirk or Fitzgerald, right? Right? That leaves Johnson pitted against a Tampa secondary being gashed for 47.3 adjusted fantasy points by wideouts.
I'd be remiss—and I'm never remiss—if I didn't mention this game's kickers as viable, thrifty options in a showdown lineup.
Matt Gay, fantasy's seventh-highest scoring kicker headed into Week 10, is $500 more than Zane Gonzalez on FD and $200 cheaper than Gonzalez on DK. Usually, it'd be hard to justify paying more for the kicker on the road underdog, but we're dealing with Kliff Kingsbury, who seems perfectly content kicking field goals near the goal line while trailing. Last week was the first time Gonzalez didn't have multiple field goal tries; he has posted at least three attempts in five of Arizona's nine games. Only the Broncos allow more field goal tries than the Bucs. Combine that with this game's high over/under and Tampa allowing four red zone opportunities per week and you might have the recipe for a nuclear Zane performance. He's particularly appealing on FD as the cheaper of the two kicker options.
Gay has had multiple field goal tries in every game this season where the Bucs have maintained neutral or positive game script. He has six field goal tries over the past two weeks. Tampa's offense, meanwhile, is only scoring touchdowns on 60% of its possessions. It's not every day we can stack both kickers in the same single game lineup and feel good about it. We can here. How wonderful.