The Top DFS Contrarian Stacks: Week 1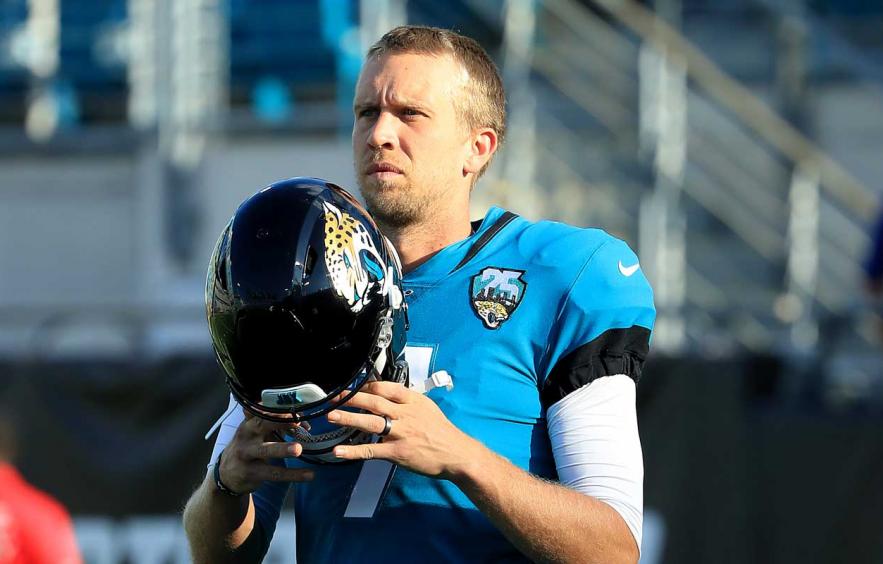 Sam Greenwood/Getty Images
This is a free sample of premium weekly content contained in the 4for4 DFS subscription. Not a subscriber? Sign up now!
When laying out contrarian stacks, I'll be using a combination of our Stack Value Reports and GPP Leverage Scores to find unique stacks that can take down a tournament. I encourage you to read the series on how to win a GPP in the DFS Strategy Hub. You'll quickly realize that taking down a tournament requires a balance of players ranging from low-owned to chalky.
I like building contrarian stacks around my chalkier core of players because you only have to get one instance correct for it to hit. For example, if we hit on a contrarian quarterback play while having a pass-catcher or two from that same game, the positive correlation of those stacks is technically getting one contrarian play correct despite filling multiple roster slots. I feel this is easier than having a chalkier stack while trying to hit multiple individual low-owned plays throughout the rest of your lineup. Keep in mind that these are contrarian stacks, so you don't have to use these stacks in a large percentage of lineups to be overweight on the field.
QB/RB1/WR1 Stack
QB
Nick Foles

($5,300 DK/$6,500 FD)

RB

Leonard Fournette

($6,100 DK/$7,200 FD)

WR

Dede Westbrook

($4,800 DK/$5,900 FD)

This stack comes in as a means to get unique around Dede Westbrook, who should be fairly chalky. Nick Foles targeted him on 7-of-10 preseason throws. I'm expecting a healthy target share for Westbrook in Week 1 against one of the few offenses that can put up a lot of points against the Jaguars. The game total currently sits at 52, and though Vegas lines can be wrong, it's no shock they believe the Chiefs and Jaguars will put points on the board. Leonard Fournette is reportedly healthy and ready for a full complement of touches. He sits in a unique price range right around ball carriers that should be much more popular. Dalvin Cook, Nick Chubb, and Austin Ekeler should all come in with higher ownership. I like this stack because of the concentration of fantasy points it provides. If the Jaguars do score around 25 points (or more) as implied by their Vegas total, it's very likely the benefactors from a fantasy point perspective will be these three. You can also make different variations of this stack by using Tyreek Hill or Travis Kelce as an added "run-it-back" piece or subbing one of them in for Fournette
QB/WR1/Opp. WR1 Stack
Josh Allen

($5,600 DK/$6,900 FD)



John Brown

($4,300 DK/$5,500 FD)



Robby Anderson

($5,200 DK/$6,300 FD)

Josh Allen proved to us in his final six games of 2018 that he possessed a wide range of outcomes scoring 13 fantasy points in a contest, but also topping 30 twice. With a new weapon in John Brown, who is a volatile player in his own right, Allen can really push the envelope on ceiling projections. Allen is a threat to run, topping 100-yards multiple times in 2018. When Brown had Flacco at quarterback, he topped 20 fantasy points twice. It was all downhill when Lamar Jackson took over, however, as the Ravens shifted to a more run-centric offense that didn't give Brown the deep shots necessary to produce fantasy points. Basically, Allen is a chuck it deep or run quarterback. In this game against the Jets who were a pass-funnel last year, I could see a game script develop in which both offenses actually outperform the respective defenses. Make sure to check Robby Anderson's status as he is a bit dinged with a calf injury, but has practiced and should play. If he doesn't suit up, Jamison Crowder is a viable run-it-back candidate. However, I prefer Anderson as the deep threat in the Jets' offense with the much higher ceiling. According to our stack value reports, this exact stack has the second-highest point-per-dollar ceiling projection on FanDuel and the third-highest point-per-dollar ceiling projection on DraftKings.
QB/WR1/TE1 Stack
Jameis Winston

($6,600 DK/$7,500 FD)



Mike Evans

($7,900 DK/$7,900 FD)



O.J. Howard

($5,000 DK/$6,500 FD)

One way of making a potentially popular stack a bit more unique is to leave out the highest projected owned player. This can be very risky, because if the Buccaneers do put up 30+ real points, Chris Godwin will undoubtedly have an opportunity to smash value. But it's absolutely conceivable that this game shoots out and Mike Evans and O.J. Howard are the benefactors. It's a unique way to leverage a highly-owned Buccaneers passing attack. There may be high ownership on Jameis, but there won't be very many lineups that exclude Godwin in favor of the other two Buccaneers main pass-catchers. In addition to this, you could potentially add George Kittle, Dante Pettis or Marquise Goodwin (in order of preference). When I build a cash game lineup and a tournament player pool, I often hedge the two contest styles against each other. Godwin will be a popular cash game play and rightfully so, but if the hype has gotten too out of hand and you successfully hit on a Buccaneers stack that doesn't require Godwin to win a tournament, you've successfully hedged your cash game bankroll with a contrarian tournament stack.