How to Not Lose Your Fantasy League in the First Round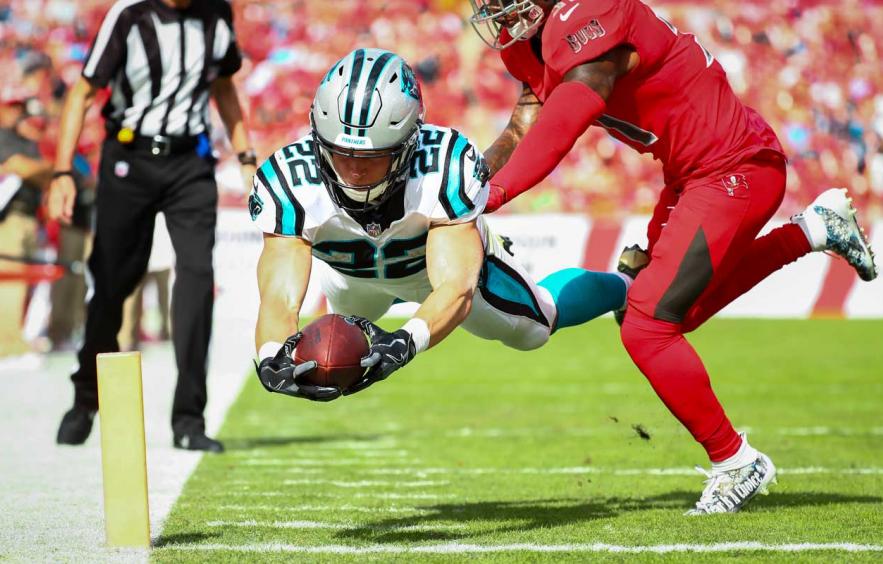 Will Vragovic/Getty Images
The first round of the draft can be somewhat stressful. The adage 'you can't win your draft in the first round, but you can lose it' hangs over that pick. Some of us spend the entirety of the offseason preparing for next season's draft. Free agency. The NFL draft. Training camp. Milestones that help set expectations and adjust our ranks. Every blurb, highlight video, and interview are scrutinized for nuggets that can affect ADP. By draft day, rankings are finalized with more certainty in our selection. Because, as the data suggests, it's hard to make up for an error here.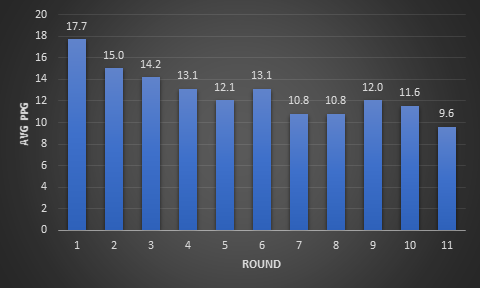 The first round has held the greatest fantasy production rate for the past four seasons. These are our every week starters. The studs we can't ever sit. A reach or sacrificing opportunity cost (e.g. drafting a quarterback) would crater your team before the season even starts. That's why factors like draft slot and positional scarcity must be integrated into our process.
To ensure a solid start, let's break down the first round into three phases: early, middle, and late. Within each, a process for approaching the first round is laid out using recent draft trends and 4for4's rankings.
Early First Round
Trends
Running backs. Running backs everywhere.
'Safe' and 'secure' are common first-round descriptors and the first RB tier encapsulate that notion. Offensive situation and personal preference are often used as a tie-breaker. Regardless, it's hard to pass up these four.
Ezekiel Elliot's contract negotiations have generated enough uncertainty to move him out of the early first round. There's speculation a deal is close, but fantasy managers want security and safety in their first-round pick. David Johnson has slipped into the early first round as optimism around Kyler Murray and the Cardinals continues to grow, but the top four has been set for months. The RB position itself has been lifted by league-wide shifts towards the pass. Top-24 running backs totaled 1,457 targets in 2018. That's a 17.5% increase when compared to 2015. However, digging a bit deeper, the top four standout when looking at their respective teams from 2018.
James White and Chris Thompson are the only other running backs with this type of team target share. When you adjust for player archetype, their value to their respective teams (and our fantasy teams) becomes apparent. However, each come with their own flaws.
Approach
From Barkley's poor offensive situation to Ezekiel Elliot's holdout, the primary separation between these players are our own evaluations. Workloads of this type are hard to find in the later rounds barring an injury at the top. Draft strategies like the 'modified ZeroRB' can set up an optimal roster given the plethora of high-volume receivers available in the 2nd round. Without having to reach outside of these 4 or 5 players, the early phase of the first round can easily set up your draft for an optimal result.
Middle First Round
Trends
Recency bias has placed a heavy emphasis on the RB position. It makes the early picks more appealing, but there are still high-value targets in the middle phase of the first round.
Players Available in the Middle First Round with Projected Finishes.

| Name | Projected PPR Points | ADP |
| --- | --- | --- |
| DeAndre Hopkins | 216 | 1.05 |
| Melvin Gordon | 166 | 1.06 |
| LeVeon Bell | 197 | 1.07 |
Melvin Gordon's holdout takes him out of consideration here, but, prior to his decision, he'd be found here. In addition, before the NFL's decision on Tyreek Hill, Travis Kelce could be seen here. Regardless, there's a level of subjectivity injected into this phase of the draft.
Priority and preference hinge on positional availability and evaluation in the following round. Essentially, your roster's foundation comes from two players instead of one. That's indicated by the nearly 100-point gap between the early-round players and those found here in the middle. The margin of error becomes wider due to a wider pool of similar players allowing for a level of flexibility not seen in the early parts of the draft.
Approach
Safety and consistency can still be found in this portion of the first round. Hopkins has averaged 31% of his team's targets since 2015. Will Fuller is still recovering from an ACL tear and Keke Coutee missed the majority of 2018 with his own injuries. Hopkins will still command a healthy target share in 2019. Davante Adams has only grown into a similar share and Le'Veon Bell has switched teams. If security is still the objective, then Hopkins presents the highest floor out of the group. From there, a variety of draft strategies can be implemented. Regardless, a mixture of floor and weekly upside via targets and touchdowns are the goals in this phase of the first round. A quick dive into your own league's tendencies will give insight into players available in the second round solidifying your choice in the middle of the first.
Late First Round
Trends
Not much separates the late first round and the early second round. ADP starts the conversation with short-term draft strategy mixed into the process.
Pass catchers dominate the end of the first round with the primary running back tiers depleted. Each option is attached to a top tier quarterback and offense. This continues the flexibility in strategy offered in the middle phase of the first. Also, the margin of error becomes wider with the second round coming soon after the late pick.
Approach
Available players in the second round should be a part of the process for drafting in the late first. Like the mid-first process, roster foundation and core strategy are determined with these picks. A 'ZeroRB' approach is viable with receivers like Odell Beckham and Juju Smith-Schuster headlining the early second round. Running backs with risks like Todd Gurley and Joe Mixon can be acquired with the knowledge more assets are needed to shore up the position. But again, targets, touches, and positive situations are the primary traits to identify. While more risk is assumed here, projected floors will set a reasonable foundation with peak weeks resulting in an optimal roster.
Let's Draft!
The first round generates the most oohs and aahs during the draft. And it should. Draft capital and the playmakers typically attached to that capital are the elites. The players in the highlight reels we replay during the offseason. Drafting good players are part of what makes fantasy football fun and that starts in the first round. ADP can be a general guide, but this piece gives structure depending on your draft slot. The only certain way to lose your draft in the first round is to take a quarterback.
Standard leagues set the market on quarterback. By only starting one each week, it creates a greater demand at running back and wide receiver. Unless a starting quarterback can make up for two running backs or three wide receivers, early draft capital should always be spent on those positions. Tight end, another 'onesie' position, can be addressed on a case by case basis depending on projected volume and situation (e.g. Travis Kelce). Regardless, the optimal route is to acquire talent at the positions of need until the opportunity cost is reduced.