How Donte Moncrief to Pittsburgh Impacts Fantasy Football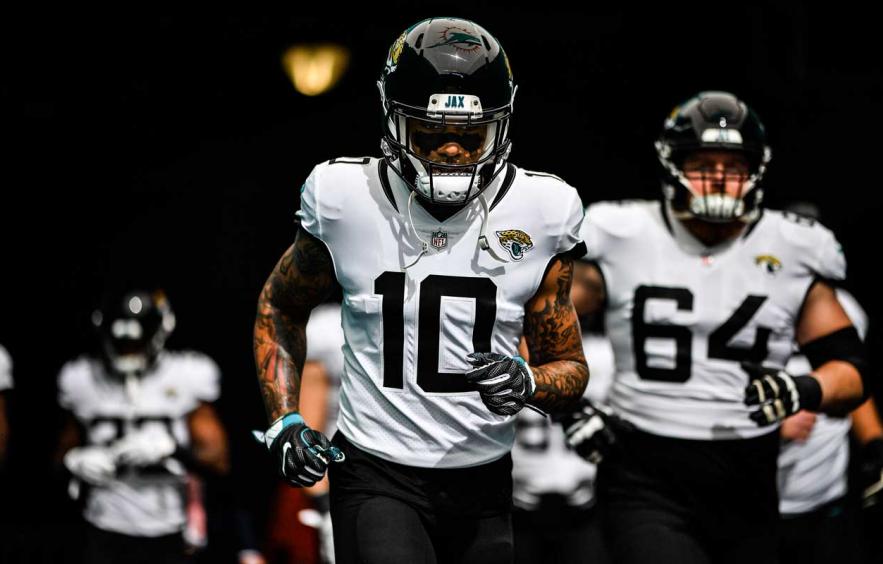 Mark Brown/Getty Images
Donte Moncrief's signing was overshadowed by the blockbuster deals that shook the league at the start of free agency. Regardless, just two days after losing their All-Pro wide receiver, the Steelers added Moncrief. Let's look at how the trade affects the player, his new team, and the one he just left.
The Impact on
Donte Moncrief
How Moncrief Performed Indianapolis
Donte Moncrief is something of an enigma. He played behind Reggie Wayne and T.Y. Hilton his rookie season as the Colts looked to replace the aging star. Moncrief's 594 air yards were fourth on the team with all signs pointing towards a positive career trajectory. However, injuries derailed his time in Indianapolis. Andrew Luck missed over half the 2015 season with a shoulder injury and lacerated kidney. Moncrief himself missed five games with a fractured scapula in 2016.
With Andrew Luck out in 2017, the football community began to wonder about the Mississippi product. Questions surrounding Moncrief's consistency were prevalent as Scott Tolzien and Jacoby Brissett went under center. Since that time, Moncrief's touchdown rate and red zone usage have buoyed his fantasy production. Five of his six touchdowns in 2015 were collected while Luck was still active. His 20.7% TD dependency rate (percentage of fantasy points from TDs) wasn't a concern when combined with his 105 targets (both marks were 27th in the league).
The touchdowns increased in 2016, but the usage fell off dramatically. He finished 2016 with the highest TD dependency rate (40.9%) and almost half the targets. Unable to meet his fourth-round ADP, both the fantasy and football community began to sour on Moncrief.
How Moncrief Performed in Jacksonville
Consensus surrounding Moncrief's one-year deal with the Jaguars was that his injuries were too great to overcome. The 'prove-it' $7M deal placed much of the onus on the once tantalizing talent. At first glance, we can see why he's now on his third team.
Moncrief was unable to separate himself from his teammates. Among the 3 primary receivers throughout the 2018 season, Moncrief was second in on-field usage and production. That's with Keelan Cole only playing 11 games. It doesn't get much better when you drill into the weekly stats.
Of Moncrief's 90 targets, 34 of them came in just three games. Weeks 3, 7 and 13 were the only instances in which he received double-digit targets resulting in 37.7 percent of his 2018 usage. Even more alarming is that those 34 targets netted 199 yards and 0 touchdowns. It's possible that the quarterback change affected his ability to produce, but that wasn't the case for the other receivers.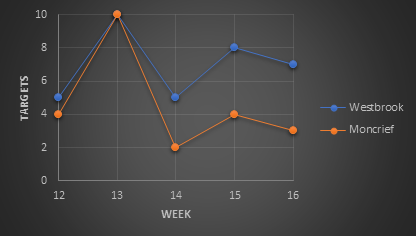 Cole missed two games after Bortles was benched prior to Week 12, but Westbrook continued to shine despite having Cody Kessler under center. With playoff hopes destroyed, it became clear the team was playing for 2019. With that, Moncrief began to fade into the background and the fantasy community was back to its prior opinion of the former Colts standout.
Impact of Moving to Pittsburgh
We look at players through the lens of their production. Amassing the 46th-most yards in the league is not worth $7M to any team. But, it's specifically not worth it to the Jaguars. Tom Coughlin's offensive philosophy dropped Bortles from third in deep passing (2016) to 28th. Passing play percentage also dropped from 62.7 percent to 58.6 percent (18th). These are not the traits of a team looking to invest in a receiver of Moncrief's archetype.
Moncrief was productive given the context of his career. After battling injuries for two seasons, he was nearly able to match his 2015 stats in 2018 with a clear drop-off in quarterback play.
| Stat | 2015 | 2018 |
| --- | --- | --- |
| Total Air Yards | 1049 | 1104 |
| aDOT | 10.0 | 12.3 |
| RACR | 0.70 | 0.59 |
Moncrief lasted the full season while showcasing the singular skill set that caught the league's eye: his athleticism. His 12.7 air yards per target were 17th best in 2018. While inconsistent in Jacksonville, there's a clear indication that the talent remains.
The Impact to the
Steelers
Ben Roethlisberger
Roethlisberger had career highs in pass attempts, passing yards…and interceptions last season. He finished as the QB3 which is the second time he's reached that mark (2014). Career highs coupled with age and talent drop-off fuel the regression narrative. Without any data, it's plausible given Ben's flair for the dramatic. However, if Moncrief's athleticism is still there, it's possible Big Ben can still recapture some of 2018's magic.
Let's assume Moncrief resumes his primary role on the outside. He was only targeted from the slot on 30% of his routes while still in Jacksonville. This jives with his 12.3-yard average depth of target (aDOT). But while the narrative suggests Ben will regress, he's still as accurate on deep passes as he's ever been.
| Year | Deep Ball Attempts | % of Total Attempts | Deep Ball Completion % |
| --- | --- | --- | --- |
| 2018 | 125 | 18.5 | 40.0 |
| 2017 | 133 | 23.7 | 36.1 |
| 2016 | 130 | 25.5 | 45.4 |
| 2015 | 124 | 26.4 | 46.8 |
Roethlisberger attempted 125 passes that went 15 or more air yards, the third most in the past four seasons. Despite these passes being less than 20% of his 2018 attempt total, he was still able to improve on the previous season. His efficiency on throws between 15 and 30 air yards remained at or above league average boosting his production. Moncrief's been at or above league average for receiving efficiency over a similar range of throws. Assuming the two get the necessary time to work on timing and placement, these types of plays could still be there in 2019.
The red zone is where fantasy managers hope Roethlisberger and Moncrief can hit their stride. Ben attempted 94 passes from within his opponent's 20-yard line (fourth-most). Brown received 25.5 percent of those passes resulting in six TDs. Moncrief received 17.9 percent of Bortles' red zone attempts while the team was still competitive. While the results weren't there in Jacksonville, the potential and volume remain.
The Other Receivers
The Steelers currently have 11 wide receivers on their roster, but only four with fantasy implications (assuming health). Roethlisberger passed on 75.4% of his plays with three wide receivers on the field last season. This is on par with the previous three seasons, making this a reasonable expectation for 2019. If true, there's a path to Moncrief on the field for most of 2019.
JuJu Smith-Schuster only stands to benefit from Moncrief should he live up to expectations. The rising star and esports advocate had a nearly 50-50 split between playing the slot and outside. While he accumulated most of his yards from the slot (65.3%), he was still highly efficient on targets down the field. He had an 83.3 percent catch rate on targets between 5 and 15 air yards while playing outside. His second-round ADP reflects both his talent and production, but the loss of Antonio Brown cannot be understated. While Smith-Schuster is versatile, Moncrief will need to pull defenders to open the field. This is where his greatest impact will be to Smith-Schuster and can ultimately determine how the team fares in 2019.
Ryan Switzer and Eli Rogers received 65.9% and 78.6%of their targets from the slot, respectively. Moncrief had a 31.1 percent slot rate with the Jaguars. It's not his primary role regardless of field position suggesting he'd have a minimal impact on their role in 2019.
Moncrief's addition to the team poses the greatest impact on James Washington, how has a low slot rate (28.9%) and a high aDOT (16.6). However, his efficiency was an issue. The highlight-reel receptions were overshadowed by notable drops and an opinionated quarterback. Washington saw a limited role with Brown, Smith-Schuster, and Switzer running the first-team offense. Washington will need to make significant strides in his rapport with Ben to take the field opposite JuJu. Otherwise, it will be Moncrief rounding out the set in 2019.
The Impact to the
Jaguars
The Jaguars were already implementing their 2019 plan while Moncrief was finding a new home. Nick Foles was signed, and both Blake Bortles and Carlos Hyde were released. T.J. Yeldon still hangs in limbo, but Jacksonville appears ready to enter the draft to address their needs (e.g. OL, TE). That leaves the young group of receivers to work with the former Super Bowl MVP.
Moncrief was the only receiver on the team that fit the 'X-receiver' archetype from a size perspective. Marqise Lee and Keelan Cole have held similar roles, but both are comparatively undersized, and Lee is still recovering from an ACL tear suffered during the preseason. To fill this gap, it's conceivable that the team uses its draft capital to acquire a receiver of this type in the draft. Foles has posted league average efficiency on throws up to 25 air yards. Lee has a better catch rate and yards after catch on intermediate throws (5–15 air yards) than Cole, but his issue is health. Cole will likely start over Lee due to the rehab process, but both will see an uptick in targets to fill the void.
While he doesn't directly benefit, Dede Westbrook has been the fantasy favorite the past two seasons. He had a 75.2% slot rate in 2018 with continual performance during the QB transition.
In Foles' five starting games for the Eagles in 2018, he averaged a 40.5% slot target rate. That was greater than Carson Wentz's slot target rate over his 11 starts (37.9%). Their 284 combined slot targets would have been third-most in 2018. With Foles back with John DeFilippo, drafters should have a sense of optimism surrounding the Oklahoma product, given the likely heavy focus on slot play..