Waiver Wire Watch: Wacky Week 17 Targets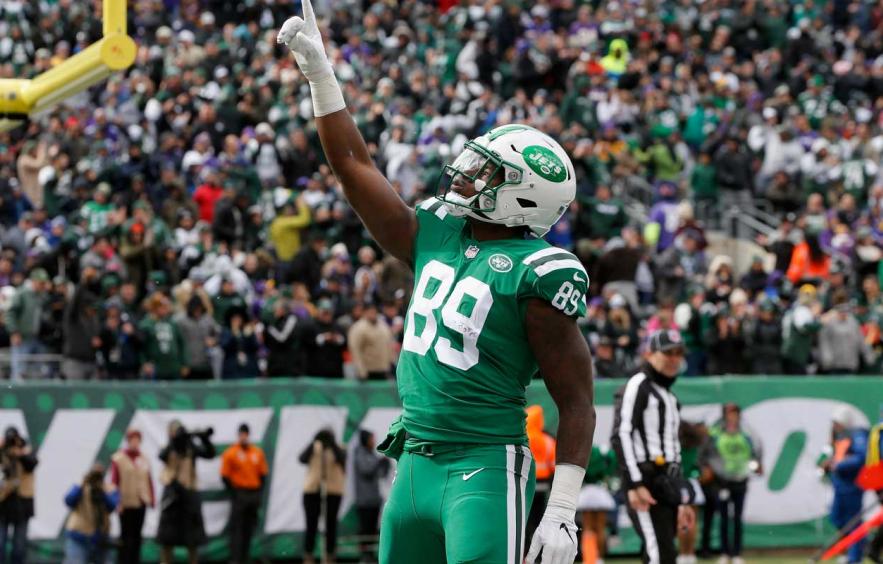 If you are reading this, you need to find a new league. In this author's humble opinion, Week 17 title games are a worse idea than an undrafted rookie being late to his first day of the Patriots mini-camp. As long as you are here, though, you just as well see what I have in store for you.
Before all that, I want to thank all of you for stopping by our little slice of the internet this season. 4for4 is an amazing place full of amazing people and I am more than honored to have been a part of it this year. Assuming Josh doesn't follow through with the lawsuit, removing my leverage in the process, I hope to be back again in August. (Seriously, Josh, you think I only have one copy of the picture?)
As usual, the indomitable John Paulsen will be editing this bad boy, dispensing additional wisdom as he sees fit. Good luck to you all and have a happy holiday, fabulous new year and a great off-season.
Quarterbacks
Jameis Winston

, Tampa Bay

Buccaneers

Winston is owned in slightly more than half of Yahoo leagues, but I wanted to sneak him in here anyway. The Buccos finish out their season at home against the Falcons and their horrendous defense. Vegas opened the game as a pick-em with a total of 49.5, giving each team an expected total of just under 25 points. If Tampa Bay is to get there, they will need Winston to throw at least two touchdowns, something I think he will do.
Derek Carr

, Oakland

Raiders

Carr is quietly having a competent season, posting career highs in yards and completion percentage to go with a 19:8 touchdown to interception ratio entering Monday Night Football. The Raiders play the Chiefs this week, who, in case you have been in a coma the last four months, have been destroyed by quarterback after quarterback all year. Carr scored 24.2 fantasy points courtesy of 285 yards and three touchdowns a mere four weeks ago in Oakland's first game against Kansas City.
Lamar Jackson

, Baltimore

Ravens

Despite facing a who's who of the worst defenses in the league in his time as the Ravens starter, Jackson continues to be the epitome of average from a fantasy perspective. That isn't terribly likely to change this week against the Browns, but if you have been relying on Drew Brees, who could very well sit in a meaningless game for the Saints, he is a high-floor option with plenty of theoretical upside, even if he has yet to score as many as 21 points in a game this season.
Josh Allen

, Buffalo

Bills

Sunday's tilt against the Patriots was Allen's first game scoring under 18 points in his last five tries. That may discourage some, and as I have said the last few weeks while also recommending the rookie, this doesn't mean I think Allen is good, but I am hanging in there one more time. The Dolphins are about as mediocre as it gets and certainly don't possess the tools to stop Allen on the ground if he turns himself loose.
Running Backs
C.J. Anderson

, Los Angeles

Rams

If my soft spot for Anderson was any bigger, it would be Kanye West's ego. The bowling ball of a back showed Sunday that he is a starting caliber player by decimating the Cardinals to the tune of 167 yards on 20 carries. The Rams are playing for home field advantage this week, but it is against the 49ers, so they may be tempted to rest Todd Gurley for the playoffs. If so, Anderson is worth whatever you have left in the bank as a locked-in RB1 in an amazing matchup.
Brian Hill

, Atlanta

Falcons

Hill was originally selected by the Falcons in the 2017 draft as a big back with little lateral ability who could get up a head of steam if given the space. He showed flashes of that on Sunday by rushing for 115 yards on only eight carries in relief of an injured Tevin Coleman. Should Coleman miss Week 17 with his groin ailment, Hill merits consideration as an RB2 against a bad Tampa Bay defense.
Darren Sproles

, Philadelphia

Eagles

Frank Gore gets all the press, but Sproles, who turned 35 last summer, returned from a torn ACL and season-long hamstring woes to score three times in the last four games. I don't know if he continues the improbable run, but I sure as hell am not betting against a 5'6" running back who has been in the NFL for 13 years. This dude has made a career of defying the odds, and in what could be his last Sunday in the league, there are plenty of reasons to think he can do it one more time in what is a must-win game for the Eagles.

Fun Fact: I once was given an in-home presentation by a vacuum salesman who was Sproles' tutor in college. We ended up scrapping the vacuum thing and having a beer while his boss waited in the car. Really.
Nyheim Hines

, Indianapolis

Colts

Hines enjoyed success early this season before fading away for a month and a half. Well, he's back. Sorta. Look, Hines isn't going to score anybody 20 points, but he has caught 20 balls the last four games on his way to topping 14 points twice and hitting the 10 mark in another. It's not exactly league-winning stuff, but if you find yourself desperate, you could do worse.
Wide Receivers
Robert Foster

, Buffalo

Bills

Foster was oh so close to having another big game Week 16, if only he hadn't lost a deep pass in the sun. It looks like if he had made the catch, he would have been on a one-way street to 80-yard scoreville. He has topped 90 yards in four of six games and 17 fantasy points in three of those. Foster represents your ultimate lottery ticket play if you are in need of a big game to win your Week 17 matchup.
Keke Coutee

, Houston

Texans

Will Coutee play? Who knows. This poor guy's hamstring has been more stubborn than my 15-year-old dog when I try to get her to go out in the morning. If he does, he will slide right back in as Deshaun Watson's number two target behind DeAndre Hopkins. Demaryius Thomas had been blocking him, but a torn Achilles took care of that this past weekend. The Texans do face the Jaguars, who won't make life easy, so look at Coutee as more of a desperation play than anything.
Jamison Crowder

, Washington Redskins

Josh Johnson has locked onto Crowder in his time under center for Washington, targeting the receiver 18 times in three games. The volume has resulted in 12.7 PPG for Crowder, a solid number, if not exactly highly desirable for those of you in title games. His floor is fairly safe, though, so there's that.
Curtis Samuel

, Carolina

Panthers

Finally healthy, Samuel has been a nice piece for the Panthers late this season. Quarterback Taylor Heinicke made good use of the sophomore on Sunday, peppering Samuel with 13 targets as he proved to be a check down Charlie in his first career start. If Heinicke starts again this week, which is a big if due to an elbow injury, that should continue. Carolina plays a Saints team likely to be resting their starters, which bodes well for Samuel and his teammates as the Saints have already allowed a league-worst 44.2 PPG to receivers this season.
Tight Ends
Ian Thomas

, Carolina

Panthers

Thomas has been a solid fantasy asset in recent times, scoring 9.6, 16.7, 3.4 and 14.8 points over the last month. Certainly, he has had plenty of volume to help support the scoring, averaging over six targets a game. Week 17 brings the Saints, who, as I've mentioned a few times already, don't have anything to play for. Thomas' floor remains lower than I'd like but has a solid 15 point upside.
Chris Herndon

, New York

Jets

I am not sold on Herndon as a great long-term asset, but in a passing game bereft of solid options outside of Robby Anderson, he is a featured player for now. That hasn't meant much for large swaths of the 2018 season. It meant plenty last week though: six catches, 82 yards, one score. The Patriots present a stiffer challenge than did the Packers, even if they are nowhere near dominant. Still, Herndon is a reasonable streaming option, especially if Sam Darnold's Week 16 arrival carries over to the final game of the season.
C.J. Uzomah

, Cincinnati

Bengals

He did it you guys!!! He scored a touchdown!!!!!!!!!!!!!! It only took eight weeks and 46 targets, but he finally crossed the goal line, scoring more than 10 points for the first time since Week 6 in the process. His reward is a Week 17 game against a Steelers defense who isn't exactly stout against tight ends. Will he have another double-digit fantasy game? Will he score again? Will he finally tell us what C.J. stands for? Tune in this week at the same bat time on the same bat channel to see the exciting conclusion!

Photo by Jim McIsaac/Getty Images.