Streaming Quarterbacks: Week 17 Targets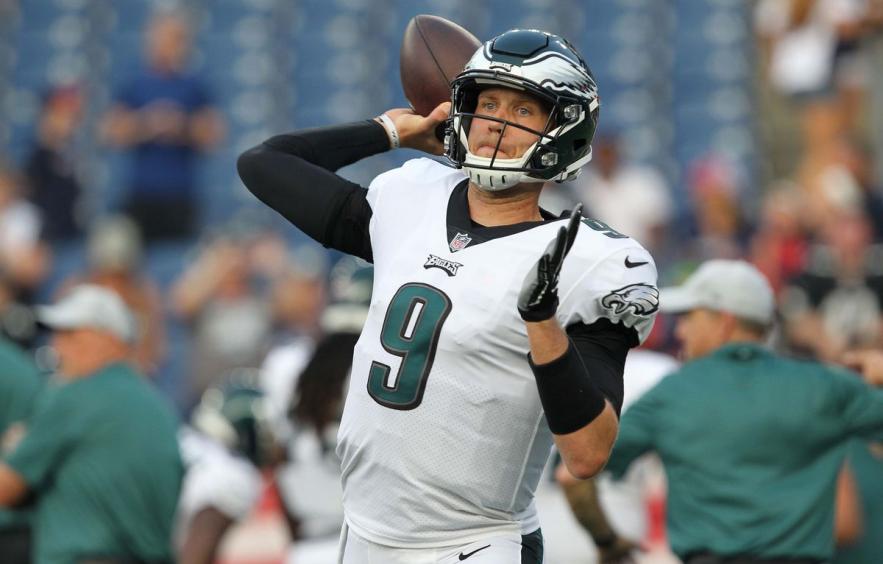 If you're playing in Week 17, you must be exhausted. The fantasy playoffs have been an absolute rollercoaster since Week 14. Player injuries turned to underperforming offenses and now we have players possibly sitting in Week 17. It brings a different dynamic to the fantasy season. Through the season, we project volume, targets and touches based on opportunity share within the offense. The final week of the NFL regular season alters that process as narratives such as 'motivation' become a legitimate talking point throughout the community. So now every piece of information becomes relevant heading into your championship. But, don't worry. 4for4 has got you covered.
It's our last streaming quarterback article of the 2018 season so let's review the results. Weekly top picks have averaged 17.6 points per week and 282 total points on the season. That's good enough for QB11 on the season just 0.6 points behind Cam Newton. We had some great hits. Nick Foles saved Week 16. Jameis Winston and Ryan Fitzpatrick trading places. There were also some lows. Eli Manning in Week 8. Any week Case Keenum made the list. But, the process worked out despite a few blunders here and there. If you've stuck with us this long, let's walk through the matchups one last time and see who makes the list.
The ranks for Schedule-Adjusted Fantasy Points Allowed (aFPA) have been updated for the last time. It's been one of the main tools used in determining matchups to target on a weekly basis. Noticeable changes from Week 16 to Week 17 include:
SF up 10 spots with a 17.3 aFPA.
ATL up 9 spots with a 17.5 aFPA.
PHI down 8 spots with a 21.1 aFPA.
HOU down 9 spots with a 20.3 aFPA.
Injuries and personnel changes have altered our views on many of the defenses originally viewed as positive matchups to target. Defenses are discussed above, and injuries are discussed in the section below. As always, the other guidelines include:
Only quarterbacks with no more than a 50 percent ownership in Yahoo leagues are considered.
Ancillary metrics and game conditions (e.g. defensive ranking, weather) will be factored into the analysis.
Positive matchups for all pass catchers to be considered.
4for4 rankings should always be consulted for league-specific decisions.
Key Defensive Injuries:
Tyrone Crawford, Cowboys (Neck) – The Dallas defensive tackle was taken to the hospital after leaving the field on a stretcher. The crowd got the standard 'thumbs up' during his exit, but the team was obviously concerned about the starter's health. He's since been released from the hospital with more evaluation to occur over the next week. Dallas (14.7 aFPA) is locked into the playoffs with no need to rush their starters back in a situation like this. Expect Crawford to sit as the team travels to New York in Week 17.
Kayvon Webster (Thigh) and Kareem Jackson (Knee), Texans – Houston's secondary was the focus of our recommendation for Nick Foles in Week 16. Injuries on the outside have negated the interior pressure generated by J.J. Watt and Jadeveon Clowney and opposing offense have leveraged these deficiencies. With both Webster and Jackson sidelined, Houston (20.3 aFPA) takes an even larger step backward in our ranks. Luckily, they face the dysfunctional Jaguars in Week 17 which will likely brighten the Texans' playoff prospects.
Denzel Ward, Browns (Head) – Personal note: seeing a player unable to stand or walk straight after taking a hit is one of the worst sights in the NFL. That was Ward's reaction after taking a hit from tight end C.J. Uzomah late in the fourth quarter. Ward had recently returned from the concussion protocol only to re-enter after clearly exhibiting symptoms in Week 16. The Browns (16.0 aFPA) have been eliminated from the playoffs indicating Ward may be shut down while the Browns travel to Maryland to face the Ravens.
Top Streaming Picks
Nick Foles

at Washington

He's doing it again.

We had him as our top streamer in Week 16, but a QB3 outing was unexpected. We'll save the pat on the back until after you win your championship because it's the process that got us to that recommendation. That same process gets us here in Week 17 despite a few glaring concerns about the game. First, it's on the road. Second, Washington's defense (16.1 aFPA) has been surprisingly tough. They've generated nearly three sacks per game their last three games while limiting opposing passing games to less than 150 yards and 2 touchdowns. Finally, Washington hasn't been able to put up points on offense to push an opposing team. However, Philadelphia is one of the teams that need a win to get into the playoffs. Could they sit players in a blowout? Sure, but the offense needs to put up points to get it there for that to happen. Foles passed on just over 80 percent of the Eagles' offensive plays in neutral situations in Week 15. That jumped to nearly 96 percent in Week 16. Running backs saw fewer rush attempts but an increase in passing targets to skirt around Houston's elite pass rush. Philadelphia could employ a similar game plan against Washington, buoying Foles' production. They are on the road, they have a 24.3-point implied team total and Foles is our final top streamer of the week.

Foles is available in 84 percent of Yahoo leagues.
Lamar Jackson

vs

Browns

Lamar Jackson is in an arguably better position than Foles, but Foles' passing acumen appears to be better and his passing options are more highly skilled. Regardless, we can look at both the signal caller and the matchup for the Baltimore Ravens. Lamar, 5-1 as a starter, surpassed 200 yards passing for the first time in Week 16. To be fair, the bulk of it came on a pass that went about 30 air yards with the remaining 38 yards coming after the catch. We'll take the points, but it's important to understand where Jackson is at as a passer. The overall approach has remained the same: 25 passes and 15 rush attempts. The volume has been consistent, but the efficiency has fluctuated. Cleveland (16.0 aFPA) has been nearly average across the board with respect to defense. They've also given up production to quarterbacks that are either mobile or can scramble. Jameis Winston put up 10-55-1 in Week 7. Deshaun Watson went 7-30-0 in Week 13. Cam Newton even had 23 yards on the ground with the bum shoulder. Jackson has not only been rushing more than these QBs, but he has five red zone rushes in the past two games. The Browns are out of the playoffs and Denzel Ward (starting cornerback) is likely out with his second concussion. The game is projected to be low scoring, but the team's playoff hopes and their 23-point implied total make Lamar an ideal streaming candidate in Week 17.

Jackson is available in 55 percent of Yahoo leagues.
Josh Allen

vs.

Dolphins

Josh Allen is a matchup-based starter. His best games came against a Jacksonville team on the outs, Miami, the Jets and Detroit. Three of those four opponents were in the bottom half of 4for4's aFPA rankings. Also, most importantly, none of the opposing teams have both the personnel and coaching staff to identify and leverage Allen's weaknesses against him. That's exactly what New England did in Week 16. The Patriots' man-coverage scheme forced Allen to complete accurate touch passes in tight windows, something he's consistently shown to be deficient in even throughout college. That's not the case in Week 17. Allen played the Dolphins in Miami a month ago and finished with 28.7 points. There's no expectation of similar performance, but the matchup presents a similar upside. Miami's (19.6 aFPA) been gashed by rushing quarterbacks and given up big plays in the secondary. Tom Brady completed at least three deep passes of 20 yards are more in Week 14. Kirk Cousins had two in Week 15. Josh Allen was only fingertips and sunlight away from similar passes against New England. There's little to suggest they'll dial back on the rookie's aggressiveness with neither team having much to play for in their final regular season game. Despite having one of the lowest game totals on the slate—Buffalo's team total is 21—we know what type of upside exists with Josh Allen. In a better matchup, Allen becomes viable for those vying for a title in Week 17.

Allen is available in 73 percent of Yahoo leagues.
Quarterback to Bench
Any of them?
None of them?
This problem is inherent to playing in Week 17 because team situations play a larger role. Fantasy GMs are forced into sifting through coach speak, practice participation reports and player interviews without clarity in some cases. Why should Aaron Rodgers play against Detroit? What does Drew Brees have to play for in Week 17? Our own Jen Eakins has mapped out team motivations with some of the fantasy implications mapped out for each game. Every manager with teams alive in Week 17 should go through this piece and cross-reference this with information provided throughout the week. Ultimately, make lineup decisions you can live with after the games are over. Like, not starting Josh Allen in Week 16.